Country & Western Weekend 2020
The Ardara Country & Western Weekend takes place this weekend from Friday 24th to Sunday 26th January.
Stephen Smyth
Friday 24th January. Doors open 10.30pm
Nesbitt Arms Hotel Phone: 074-9541103
Jiving & Line Dancing
Saturday 25th January at 3.00pm
Nesbitt Arms Hotel Phone: 074-9541103
Dave Lawlor
Saturday 25th January. Doors open 10.30pm
Nesbitt Arms Hotel Phone: 074-9541103
Music in all the Pubs
Great music in the pubs including:
Mickalene's Bar:
Patrick O'Shea
on Friday 24th and
Last Chance
on Saturday 25th
Nancy's:
The Split Pins
on Saturday 25th from 10pm
The Corner House:
Jimmy and Friends
Friday and Saturday night
---
Upcoming Events…
Evening of Making St. Brigid's Crosses
An evening of making St. Brigid's Crosses will take place in the Parish Centre on Friday 31st January at 8pm.There will be a charge of €5 for adults at the door and children are free of charge. Supper and light refreshments served on the night.
Beginners Only Line Dancing Classes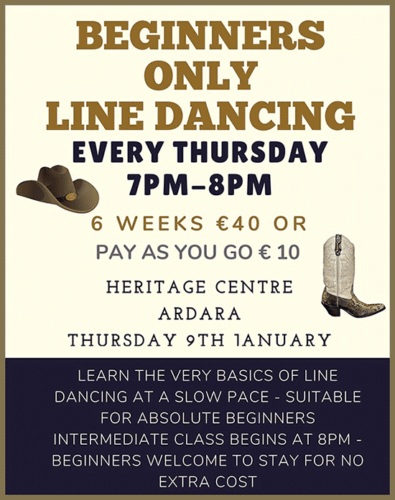 Line Dancing Classes for beginners continue every Thursday at 7pm in The Heritage Centre, Ardara. Learn the very basics of line dancing at a slow pace. Suitable for absolute beginners.6 weeks €40 Pay as you go €10Join Bridget for Line & Laughter on Thursdays!Contact: 087-9130558
bridgetrobins@hotmail.com
Nancy's Quiz: Geoff & Alan do Trivia
Thursday 30th January 9pm. Great prizes for the winning team and massive raffle on the night.All proceeds go to the Australian Red Cross in aid of the Bushfire Appeal.
Comedy Play "Married Bliss"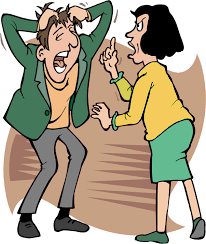 After last year's very successful comedy play "Don't Tell The Wife", it's all systems go with another comedy play "Married Bliss" which is currently in rehearsals. It involves all characters from the Ardara and Portnoo areas, mostly all of last year's cast but with some new additional members. It's extremely funny and will give you loads of laughs.The play will be staged on Friday 31st January, Saturday 1st and Sunday 2nd February 2020 at 8pm in the GAA Clubhouse.Tickets are priced at €12 and are on sale in Diver's for each night of the show.
Beginners Tin Whistle Classes
Starting Wednesday 5th February from 2pm to 3pm in The Heritage Centre, Ardara.These classes are for adults, but if there's interest for children's classes they can be facilitated.Booking is essential as places are filling up quickly.There is a booking fee of €20For further information contact Colm: 087-3222910