Nature Walk at Sheskinmore
Saturday June 22nd at 11am
Duration about 4 hours.Meet at the Tramore Beach car park, next to Campbells' caravan park, Rosbeg, follow L7713 off the Ardara to Portnoo Road.Sheskinmore in late June is a great opportunity to see an abundant variety of wild flowers (some rare), insect life, and other wildlife. Ralph Sheppard is our guide.Admission is free. No need to book. Everyone is welcome. Suitable for all age groups, No dogs except guide dogs please.Bring refreshments for a relaxed and interesting walk.
Parkrun/Walk on Narin Beach
Saturday June 22nd at 9.30am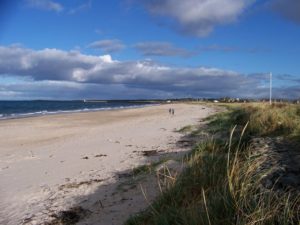 Narin Beach Parkrun/walk
5k will take place on Narin Strand starting Saturday June 22nd at 9.30am and every Saturday thereafter. All runners/walkers welcome.
Parkrun
organise free weekly 5km timed walks/runs around the world. They are open to everyone and are safe and easy to take part in.Visit the
Narin Beach page at parkrun.ie
for more information.
Pilates, Yoga and Tai Chi on Narin Strand
Saturday June 22nd at 9.30am
Join Maria every Saturday after the 5km beach run. Stretch, strengthen, relax and restore. Followed by coffee and power balls. See noticeboard on the strand for additional dates and times. Let's get this Summer started! Cost €5.
Bart Whelan Photographic Exhibition
Friday 28th June at 8.30pm
Visit this popular exhibition in the Heritage Centre, which gives a snapshot of the people and the place from years gone by. The Bart Whelan Photographic Exhibition will be officially opened by Desmond Campbell in the Heritage Centre on Friday 28th June at 8.30pm.Admission is free and refreshments will be served. All are welcome.
Live Music This Weekend
Mickalene's Bar
Friday 21st June. 10.30pm till late.
Live music with Eunan McIntyre. End of Exams Special. See
Facebook page
for details.
Doherty's Bar
Saturday 22nd June 10.00pm
Live music with John Doherty Saturday 22nd of June at 10pm. A night not to be missed
The Beehive
Friday 22nd June
Big session this Friday in the Beehive with Jim, Fi and Peter Campbell on fiddle. Should be mighty tunes! Come on in for a few tunes, songs, pints and the craic. All musicians, singers, dancers and storytellers welcome as always!
Saturday 23rd and Sunday 24th
Great music sessions
The Corner House
Live music sessions all weekend
Is your event missing or do you want something included in upcoming notices on ardara.ie? Send us the details via our contact page or email ardara2017@gmail.com
ARDARA WEATHER