Men's Shed Art Classes
Art classes begin
Wednesday 5th February and continue every Wednesday from 1pm to 4pm in the Men's Shed
at Thomas Boyle's (The Greenhouse).Everyone welcome to join in at any time. For more information phone Colm on: 087-3222910
Beginners Tin Whistle Classes
Starting Wednesday 5th February from 2pm to 3pm in The Heritage Centre, Ardara.
These classes are for adults, but if there's interest in children's classes they can be facilitated. Booking is essential as places are filling up quickly.There is a booking fee of €20.For further information contact Colm: 087-3222910.
"Married Bliss" Comedy Play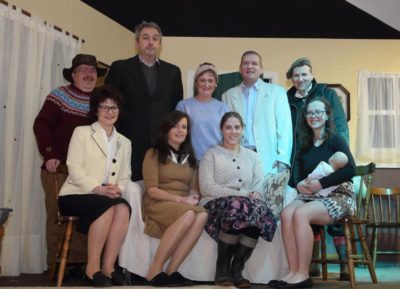 Friday 31st, Saturday 1st, and Sunday 2nd at 8pm in the Ardara GAA clubhouse.
Tickets are selling very well for 'Married Bliss' which will be presented by Ardara GAA club this coming weekend.The 3-act comedy play, written by Sam Cree, takes to the stage at the clubhouse in Ardara this Friday night and continues Saturday and Sunday.The play is set in an old farmhouse which is rented for a holiday by Colin and Grace Ramsey played by Joe Ryan and Karen McConnell. It is owned by Angus Calvin Knox (Saoirse Doherty) a widower who lives next door with his socially awkward daughter Mary Rose (Sinead Concarr) The hired hand on the Knox farm is Donald McDonald (Thomas McHugh) who the owner thinks is going to marry his daughter.Throw in some manure, a disastrous fishing trip, a few small mice, a daughter and baby who visit (Niamh Boyle) an interfering mother-in-law (Kathleen Boyle) and a favourite daughter (Mabel McHugh) and her husband (Eamon Byrne) and you have the makings of a great comedy.The show runs on Friday January 31, Saturday February 1, and Sunday February 2 at 8pm (doors open 7.30pm) in the Ardara GAA clubhouse. Some tickets are still available in Diver's Newsagents.
St. Brigid's Crosses in Nancy's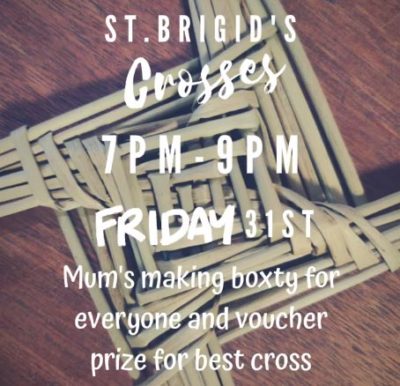 Nancy's annual St. Brigid's Crosses gathering is taking place
tonight Friday 31st from 7.00pm to 9.00pm.
Boxty for everyone and a voucher prize for the best cross.Come along and join in this great tradition.
St. Brigid's Crosses Evening in the Parish Centre
An evening making St. Brigid's Crosses will take place in the Parish Centre tonight
Friday 31st January at 8pm
.Supper and raffle on the night. Admission €5.
Irish Classes
Irish Language Classes are currently being organised in The Heritage Centre.Anyone interested should phone Colm on: 087-3222910
Beginners Only Line Dancing Classes
Line Dancing Classes for beginners continue
every Thursday at 7pm in The Heritage Centre
, Ardara. Learn the very basics of line dancing at a slow pace. Suitable for absolute beginners.6 weeks €40 or pay as you go €10. Join Bridget for Line & Laughter on Thursdays!Contact: 087-9130558
bridgetrobins@hotmail.com
Donegal Mountain Rescue Talent Showcase
A Talent Showcase takes place in the
Nesbitt Arms on Saturday 8th February from 9pm.
The show will feature some well established acts along with some superb up and coming artists, so come along, be entertained and enjoy local people showcasing their talents whilst raising money for Donegal Mountain Rescue. Great craic, raffles, and prizes galore!Tickets €10 (including raffle ticket) available in Nancy's and Diver's newsagents or from: Kevin Maguire 0876734875, Teague McFadden at St. Shanaghan House, or The Nesbitt Arms Hotel.
Coming Soon: South of the Border Festival
The South of the Border Festival takes place on Valentine's weekend Friday 14th to Sun 16th February 2020, and this year's theme is "The Bard of Ardara".The Programme of Events for the weekend can now be viewed on our
South of the Border page
.