"Note and Stave" Keyboard Lessons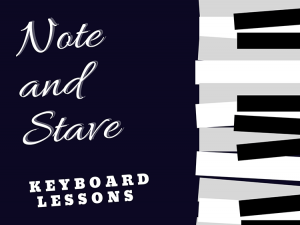 Beginner level keyboard lessons. Learn to play solo and with a group. Learn to read and sight-read music classically.
Classes start in April and places will be in demand.
Students will learn the basics, from reading music to sight reading and understanding music theory and performance.
Classes will start after school hours from 4pm to 9pm depending on location, and class sizes will be limited to a maximum of six students per hour.
Keep up to date on the Note and Stave Facebook page.
For further information phone Keith on 087-3680366 or email
keithbennett11@gmail.com
Registration:
Dolmen Centre: 15th March 6pm to 8pm
Nesbitt Arms Hotel: 16th March 2pm to 5pm