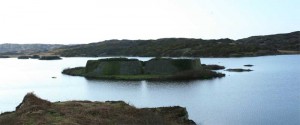 Doon Fort has succeeded in being chosen as one of only five national monuments in the 'Adopt a Monument' competition run by the Heritage Council.The 'Ardara GAP History & Heritage Group' which was only set up in January are delighted with their success, and hope that this will put the area firmly on the cultural landscape. This in no small way will offer further opportunities for the other sites of cultural interest in the area. Congratulations to the group (led by Paula Harvey) and we wish them well in their endeavours.Below is a snapshot of the press release in conjunction with the announcement;
Over 90 community groups around the country submitted applications to be part of the pilot year of the Adopt a Monument programme. Following an exhaustive selection process, five monuments have now been selected. The monuments are spread right across Ireland, and range in size and date from an early medieval fort to a handball alley that was constructed in the 1930s.
Doon Fort is spectacularly sited on a small island in the middle of Loughadoon, just outside the picturesque village of Ardara in County Donegal. The site is a large drystone fort, similar to the Grianan of Aileach, and is likely to date to the early medieval period. The local community proposed the site to be adopted to avail of the technical expertise to help record the site, manage the vegetation growth, stabilise the walls and to create safer and more sustainable access to the site for visitors. Paula Harvey of the Ardara GAP Heritage and History Group said: 'We are delighted that Doon Fort has been selected on The Heritage Council

'

s 'Adopt a Monument

'

scheme for 2016. By doing so, this '

jewel in Donegal

'

s crown

'

has been given the recognition it rightfully deserves. Being part of the scheme puts this Western Stone Fort… located along the Wild Atlantic Way, firmly in its cultural context. It now means that the damage being caused to the monument by an ever-increasing growth of ivy covering the drystone fortification can be addressed. Restoration of the collapse of part of the wall structure is becoming a reality, as is improved access to this hidden inland island fort.  My thanks to all of the group who helped with the submission to The Heritage Council. We look forward with enthusiasm to working with Roisin Burke and her team of experts. 
The Ardara GAP History & Heritage group met with the successful applicants for the inaugural Adopt a Monument programme, run by the Heritage Council in conjunction with Abarta Heritage (who will be the group tasked with delivering the scheme). The Adopt a Monument scheme, will involve five archaeological or cultural sites that provide opportunities for community training and engagement with expertise, mentoring and support.