Wild Atlantic Week Highlights
The
Wild Atlantic Week
festival takes place in Ardara from next
Friday 2nd August to Saturday 10th August
, and features activities, tours, walks and events to celebrate our unique part of the Wild Atlantic Way.A few of the events are listed below. The full programme is available on the
Wild Atlantic Week page.
Highland Radio comes to Ardara
Highland Radio's
David James Show will broadcast live from Ardara on
Friday 2nd August between 2.30pm and 4pm
for the opening of the Wild Atlantic Week. Come along and enjoy the best of Highland Radio.
Walk in the footsteps of the Spanish Armada – Register before 31st July
Donegal G.A.P Heritage and History in conjunction with the PEACE VI Cross-border Heritage Project, are hosting a Spanish Armada walk on
Saturday 3rd August at 9.30am.Registration before 31st July
to secure your place as we can only transport 75 people to start point.Bus transfers to Rosbeg for walk across Sheskinmore (4.5km). Transfer back to Ardara for lunch and 16th century historical encampment. Transfers to Roechrow Road and walk to St. Catherine's Well, Killybegs (9.5km).For more information contact
ardaraheritagehistory@gmail.com
or follow on
facebook.com/DonegalGAPHeritage
Wild Atlantic Walk – Port to Maghera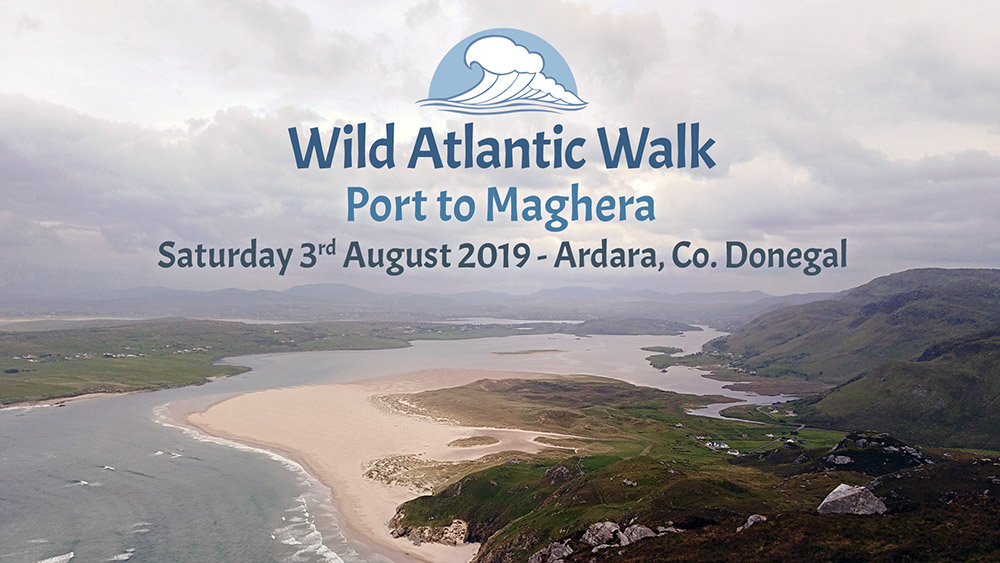 Departing Heritage Centre Saturday 3rd August at 9.00am.
Kevin will lead a team of walkers on the stunning Port to Maghera Walk. This is one of the truly great walks!Bus collection is at 9.00am at the Heritage Centre and the walk takes approximately 8 hours.
Good hiking gear, boots, jackets etc. Experienced walkers and good level of fitness essential.
€35 per person. Contact Kevin in advance: 087-6734875
Historical Re-enactment
Saturday 3rd August at 1.30pm.
Historical Re-enactment at a 16th Century Encampment in the Town Car Park. Email:
ardaraheritagehistory@gmail.com
for more information
Town Trail Walk
Monday 5th August at 2.00pm.
A 6 Km Walk Along the Town Trail. Starting at the Catholic Church. Duration approx 1 hour
Dancing at the Crossroads
Monday 5th August at 8pm.
Join Clement Gallagher and his troupe of Ceili and Set Dancers at the Diamond in Ardara.This open air event is a highlight of the Wild Atlantic Festival and always such a wonderful event.
Live Music on the Street
There will be live music on the Diamond about
3pm each day
during the festival. Come along and enjoy the fun.
Basketmaking Workshop
Tuesday 6th August 11.00am-4.00pm.
Basketmaking Workshop & Spinning display in the Heritage Centre. Two day event continuing Thursday. Phone Colm for more information: 087-3222910
Meet and Greet at St. Shanaghan House
Tuesday 6th August at 2pm.
A special afternoon at St. Shanaghan House, including a talk on Horticulture as well as a demonstration of various dances for relaxation and much more. For more information contact Tadhg 083-1666634
Bus Tour of Donegal
Wednesday 7th August at 11.00am
Ardara Show Day
Saturday 10th August – all day.
The Annual Ardara Agricultural Show in SandfieldVisit the
Ardara Show page
for more info
Many more events taking place. The full programme is available on the Wild Atlantic Week page.
Go Gasta

This is a 1 hour family entertainment show for TG4 screening this Autumn. It is a new fun healthy socially engaging outdoor family entertainment format unique to TG4. This is 'Ireland's Fittest Family' meets 'Cross Country Challenge'. Two locals villages go head to head to settle old scores once and for all on a course littered with challenges and obstacles that goes from one village to the other. Part "off-road" part on road. Let's get Down & Dirty.They set out a course that joins two rival villages together from a well known spot in each. This is where the Start & Finish lines are. Their experts will design a route between the villages littered with challenging obstacles, water hazards, puzzles, and some straight forward running or cycling stretches The course is clearly defined by their markings and signposts. Viewing spots are provided where villagers can gather to encourage their teams. Each village picks a team made up of Females & Males to represent them. The last person over the finish line is when the race is won, so each team has to work hard and really pull together as a unit. It's not about the best individual on any one team, its all about the team, the village, the desire to win.
This Friday 2nd of August we pitch Glenties against Ardara
in a race to settle any old scores that may linger between the towns. They will race on a course designed and littered with obstacles along the way.The series is being filmed by Abú Media who are responsible in the past for IFTA award shows such as Jockey Eile, An Klondike and 1916 Seachtar na Cásca. The Producer, Pierce Boyce is originally from Rathmullan now living in Galway since 1983. Each team will be assigned a presenter to to mentor them – Maire Trease Ní DUbhghaill and Conall O Mairtin. Series Director is Evan Chamberlain the man behind the Hector travel shows and Francis Brennan series.This is a wonderful opportunity to showcase Ardara at its best and get substantial TV coverage for the area. Please support the Ardara Team on this venture and cheer them on along the route at every opportunity. The route to be defined this week.
Dolmen Centre receives Swimming Pool planning approval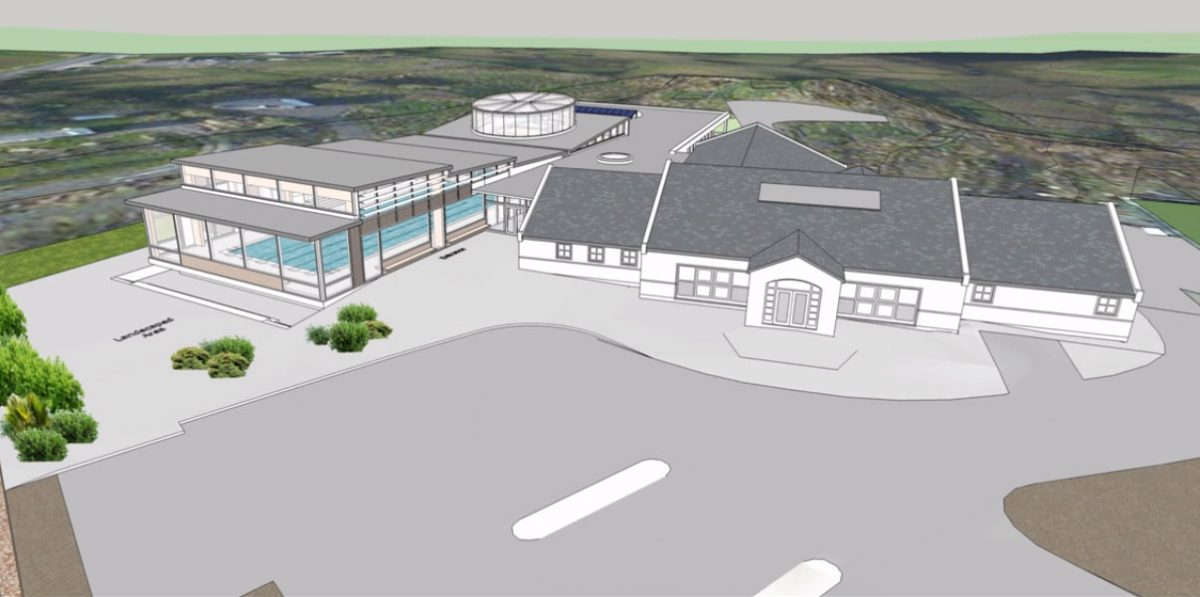 After many years of work, the Narin, Portnoo, Rosbeg Community Co-Operative Society Ltd. (Dolmen Centre) is proud to announce that Donegal County Council have granted planning approval for our 25m x 10m Swimming Pool at Kilclooney, Portnoo.There is a 4 week period before we get official Planning recognition (subject to any of the bodies who raised 'an interest', lodging an objection). Considering that these bodies have already looked at the project and deemed it appropriate, this is unlikely.We are indebted to the Committee (in particular Tony Kitterick, who project managed this feat from the start), and to you the Community who stood by us when we ran fundraisers to engage Design Teams, create a Feasibility Study, source Natura Impact Statement etc. There are some conditions which we will have to observe, but these are not insurmountable and we look forward to progressing to the next stage of the project.We always hoped to have our Planning Permission this side of a General Election, and we would encourage you all to use your democratic right to influence any prospective T.D's when they are canvassing our area.This Planning Permission is a bold statement by our Community, which states that we the people of this area believe that this will act as a 'Flagship Project' which will bring much needed investment to our area. We have spent nearly €100,000 to date on this development and it is now appropriate that the Funding Bodies and Government in general get behind us on this worthwhile project.We will be preparing a funding plan in the Autumn which will see us prepare for any future progress.Watch this space for further action!
Blessing of the Graves
The annual blessing of the Graves will take place on
Sunday 4th August at 2.30pm
Set Dancing Classes
Set Dancing Classes continue
every Monday night from 8.30pm to 10.30pm in the Heritage Centre.
Clement Gallagher calls the sets.Tea and home bakes served. Admission €5
Ardara GAA 10 Week Draw
The eighth draw in the Ardara GAA Development Draw took place on Monday 29th July. The winners were:
1st prize €1000 – Ticket No 37 Nadine Gildea, Tullintaine, Bruckless
2nd Prize €500 – Ticket No 93 Eabha & Ruadhan Curristan, Drumbarron, Ardara
3rd Prize €400 – Ticket No 854 Connie & Eileen Molloy, New York, USA
4th Prize €300 – Ticket No 120 Vincent Cranley, Derries, Glenties
5th Prize €200 – Ticket No 407 Hugh Barrett, Ballykilduff, Portnoo
6th Prize €100 – Ticket No 304 Dylan Gallagher, Doohill, Ardara
GAA Flotto Results 29th July
The numbers drawn were
3
,
20
,
26
and
30
and the two nearest were: Sue Watters, Meentinadea and Kevin Molloy, Ardara.
Duchas Calling
It's the time of year to get started writing any articles for the Duchas magazine. Articles and photographs can be left in Diver's Newsagents or West End House for collection.
Anniversary Masses
For those viewing on the
Church of the Holy Family webcam
Tuesday at 10.00am – Anniversaries of Joe & Brigid O Donnell, Maghera
Wednesday at 7.30pm – Anniversaries of deceased members of the Mooney & Cunningham families
Friday at 10.00am – Anniversary of Gerard Breslin
Friday at 7.30pm – Anniversary of Peg Kennedy and deceased members of the Kennedy Family, Cashel
Saturday at 11.00am – Anniversaries of James & Bernie Sweeney, Beagh
Saturday at 7.30pm – Anniversaries of Mary & Peter O Donnell
Sympathy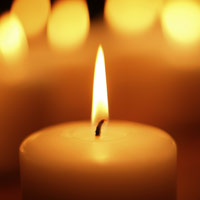 The sympathy of the community this week goes to:Neil Gallagher, West End on the death of his brother Packie in Kilcar.The McGill family, Glengesh on the death of Fiona McGill in London.
ARDARA WEATHER