Paul's MS journey from Ireland to India – A Message from Julie Dawson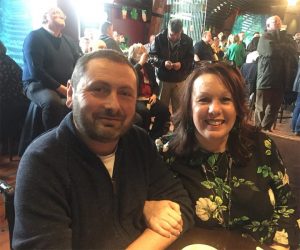 Paul, myself and our family would like to invite you to help us celebrate saying a massive THANK YOU TO EVERYONE. It'll be one year since Paul had his treatment and none of it would have been possible without the help and support of all you amazing people, so we want to say THANK YOU.So join us Saturday 13
th
October and help us celebrate the kindness and generosity of everyone who came together to help Paul, celebrate the kindness of family and friends, celebrate the community spirit that was shown, and help me celebrate turning 50 which some people aren't lucky enough to make. So come along that night, there will be an 80's disco, finger food and lots of craic and let's party !!!!
Highlands Hotel, Glenties
Saturday 13th October 2018 at 10:00pm
Facebook Event Page
Ardara Camera Club Calendar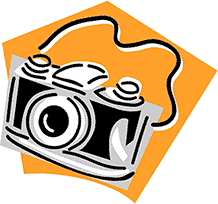 The Ardara Camera Club are in the process of producing a calendar called "Local Images". Funds raised are going to Pieta House Letterkenny. Sponsors are sought to assist in the publication costs. There is potential to raise a great deal of money for the charity.Cheques payable to The Ardara Camera Club should be posted to Sue Ajmi c/o Ardara Camera Club, Branach, Ardara. Tel. 0860773359Anyone who would like further information on donating or joining the Ardara Camera Club can contact
ardaracameraclub@gmail.com
Ardara Camera Club on Facebook
The Warp and Weft of Heritage Weekend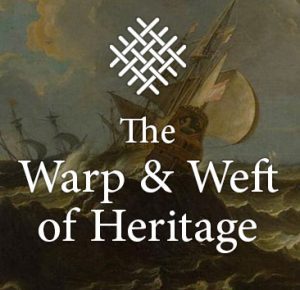 The Warp and Weft of Heritage Weekend takes place Friday 12
th
October to Sunday 14
th
October 2018.Featuring lectures, film, theatre and a field trip, the weekend kicks off on Friday 12
th
October in the Nesbitt Arms Hotel.
See our Warp and Weft Weekend page for full progr

amm

e of events.
The Flu Vaccination
The Flu Vaccination Clinic will be held at the Doctor's Surgery, Ardara on Thursday 4
th
October from 3pm to 5pm and Tuesday 9
th
October from 3pm to 5pm.
Please telephone 074 9541134 to book an appointment.
Laoch na Gaeilge 2018 Fógraithe ag Litríocht.com

Fógraíodh

Imelda

White mar Laoch na Gaeilge 2018
oíche Dé hAoine, ag ócáid i San Francisco. Is é
Litríocht.com
a roghnaigh í mar an bhuaiteoir. Ba é an Consalghinearál Éireannach, Robert O'Driscoll a bhronn uirthi an ghradam. Rugadh agus tógadh Imelda in Ard an Rátha i gCo. Dún na nGall. Tá Gaeilge múinte aici i SAM le 40 bliain anuas; Ó Ollscoil Stanford agus UC Berkeley, agus le déanaí i mBá San Francisco. Tá sí ag éirí as anois, agus tá áthas ar Litríocht.com, a éachtaí agus a hobair, a aithint.
Imelda White was announced as Laoch na Gaeilge 2018
on Friday night, at an event in San Francisco.
Litríocht.com
chose her as the recipient for the reward, which was presented to her by the Irish Consul General, Robert O'Driscoll. Imelda was born and raised in Ardara, Co.Donegal. She has spent 40 years teaching Irish in the USA; from Stanford University and UC Berkeley, to more recently, teaching Irish in the Bay Area in San Francisco. She is now retiring and Litríocht.com are delighted and honoured to be able to recognise her tremendous work.
Laburnum House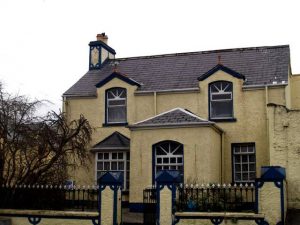 One of Ardara's most prominent landmarks, Laburnum House on the Diamond was owned by the Kennedy family for many years. In recent times the property lay vacant and ran into a dilapidated state. The good news is that local couple Celine Gallagher and Joe Sweeney have purchased the house and have major plans for the property and this beautiful outstanding building known as Laburnum House will once again be a prominent feature in the centre of Ardara. We wish Celine and Joe every success in their new initiative.
V2 Boutique by The Verve enters Ardara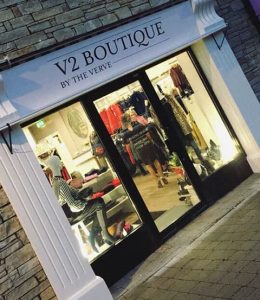 Ardara welcomes a branch of
The Verve
, the popular ladies' fashion shop from Donegal Town, to Ardara.V2 Boutique is located in a prime setting at the Diamond in Ardara, formerly Naomi's Hair Salon. We wish Mary and her staff every success with their beautiful modern fashion house V2 Boutique.
Fundraising Dance
A fundraising dance will be held in
Elliotts Bar Lettermacaward on the 28th October
in aid of Letterkenny and Galway University Hospital Oncology Departments. This dance has been organised by James (the baker) Melly. All donations will be greatly appreciated.
Planning application for Swimming Pool at Dolmen Centre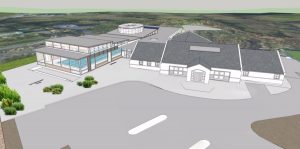 After many years of hard work, much fundraising by the local community and a determined effort by the committee, the Planning Application for a Public Swimming Pool for SW Donegal is finally ready for submission. It is testament to you as a Community, that this process which will have taken close to six figures to get to the Planning stage, has reached this considerable milestone.The Dolmen Centre's Design Team, lead by
Quilligan Architects
have come up with a design that is modern, bright, spacious and welcoming. The committee (and Tony Kitterick in particular) at the Centre have worked tirelessly to bring this project to this point.The 1330 sq.m. construction will see the demolition of the current Men's Shed & Store to facilitate the design. The building will incorporate a 25m x 10m main pool, a kiddies pool, sauna, steam room, jacuzzi, gym and associated changing areas and plant rooms.The centrepiece of the building will be a 2 Storey Slide which will terminate adjacent to the kiddies pool. The pool is functional in it's design and will cater for the many groups who already come to the area, and act as an attraction for prospective visitors.The formal process for this application will begin next week, with the notice being placed in the local papers. Then it is the not inconsiderable task of it passing the Planner's scrutiny, and the overall planning process itself. This process, all going well, will take at least 3 months.If successful, the Committee will begin to pursue all funding avenues, all financing options and any complementary projects that will bring this €3.5M development (at today's construction prices) to fruition.
As a Community we wish them the very best of luck with this endeavour, and hope that in 2019, they will be looking at sourcing the funding to construct their design.
Click here
to get some 3D views of the proposal.
Duchas Gets Ready
Anyone with an interesting story, please forward to
duchas2018@gmail.com
as we move closer to printing time. Also articles can be left at West End House, Ardara.
ARDARA WEATHER