Ardara Annual 5K Race/Walk
The Ardara Annual 5K Race/Walk will take place on
Wednesday 3rd July at 7.30 pm.Registration from 6.30 pm in the Methodist Hall.
Race Chip Timing.Refreshments /Prizes afterwards.Adults €8. Juniors €4. Proceeds in aid of Church Funds/ Donegal Hospice.
Ardara Community Childcare
Ardara Community Childcare are hosting their registration, information and AGM on
Wednesday 3rd July 2019 at 8pm
.Please note that all parents using the service in September have to register their child, whether the child is currently registered or not you must re register. At this meeting you will receive information on the new childcare scheme. It is important for all families to get this information on the night. We look forward to seeing you all there and we look forward to the busy year ahead.
New Local Link Bus Service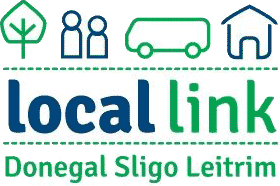 A new Local Link Bus Route from
Portnoo
to
Donegal Town
via
Ardara
is now in operation Monday to Friday.
Kids go free for the month of July!
For details and timetable see
last week's post.
Ardara Garden Fete
Stalls, games and special attractions highlight the annual garden fete taking place at the
Ardara Rectory, Killybegs Road, on Saturday July 13th
.The Fete will have a number of games for children, including an opportunity to win teddy bears. There will be a draw, numerous stalls, cakes, jams and many other goodies.Afternoon tea will be served.
Ardara GAA 10 Week Draw
The third draw
in the Ardara GAA Development Draw took place on Mon 24th June and the winners were:1st prize €1000 – Ticket No 333 Brian & Margaret McGill, Cashel, Ardara 2nd Prize €500 – Ticket No 516 Gerry Whyte, Cloughboy, Ardara 3rd Prize – €400 – Ticket No 240 Cathy Whittington, Drimaha, Ardara 4th Prize €300 – Ticket No 320 Daniel Gallagher, Meenakillew, Killybegs 5th Prize €200 – Ticket No 318 Michael Curran, Bogagh, Kilcar 6th Prize €100 – Ticket No 720 Kathleen Molloy, Tullycleave
The fourth draw
in the Ardara GAA Development Draw took place on Sun 30th June and the winners were1st prize €1000 – Ticket No 141 Aine Brennan, Bog Road, Ardara 2nd Prize €500 – Ticket No 480 Geraldine Gallagher, Cashel, Ardara 3rd Prize – €400 – Ticket No 282 Caoimhe Earley, Drimaha, Ardara 4th Prize €300 – Ticket No 430 Caroline O Donnell, Front Street, Ardara 5th Prize €200 – Ticket No 129 Con Breslin, Ard Conal, Ardara 6 th Prize €100 – Ticket No 766 Christine Byrne, Meenareen, Carrick
GAA Flotto Results 24th June
The numbers drawn were 5, 12, 17 and 28 and the nearest were Margaret & Conal McGill, Glengesh and Neil Hunter, Hollywood, Co. Down.
GAA Flotto Results 1st July

The numbers drawn were 2, 10, 21 and 29 and the winner of the jackpot of €2500 was Marie Fox, Manorhamilton, Co. Leitrim.
Right-of-Way to Cashelgolan Beach: Public Meeting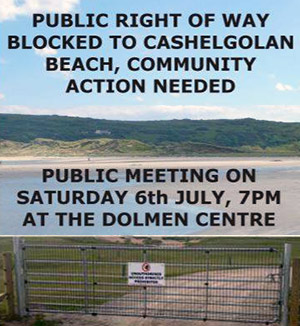 An Extraordinary Community & Public Meeting will take place to discuss the blocking of a right-of-way to Cashelgolan Beach and decide on a course of action.The meeting will take place at the
Dolmen Centre on Saturday 6th July at 7pm.
The Bluegrass Festival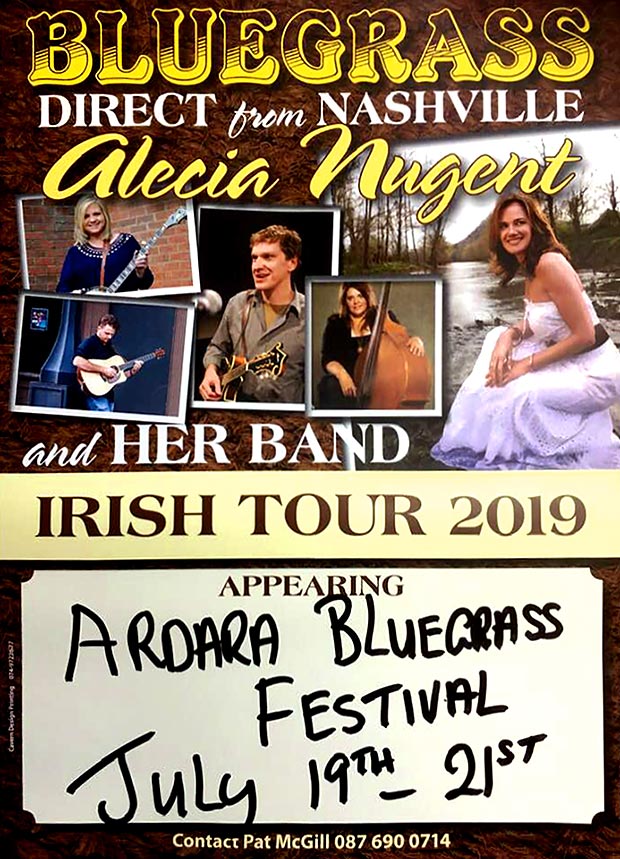 The Ardara Bluegrass Festival takes place from
Friday 19th to Sunday 21st July
.Some of the best bluegrass acts from the USA will be in Ardara for the festival and Alecia Nugent has been confirmed as this year's headline act.One not to be missed!More details coming soon on the
Bluegrass Festival page.
Ardara Show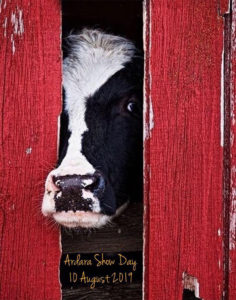 The Ardara Show will take place on
Saturday 10th August
.The Prize Schedule for this year's Show, which includes entry forms for the various categories, is now available in local shops.
The last day for acceptance of entries is Sunday 21st July 2019
and no entry will be accepted after that date.Trade stand space must be booked in advance.For further information email
ardarashow@gmail.com
or phone 087-6003021
Goats Don't Shave in The Nesbitt Arms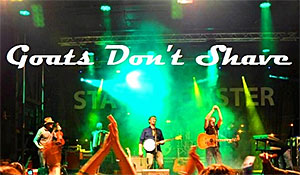 Celtic folk rock band
Goats Don't Shave
will perform in
The Nesbitt Arms Hotel on Friday 12th July
as part of their 2019 tour.Doors open at 10pmAdmission is €15.
John Molloy's (Ardara) Reunion
A reunion for all former John Molloy (Ardara) Ltd. workers will take place on
Saturday 27th July in Ardara
.The evening will commence at 6pm in the factory with a wine reception and carry on then to the Nesbitt Arms Hotel afterwards for a Buffet and dance, starting at 8.30pm.Any workers interested in attending should text Michael on 087-6484748 or John on 087-7620045.More info in the coming weeks.
Tidy Towns
The Tidy Towns Judge will soon be visiting Ardara.We would really appreciate it if all property owners would make a special effort to ensure the facades of their buildings are looking as good as they possibly can.
Sliabh Tuaidh 3 Peaks Challenge
A guided hill walk taking in the three summits of Sliabh Tuaidh.Registration will be at the
Heritage Centre in Ardara at 9.00am on Saturday 20th July
.
Experienced walkers only with good fitness level.More information on our 3 Peaks page.
Phone Kevin 087-6734875 with enquiries or message on
Facebook.
Anniversary Masses
For those viewing on the
Church of the Holy Family webcam
Tuesday at 10.00am – Anniversaries of Willie & Nan McNelis Wednesday at 7.30pm – Anniversary of Rose Haughey Friday at 10.00am – Anniversaries of Francie & Maggie Diver Friday at 7.30pm – Anniversary of Pauric Breslin Saturday at 11.00am – Anniversary of Maggie Watters , Monargan Saturday at 7.30pm – Anniversary of James Hegarty
ARDARA WEATHER