Summer Lights Festival
The Summer Lights Festival takes place in Ardara on the June Bank Holiday weekend. Some of this year's highlights include:
Celebrity Cookery Demonstration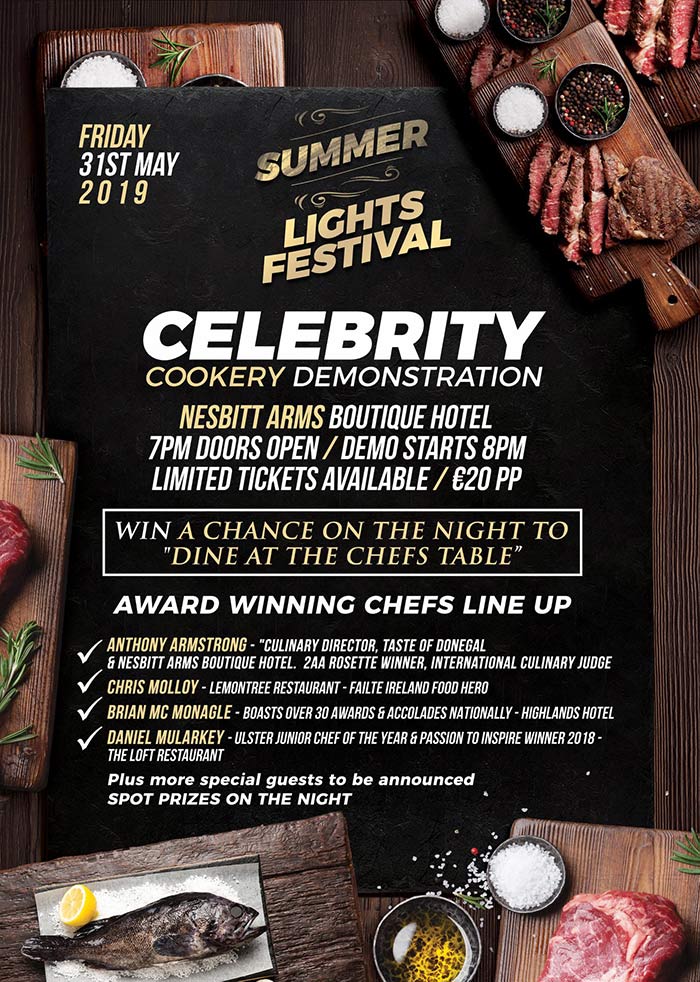 Tickets will be on sale this weekend for the
Summer Lights Festival Celebrity Cookery Demonstration
which will take place in the
Nesbitt Arms Hotel on Friday 31st May from 7pm
.Some of the finest chefs in the country will give food and cooking demonstrations. The lineup of award winning chefs includes:
Anthony Armstrong
– Culinary Director, Taste of Donegal and Nesbitt Arms Boutique Hotel. 2AA Rosette Winner, International Culinary Judge.
Chris Molloy
– Lemon Tree Restaurant – Failte Ireland Food Hero.
Brian McMonagle
– Boasts over 30 awards & accolades nationally – Highlands Hotel.
Daniel Mularkey
– Ulster Junior Chef of the Year and Passion to Inspire winner 2018 – The Loft RestaurantThis is a wonderful opportunity to see and sample cooking at its finest. Sliabh League Distillery, Old Mill, Kinnegar and Dicey's Breweries, will be on hand to allow guests sample their unique products. This is a very special night and one not to be missed. There will be more details to follow.
Spot prizes on the night.
Win a chance to dine at the chef's table!
Limited tickets available. €20 PP.
To book call the Nesbitt Arms Hotel on 0749541103.
Lovin' the Hills
The Ardara Hillwalkers will be hosting a guided hill walk from
Port to Maghera
, one of the most spectacular coastal cliff walks in Europe, on
Saturday June 1st 2019
, as part of the
Summer Lights Festival
weekend.Join Kevin at
9.00am at the Heritage Centre
(bus collection). This is a fantastic walk and takes up to 7 hours.
Good hiking gear, boots, jackets etc. and good level of fitness essential.
Anyone interested in participating can message the organisers via their
Facebook page
or email
donegalwalkingguide@gmail.com
Cost: €25 per person.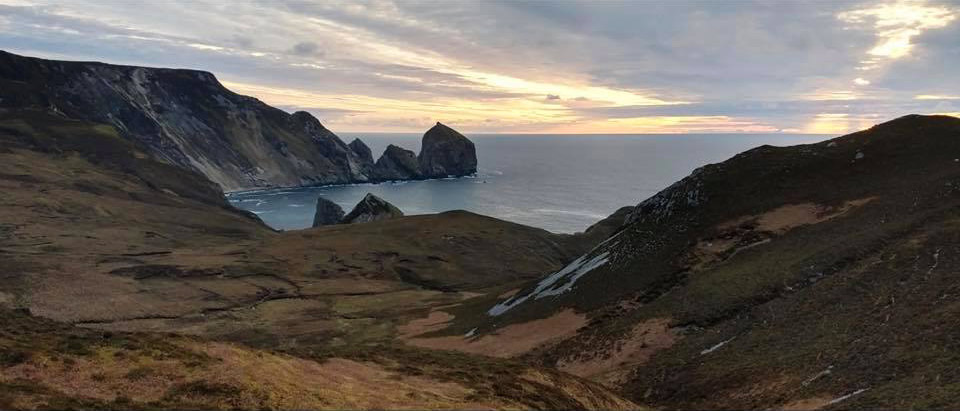 Bread Making Competition
The Heritage Centre – 10.00am to 3.00pm Saturday 1st June
Sheila invites anyone who loves baking to get involved in this fun competition!All bakers should submit their entries to the Heritage Centre up to 3.00pm, where the judges from the main sponsor Gallagher's Bakery will judge all baking.
For details contact Sheila at the Heritage Centre
Kilclooney Country Market at the Summer Lights Festival
The Kilclooney Country Market, based in Iniskeel Hall Portnoo, is now entering its tenth anniversary and is delighted to be invited to be part of the
Summer Lights Festival
. All the marketeers live locally and revel in being able to bring the best of local produce, whether it be baking or crafts, to its customers.So, whether you want the best bread and a dollop of jam or chutney, a fabulous scenic print, a hand knitted garment, scented soaps, crafty driftwood, slate & paper craft, a greeting card or a new pair of earrings, this market has it covered.Come and check us out in
Mickalene's Bar
, say hello & browse a while
from 11am on Saturday June 1st
. You can
check us out on Facebook
to see our news and where & when to find us over the summer!
The full programme of events for the weekend is on the Summer Lights page.
Ardara Parish Church
A fundraising draw with a top prize of €200 will take place on
Friday May 31st
when Ardara Parish Church stages a special
Coffee Morning in Teague's Bar, Ardara
.Cakes, jams and other goodies will be on offer. Draw tickets are now available from church members.
Tidy Towns
Ardara has entered the Tidy Towns Competition and we hope many people will assist with keeping the town tidy. Well done to all the members at the Ardara Resource Centre for planting flowers on the Diamond and they also keep a watchful eye on litter or untidiness at Drumbarron Hill.There are a number of town houses being painted at present and they look good and hopefully other premises will follow suit. John Cassidy continues to do an excellent job in making sure there is no litter on the streets or surrounding areas. A concern has been voiced that some dog lovers walking their dogs on the streets of Ardara may not be lifting their dog droppings as is required, and we hope that this can be addressed as soon as possible.The work on keeping the town entrance roads in good order by Charlie and Leo is much appreciated. Also thanks to Eugene for his good work with the flowers and shrubs. Noel cuts the town lawns and is doing an excellent job. Kieran and Michael painted the summer seats this week and they look great. The flower baskets will be put up by PJ in the next two or three weeks which will add handsomely to the town. If everyone helps a little we can do a lot.
Ardara GAA 10 Week Draw
The Ardara GAA Club are organising a 10 week club development draw with €25,000 in prize money and tickets being sold for €100.00. This is for future facilities at the club. There will be 10 draws with weekly prizes of €1000.00, €500.00, €400.00, €300.00, €200.00 and €100.00. There will be a special draw for anyone who fully pays up the €100.00 in advance. Sellers will be going door to door in the Parish in the coming weeks. The first draw is on Sunday 9th June, 2019. Tickets can also be purchased in Divers Newsagents and online.
Red Squirrels West of Ardara
Biodiversity Week
at Sheskinmore Nature Reserve.
Talk and guided walk with Michael Stinson, Ulster Wildlife.
Saturday 25th May 2019 at 12.00 Midday. McGlinchey's Centre, Sandfield, Ardara. Turn off at L7743.Further information: Emer Magee, NPWS,
emer.magee@chg.gov.ie
, 087-6468439.No booking required but spaces are limited.
Reflexology Clinic in the Heritage Centre
There will be a Reflexology Clinic in the Heritage Centre on the 2nd and 4th Friday of the month. Contact 087-2854668 for an appointment.
Flotto Draw – 12th May 2019
Numbers drawn:
4, 7, 10, 21
The nearest were: Leica Doherty, Glengesh & Ann & Thomas, Annoras, Narin.Next week's jackpot is €5300
Anniversary Masses
For those viewing on the
Church of the Holy Family webcam
Tuesday 7.30pm – Month's Mind Mass of Packie GallagherWednesday 7.30pm – Month's Mind Mass of Fr. Frank MolloyThursday 10.00am – Anniversary of Tommy KennyFriday 7.30pm – Anniversary Mass for the deceased members of the McGrenra familySaturday 11.00am – Anniversary of Packie WattersSaturday 7.30pm – Mass for the deceased members of the Haran family
Sympathy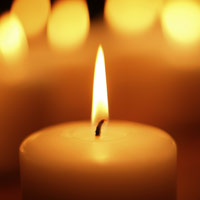 The sympathy of the Community this week goes to the Breslin Family Monargan on the death of John last week and whose funeral took place in Ardara on Sunday last.
ARDARA WEATHER