Slowey BBQ celebrates 10 years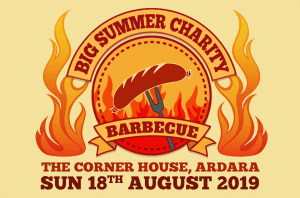 In August 2010, Gerard Slowey decided to run an event to help raise funds for Breast cancer Research, having buried his wife Margaret from the dreaded disease a year earlier. Gerard did as he always did put everything into organising this summer BBQ event to fundraise.The response from the people of Ardara and surrounding parishes was amazing and Gerard raised a lot of much needed funds for the Research. In later years, Gerard became very impressed by the work done by Cancer Care West in helping people from Donegal in so many ways. He was also impressed by the great effort and attitude of the Cancer Care coordinator in Donegal Grainne McGettigan and in later years he split the money raised by the annual Charity BBQ between Cancer Care West and two local Charities.Sadly, in December 2016, Gerard passed away from a heart attack but his wonderful young family of Aine, Mairead and Anthony have taken on the mantle and continue to run the annual BBQ each year, this year on
Sunday August 18th at 5.30pm in the Corner House.
This year the Slowey BBQ proceeds will go to Cancer Care West and to the local Care of the Aged Committee and also this year the Sloweys will be giving some of the proceeds to that wonderful Community Project in Narin, the building of a Community Swimming Pool. Gerard was keen to see the project proceed.Up to a dozen bands and entertainers will be on stage from 5.30pm on Sunday organised by John Joe McBrearty and Stephen Slowey. The MC for the evening will be Frank Galligan. A worthy cause with a great event.
Donegal Appalachian Trail Walk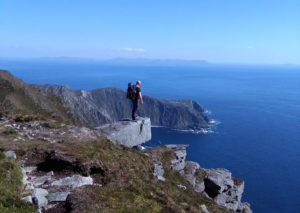 From Bunglass via Slieve League to Malin Beg. 12k moderate to difficult walk. Beautiful scenery and fantastic views of some of the highest sea cliffs in Europe and spectacular coastlines.Registration and bus pickup at the Heritage Centre, Ardara on
Saturday August 31st at 9.00am
. Duration approximately 8 hours.Good hiking gear, waterproof jackets, boots, packed lunch, water etc. a must.Cost: €35Contact Kevin 087-6734875 for more information.
Ardara Community Childcare Vacancy
Ardara Community Childcare have a vacancy for a CE participant. To be eligible you must be in receipt of unemployment benefit or assistance, or lone parent payment for at least 12 months and be over 21 years of age. This is a great opportunity to train in Childcare as the course is provided free. 19.5 hour week placement as a childcare assistant.if you require any further information please get in touch with Kate (DLDC) on 0868535524.
Job Club Workshop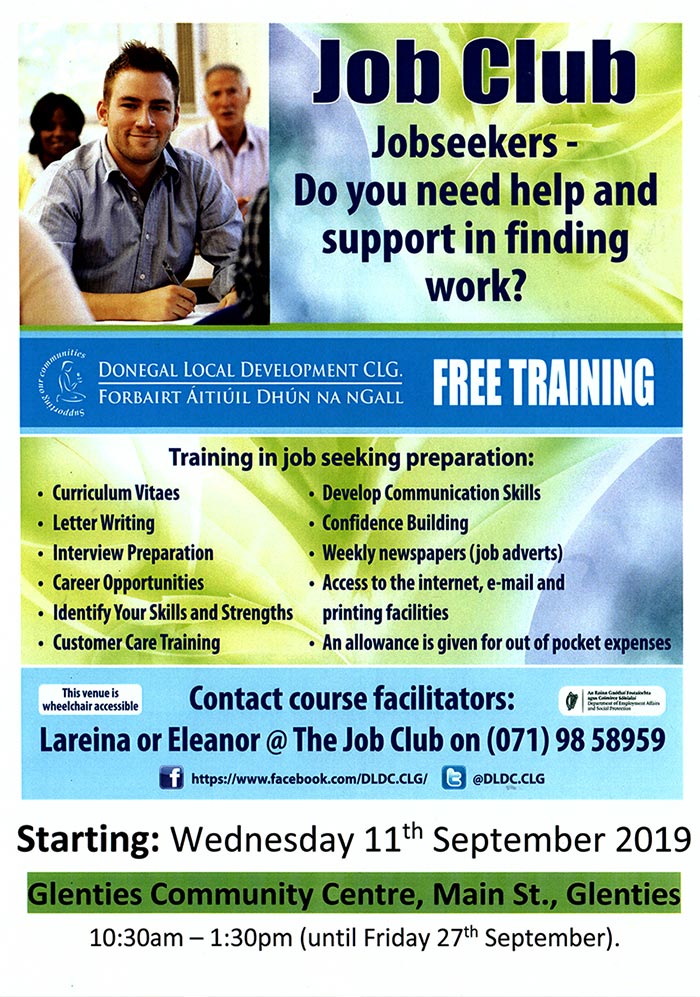 Are you looking for practical support and guidance to help you access employment opportunities in your local area?A FREE Job Club Workshop covering CV Preparation, Interview Advice, Customer Care Award (Taste 4 Success), Job Search and Letter Writing will be taking place in the Glenties Community Centre
starting Wednesday 11th September 2019
and will run for just under three weeks finishing Friday 27th September. Daily times 10:30am – 1:30pm. For more information or to book a place please contact Lareina/Eleanor on 071 98 58959 or visit
www.dldc.org
Ardara GAA 10 Week Draw
The tenth and final draw in the Ardara GAA Development Draw took place on Monday 12th August. The winners were:
1st prize €1000 – Ticket No 148 Mary McCrossan, Portnoo Rd., Ardara.
2nd Prize €500 – Ticket No 521 Pauric & Sharon Kilbane, Loughross Point, Ardara.
3rd Prize €400 – Ticket No Geraldine Ferguson, Moagh, Ardara.
4th Prize €300 – Ticket No 512 Willie Quinn, Summy, Portnoo.
5th Prize €200 – Ticket No 282 Caoimh Earley, Drimaha, Ardara.
6th Prize €100 – Ticket No 316 Helena & Colette c/o Texaco, Donegal Town.
GAA Flotto Results 12th August
The numbers drawn were
6
,
9
,
10
and
16
and the two nearest were: Angela Molloy, Edergole and Ruby Brennan, Hillhead.
Duchas Calling
It's the time of year to get started writing any articles for the Duchas magazine. Articles and photographs can be left in Diver's Newsagents or West End House for collection.
Set Dancing Classes
Set Dancing Classes continue
every Monday night from 8.30pm to 10.30pm in the Heritage Centre.
Clement Gallagher calls the sets.Tea and home bakes served. Admission €5
Anniversary Masses
For those viewing on the
Church of the Holy Family webcam
Tuesday 10.00am – Anniversary mass for Sylvester Mulhern
Wednesday 7.30pm – Anniversaries of the deceased members of the Breslin Family, Crucknagapple
Friday 7.30pm – Anniversary mass of Brigid McGinley
Saturday 11.00am – Anniversaries of Margaret & Gerard Slowey
Saturday 7.30pm – Anniversary of Gerard Breslin
ARDARA WEATHER