Ardara Walking Festival 2019
Now in its 19th year, the Ardara Walking Festival has become an unmissable experience, attracting enthusiasts from all over Ireland and internationally.With a variety of hill walks ranging from moderate to difficult, led by professional local guides, there's something for everyone. Discover some spectacular scenery and hidden gems on a weekend to remember!
Walks take place on Saturday 16th and Sunday 17th of March.Saturday's walks
start at the magnificent Bunglas Viewing point, and highlights include:
The World-famous Sliabh Liag, boasting some of the highest and finest sea cliffs in Ireland
Terrific views of the Atlantic Ocean, the Sligo Mountains and Donegal Bay
One Man's Pass – as the name suggests, not for the faint hearted
The Pilgrim's Path – an ancient pilgrimage route to the sacred mountain
Sunday 17th March
features two walks and includes:
Maghera – renowned for its isolated caves, beach and waterfall
Sliabh Tuaidh – with first rate views across the bay and the lake nestled in its northern slopes
The idyllic Granny Glen
The beautiful Sheskinmore and Paradise Beach
Walks range from 8 kilometres to around 12 kilometres, with transport provided from Ardara to the start and finish points.The price is just €20 per walk, or €30 for two walks.
Registration is at the Heritage Centre this Friday 15th March from 6pm – 9pm.
Facebook users can let the organisers know if they'll be attending registration on the
Hillwalking Registration Event page
.Visit the
Walking Festival page
for more information or phone Kevin on 087-6734875. Stay up to date with the latest Walking Festival news on their
Facebook page
.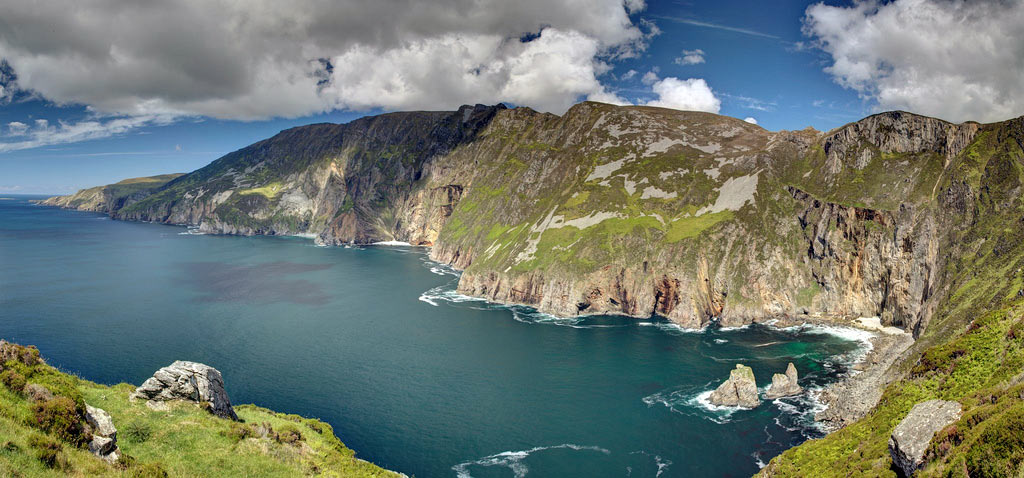 St. Patrick's Parade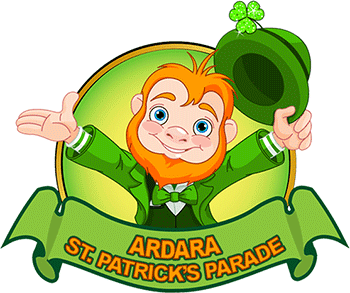 This year's St. Patrick's Parade takes place on Monday 18th March at 3.30pm.
A very special person who has made an amazing contribution to the Ardara Community leads this year's Parade.
Calling for Floats: We have quite a number of bands coming and we now need floats so we are asking the people of the community and businesses to assist. Please put in a float in this year's Parade!
For more information contact Margaret on 087 2023033.
"Note and Stave" Keyboard Lessons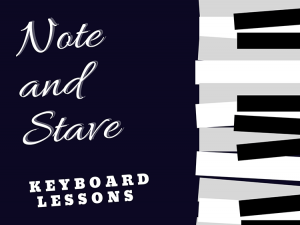 Beginner level keyboard lessons. Learn to play solo and with a group. Learn to read and sight-read music classically.
Classes start in April and places will be in demand.
Students will learn the basics, from reading music to sight reading and understanding music theory and performance.
Classes will start after school hours from 4pm to 9pm depending on location, and class sizes will be limited to a maximum of six students per hour.
Keep up to date on the Note and Stave Facebook page.
For further information phone Keith on 087-3680366 or email
keithbennett11@gmail.com
Registration
Dolmen Centre: 15th March 6pm to 8pm
Nesbitt Arms Hotel: 16th March 2pm to 5pm
CLG Ard an Ratha 5K

The GAA have a 5K on St. Patrick's Day at 1pm. Registration from 12 noon in the Clubhouse and everyone welcome.Membership is now due for the coming year and can be bought in Diver's.
New Life Choir at Ardara Methodist Church Hall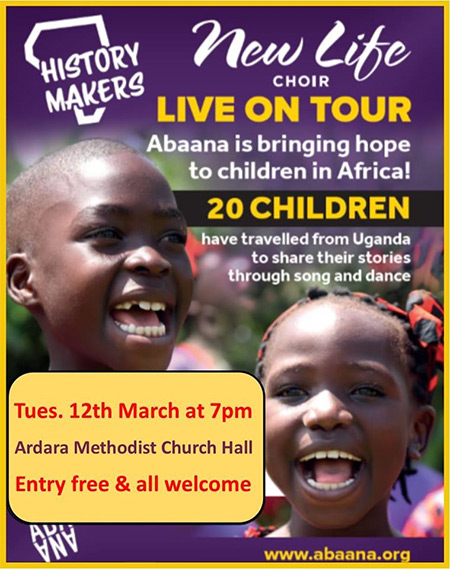 New Life Choir live on tour. Abaana is bringing hope to children in Africa. Twenty children have travelled from Uganda to share their stories through song and dance.The New Life Choir performances are great fun for everyone, so bring your friends and family along for what promises to be a great night.
Tonight, Tuesday 12th March at 7pm.
Entry free and all welcome.
www.abaana.org
Youth Worker Vacancy – CE Position
Narin Portnoo Rosbeg CE Project have a vacancy for Youth Worker, attached to Downstrands Family Resource Centre, in the Dolmen Centre.Community Employment criteria apply and CE participant can avail of training to up-skill while on the Project.To apply for the above, please email
dolmencentre@eircom.net
or telephone 074-9545010 during office hours.
Comedy Play in Leitir Hall
Comedy play
"The Island Wake"
written by Fergus Cleary will be staged in
Leitir Hall next Tuesday 19th March at 8.00pm.
The Island Wake is a hilarious comedy, recalling an island paradise free from traffic and such dangers. Many humorous stories and sayings from the Island folk are deftly woven into the nostalgic tale of Island life and wit.Fundraising for St. Brigid's Hall and Church of Ireland, Leitir.Doors open from 7.30pm. Admission €10 at the door.
ARDARA WEATHER