Assaranca – Lochnaluchraman Loop walk
By Walk on the Wild Side
We are going to try for a 12km loop hike starting and finishing at the Assaranca waterfall, and passing by Lochnaluchraman on Saturday 26th February. Setting off 11am sharp. Hope ye can make it.
€20 pp and kids free accompanied by an adult.
Easy to moderate walk but good walking gear a must as some spots will be boggy underfoot.
Google maps starting point: Assaranca Waterfall
https://maps.google.com/?cid=664036334027040759&entry=gps
More info on the Walk on the Wild Side Facebook Event page, or phone Kevin 087-6734875
St Patrick's weekend Walking Festival
The preparation for the Walking Festival is well underway at present. Some excellent walks have been identified by the organizer Kevin Maguire.
The programme for the weekend is on the Walking Festival page.
For further information contact Kevin on 087-6734875.
St Patrick's Parade
The parade takes place on Friday 18th March from 3.30pm from the Church Grounds. Things are now starting to heaten up with preparations for the Parade. Thankfully we have St. Patrick back again to lead the Parade along with a very important and popular Grand Marshall this year. This person does so much for this community without fuss. Thankfully, bands have committed to attending and now we just need our floats. So anyone with an idea, and there are surely plenty of ideas this year, please contact Hugh on 087-6737584 with your float idea.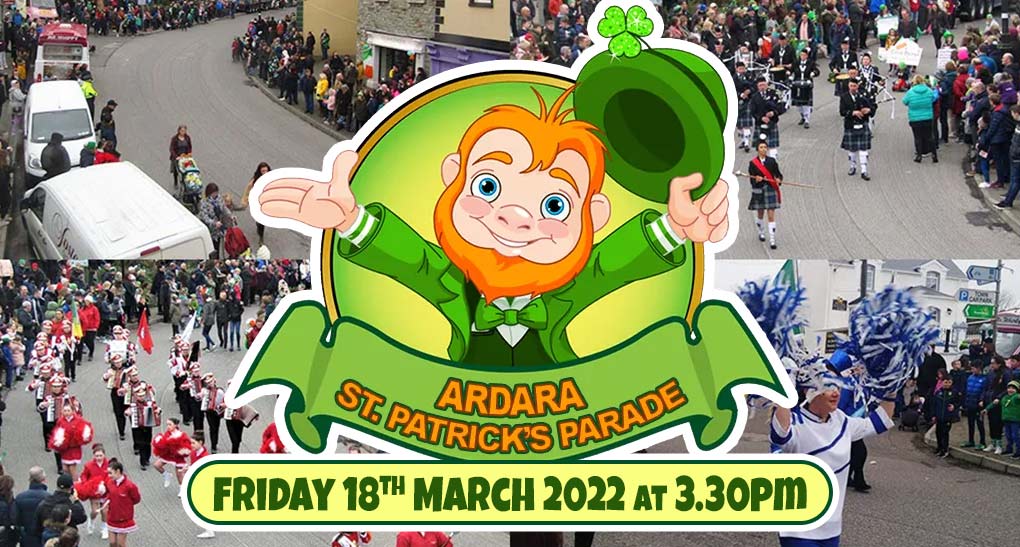 New Commissioner of Oaths appointed
The Chief Justice Donal O'Donnell on 8th December, 2021 appointed Stephen McCahill as a Commissioner of Oaths for Donegal. Stephen is also a Peace Commissioner for this area.
Town Evaluation
Ardara is in the process at present of having consultants appointed to evaluate the present state of our Community and looking at its requirements and needs on the next 20 years.
Once Consultants are appointed a full public consultation will take place with all interested groups and individuals on the future of Ardara and surrounding area.
The Courthouse Café
Shiela Sweeney has run the Café at the Heritage Centre for the past 15 years and has brought the standards of food in the area to a whole new level. Shiela's Restaurant made a massive contribution to bringing visitors to Ardara and we want to thank Shiela for the wonderful effort.
Now, a new lady opens the Restaurant at the Heritage Centre on Thursday 3rd March. It will be called "The Courthouse Café" and will be under the management of Sandra Whelan. We wish Sandra every good luck with her new venture and it is wonderful to see a local person contributing to the future business development of Ardara.
Dancing is back in the Heritage Centre
Bridget Robins runs Zumba, Zumba Gold and Line Dancing at the Heritage Centre throughout the week.
For more details contact Bridgie on 087-9130558.
Sets & Ceili Dancing Returns
This date has been long awaited by many but it is great to hear that Sets & Ceili dancing is to return to the Heritage centre on Monday 7th March. We hope to see all our friends return.
Sympathy
The community of Ardara wish to extend its sympathies to the Hennigan family on the death of Margaret Hennigan last week and whose funeral was on Friday. Also to the Boyle family on the death of Donna Boyle whose funeral took place on Friday in Ardara.