Outdoor Christmas Market
Ardara has an outdoor market starting this Saturday 5th at 12 noon and again on Sunday 6th from 12 noon. Claire and her team could not have an indoor market this Christmas.
There will be lots of pop-up stalls appearing in discrete locations around the town with loads of the usual Christmas items for sale and many new creations. Please come along and support this idea, a lovely creative feature to add Christmas cheer.
Ardara Christmas Lights Switch On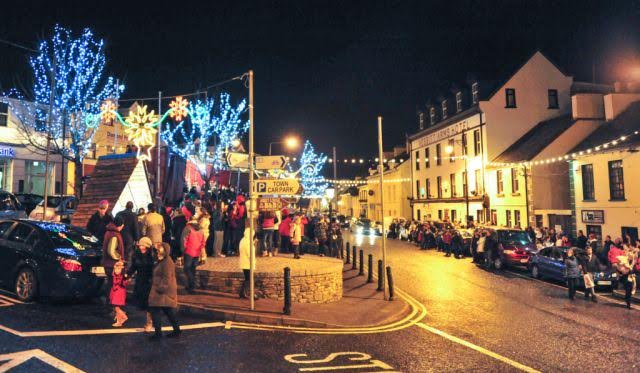 The community of Ardara at home and abroad have really made a special effort to ensure the town will be lit up for Christmas. To date over €5000 has been received via the Go Fund Me account and this is truly wonderful. Anyone who did not get a chance to contribute can do so up to Christmas on the GoFundMe page.
Shane and the boys have been working hard to have all ready for the big switch on. Then on Sunday from 5.30pm onwards the excitement of the switch on will take place with a group of students from a local school leading the event with a selection of carols from the Diamond.
As everyone is welcome to the Diamond, please keep socially distant except for family units. We will then hear the introduction of a very popular and important lady in our community take the countdown and switch on the lights for Christmas 2020.
Loss of Seamus Craig
Ardara lost one of its true Ardara characters with the death of Seamus Craig last Monday. On Saturday the people of Ardara saw Seamus's remains arrive at the Church of the Holy Family for service prior to removal to London for burial. Everyone loved Seamus and he in turn loved Ardara, loved the GAA, both Club and County, and indeed bought the lift at the new GAA Clubhouse. Seamus loved singing and indeed cut a CD some years ago. A member of the Craig family from the Diamond, he will be missed by all who knew him.
Dúchas
It is expected that the Duchas magazine should be in the shops on or before the 18th December. It is a fantastic edition this year and would make an ideal Christmas gift.