Wild Atlantic Festival
Today at the Wild Atlantic Week festival, visit the Pop-up Art Exhibition in the Heritage Centre from 12pm to 4pm, where paintings and crafts made during the week will be on display.
The Daily Walk (approx. 2 hours) along the Owenea River is at 2pm.
The annual Duck Race kicks off at 7pm on the Owentocker River, a Loughros Point Rowing Club fundraiser. Please support this great organisation. Ducks on sale for €4 from club members. Lots of prizes to be won! Contact Teresa 087-9159351
There will be live music in most venues in town to round off the night.
Tomorrow, Saturday 13th August, is Ardara Show day, which takes place this year at the GAA grounds. A day promising everything from top cattle, sheep, horses and ponies to a packed marquee of exhibits and a thrilling afternoon programme. It really is a day for the whole family, offering a wide range of entertainment. Visit our Ardara Show page for all the latest info.
There will be a Nature Walk of Ardara at 11am, starting with a brief introductory talk upstairs in the Heritage Centre.
The pubs in town will have great live music for Show Day, and the Wild Atlantic Week festival finishes with the Big Show Dance at 10pm.
The full Programme of Events is on our Wild Atlantic Week page.
Ardara Distillery Tours
Join us for a tour and learn how we distill our unique, soft-drinking, hard spirits in the famed Hills of Donegal.
Tours daily from 10am and booking is essential.
Can us on 0873605725 or email tours@sliabhliagdistillers.com
Letterkenny Reunion
The Letterkenny Reunion will be visiting Ardara next Wednesday August 17th at 12 midday. We hope they get a great Ardara welcome.
See Letterkenny Reunion on Facebook for details
Big Summer Charity Barbecue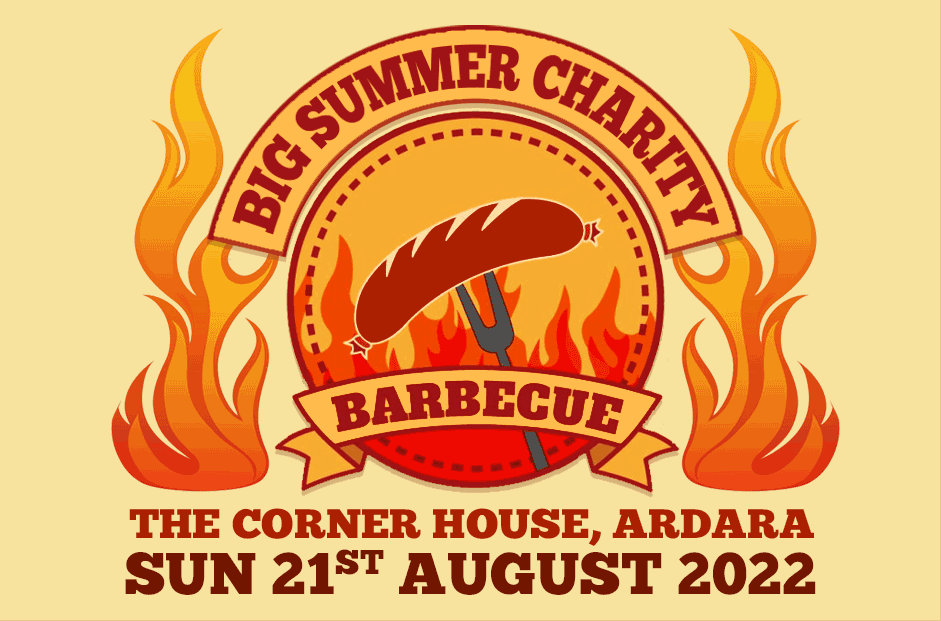 The annual Summer Charity BBQ in memory of Margaret and Gerard Slowey takes place Sunday Aug 21st at 5:00pm in The Corner House.
All proceeds in aid of Cancer Care West and other local charities.
Fundraising page: https://gofund.me/2035e8e1
See the Big Summer BBQ page for details.
Woodhill Resource Centre 5k walk/run
The Woodhill Resource Centre 5k walk/run takes place on Sunday 21st August at 1pm and is open for entries here: https://www.njuko.net/woodhill_centre…/select_competition
Proceeds going to a very worthy cause and prizes for all categories. Entry €10 online / €12 on the day.
Ardara Historical Walking Tour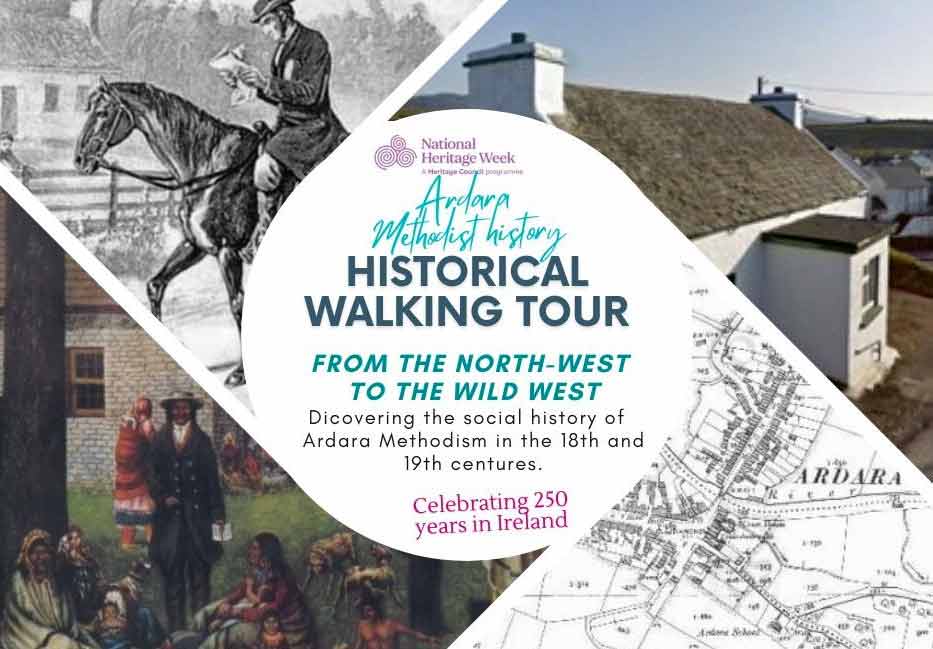 Ardara Methodist History: From the North-West to the Wild West
Sunday 21st August.
Discover the stories and places that were shaped by Ardara Methodism in the 18th and 19th centuries in Ardara. There will also be a treasure hunt for children as part of the tour with prizes. The walking tour will leave the Methodist Hall car park at 6pm and will be followed with a short presentation and tea/coffee inside the hall following the walk. All are welcome.
Visit our Walking Tour event page for further information.
Diver's Anniversary
Congratulations to Diver's Centra on 40 years in business!
Covid-19 Second Booster
Any patients over 65 years old are eligible for the vaccine. You can get your second booster at least four months after your first booster.
If you have had Covid-19 since your first booster, you must wait at least four months after you tested positive or from when your symptoms started.
Patients of the surgery can ring 074-9541134 to register their name on our vaccine list and we will contact you when the clinic date is confirmed.
National Heritage Week Events
Biodiversity Hike around Dawros Head
14 August, 2pm – 6pm
Donegal GAP Heritage and History Group
Dawros Bay Hotel, Rosbeg
Led by Maurice Simms and Paula Harvey, the hike will commence (and finish) at Dawros Bay Hotel, Rosbeg starting at 2.00pm on Sunday 14th August. Exploring the rich natural heritage of the area, including the Wild flowers, Butterflies, and Bird life….the importance of plants and wildlife for a sustainable world. We may see the sulphurous spring near to the shore. On our walk we will stop at the early 19th century signal station on the foreshore of Dawros Head where we will get excellent visibility in all directions, especially to the south-west towards Glen Head Signal Tower. Looking to the north-east we will see the Crohy Head Signal Station all of which were part of coastal defences against a French invasion. We will pass by the grouping (hamlet) of ruined houses and a very fine lime kiln on our return journey.
Maximum: 25 People
Booking essential by Monday, 8th August to ardaraheritagehistory@gmail.com or 087 921 4206.
Children must be accompanied by an adult but not suitable for children under 10 years.
NO DOGS ALLOWED
Rough and rocky terrain: good strong walking boots, waterproof gear, walking sticks/poles, moderate level of fitness.
Complimentary Tea By The Sea at Dawros Bay Hotel afterwards
Further info: Biodiversity Hike around Dawros Head | National Heritage Week 13 – 21 August 2022
Plants: Local and Global by Liam Dolan
20 August, 7:15pm – 8:30pm
Donegal GAP Heritage and History Group
Beehive Bar, Main Street, Ardara
Plants play important roles in our lives. They provide humanity with food, medicine, clean air and fuel. They also play critical roles in the environment and buffer the planet against changes caused by humans. This presentation will highlight the importance of plants to humanity using examples from local, Donegal heritage and from around the world.

Liam Dolan is a senior scientist at the Gregor Mendel Institute, Vienna and emeritus fellow of Magdalen College Oxford. His research uses genetics to understand how plants develop and evolve. His was elected a Fellow of the Royal Society in recognition of his contributions to science. He was the Sherardian Professor at the University of Oxford until 2020 and Trustee at the Royal Botanic Gardens, Kew, until 2022.
This event takes place before 'An Hour with Charlie Boyle and Friends'.
Further info: Plants: Local and Global by Liam Dolan | National Heritage Week 13 – 21 August 2022
An Hour with Charlie Boyle and Friends – All Around the Bloomin' Heather
20 August, 8:30pm – 9:30pm
Donegal GAP Heritage and History Group
Beehive Bar, Main Street.
Poetry from Glenties renowned local poet Charlie Boyle who will be joined by friends for songs and stories on nature and more.
This event follows the illustrated talk on PLANTS: LOCAL AND GLOBAL (Place of Plants in Our Lives) by Liam Dolan and will commence in the Beehive Bar, Ardara at 8.30pm.
Further info: An Hour with Charlie Boyle and Friends – All Around the Bloomin' Heather | National Heritage Week 13 – 21 August 2022
Club Development Draw
The Week 5 Free Ticket Draw winners in the Ardara GAA Club Development Dray which were drawn on Tuesday evening are:
Fergal Heena
Greg McGroary
Four Masters GAA
Neil Lazar, NY
Declan Gallagher, Kilkenny
Gabriel Gallagher, Navan
Thanks to everyone for their support.
Late Margaret McHugh
Sympathy is extended to the family of Margaret McHugh (née Boyle), Glengesh, Ardara, who died peacefully at Letterkenny University Hospital on Wednesday last.
She will be sadly missed by her loving husband Christy, her sons Kevin and Paul, her daughter-in-law Nollaig, her grandsons Matt, Luke and Shane, her sister Mary McCallan (Chicago), her friends, neighbours and extended family. Predeceased by her brothers Michael and Andrew Boyle (Kilcar).
Funeral Mass took place in the Church of the Holy Family on Friday morning with burial afterwards in the adjoining cemetery.