Acting Workshops at The Heritage Centre
A series of Acting Workshops for adults will be starting soon at the Heritage Centre including Acting Technique, Scene Study, Improv, beginning with a 4 week Shakespeare workshop.
Class starts Friday 8pm – 9pm
4 week workshop – €40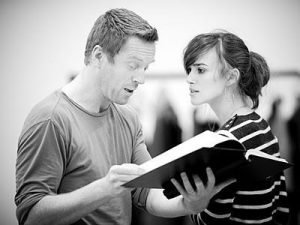 This class is appropriate for all levels, absolute beginners to advanced alike and highly recommended for anyone interested in the following acting workshops as it provides a foundation of acting techniques to take it from the 'page to the stage' with ease and comfort. You will learn techniques on how to eliminate nerves and focus on what's important to build a scene whether you choose to perform or not. Performance is not necessary in this workshop but optional after week 1 or 2 for those interested in just the reading and understanding Shakespeare.
4 week Shakespeare Workshop
This 4 week Shakespeare workshop will teach you the truly simple foundation of Shakespeare. Once you know the few, simple rules you'll see Shakespeare is the easiest playwright to learn, memorise and work with. You'll also learn the tricks Shakespeare used to direct his actors through rhythm, rhyme and rules. You will come out …
Having a clear understanding of iambic pentameter – what it is and how and why it's used
Understanding the few simple scansion rules that make "acting" Shakespeare easy
You will learn warm ups used by professionals (such as Sir Ian McKellen, Ralph Fiennes, Judy Dench developed by Patsy Rodenburg) that relax the body, free you up to perform, inform character choices and notice your own personal tendencies!
Come out effortlessly reciting your own shakespeare monologue or verse and leave with the ability to read and understand any of his works with ease.
Please call 0873667655 to register