Annual Charity Barbecue
The Corner House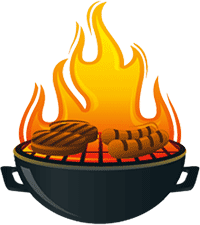 In Memory of Margaret & Gerard Slowey
As many of you in the locality of Ardara, Co.Donegal will know – each year we run a charity BBQ in the Corner House Ardara to raise funds for key charities close to our heart.
Our father, Gerard, started running the event after our mother Margaret passed away from Cancer in 2009. Mum was lucky to have availed of the wonderful services of Inis Aoibhinn while receiving treatment in Galway. Inis Aoibhinn is run by Cancer Care West and so remains as our anchor charity to this day.
Cancer Care West now also has a facility based in Letterkenny that provides cancer support services to the people of Donegal.
You can read all about the great work they do here: https://www.cancercarewest.ie/
In 2016, Dad passed away suddenly and while this was a shock to us all we wanted to make sure the legacy of the BBQ lived on. We have had some great days out the back of the Corner House – rain, hail, snow, and sun and are proud that we have supported some fantastic local causes over the years, all in the memory of our wonderful parents.
This year's BBQ will take place on Sunday 20th Aug @ 5pm. We are so looking forward to the BBQ and have some great musical entertainment lined up for the evening.
This year, all proceeds will be split between Cancer Care West and the Narin Beach Wheelchair Fund.
Looking forward to seeing as many of you as possible on Sunday 20th August, from 5pm in the Corner House Ardara!