One Fine Dave
Thu 1st September
8:00 pm
Highlands Hotel Glenties
A Celebration of the Life and Music of Dave Wintour
This is a free event but should you wish to make a donation, please do so to Pieta House – www.pieta.ie.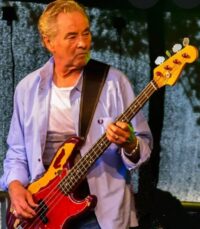 Dave Wintour was one of the most sought-after bass session performers from the 1960s onwards, playing with a formidable list of artists in the world of rock and popular music.
Many artists benefited from Dave's deft touch on the bass, including Dusty Springfield, Clifford T Ward, Chicken Shack, Rick Wakeman and Leo Sayer. He played bass on Roger Daltrey's 1975 solo album Ride a Rock Horse and on the Who's original 1969 Tommy album.
Dave toured with Neil Sedaka and is featured on the 1974 album Live at the Royal Festival Hall with the Royal Philharmonic Orchestra. In 1975 he played on the Stealers Wheel LP Right or Wrong. Then in 1995 Dave became a Wurzel for seven years. (Extract from Dave Wintour obituary published in The Guardian).
Following his "retirement" to Donegal Dave played with various bands and groups including The Hunky McCoys and the Eric Bell Trio . Many of the musicians that Dave Winter played with in Ireland will be playing at tonight's event in the Highland's Hotel.