Ardara Agricultural Show
Sat 10th August

Sandfield

One of the top Agricultural Shows in Ireland!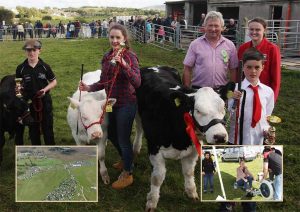 Ardara has been running the biggest Show in Donegal for over 100 years.
The Ardara Agricultural and Industrial Show, the culmination of the Wild Atlantic Week, is a day promising everything from top cattle, sheep, horses and ponies to a packed marquee of exhibits and a thrilling afternoon programme.
It really is a day for the whole family, offering a wide range of entertainment.
In scenic Sandfield for the fifth year, it is a day not to be missed!
2019 Schedule
Horses & Ponies
Judging commences 10am
Ponies will be judged first followed by horses
Judges are Roger Brady & Laura Brady
Prizes: €50, €30, €20
Cattle
Judging commences 10am
Judges are Robert Simpson & Sean McGovern
Prizes: €60, €40, €20
Sheep
Judging commences 11am
Includes the €2,300 All-Ireland Scotch Black Face Ewe Lamb Final
Judges are Thomas Harkin, Cathal Harkin, Frank Butler, and Christopher Johnson
Marquee
Judging Commences at 10.00am
Exhibits include:
Honey/Veg/Produce
Flowers
Cake Making
Jam Making
Knitting/Arts & Crafts
Painting
Photography
Wine
Special Needs Section
Children's Section
Prizes: €10, €7 and €5
Entries are now closed
Full listing at www.ardarashow.com/marquee
Dog Show
A Fun Dog Show will be held at 2pm in the Show Field.
Entries will be taken in the Show Field from 1pm
Charges will be €2 for one class and €1 for additional classes
Judge for 2019 Dog Show is Martin Potts
Full details at www.ardarashow.com/dog_show
Looking for a lift to the Show Field?
Buses will be available all day at the Diamond in front of The Nesbitt Arms Hotel
More information on the Ardara Show website

Lots of fantastic entertainment this year with
David James on the Show Field
and
The Duck Street Jam Band at The Nesbitt Arms Hotel for Show Night

For enquiries contact:
Secretary: Jennifer Breslin
Phone No: 087 600 3021
Email: ardarashow@gmail.com