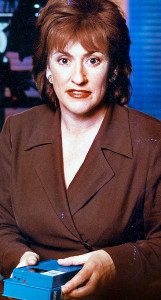 Bibi Baskin or Olive Baskin as she is known locally comes from a family of three girls to parents Jack and Hilda Baskin (Hanlon). Bibi grew up on the Hillhead, Ardara and went to the local Wood School.
After College Bibi became a teacher and has a wonderful love of the Irish Language. Indeed, she left teaching to become Editor of an Irish Magazine in the 1980's called "Anios".
Bibi had her own very successful TV Show in the 1980's and early 1990's on RTE Television and was considered on a par with the Late Late Show. Then in the mid 1990's Bibi decided to leave Ireland, travelling quite a bit to places like the USA, Britain and eventually settling in India. Bibi has been living between India and Ireland ever since. Bibi was a regular visitor to Ardara while her mother, a very popular local lady, Hilda Hanlon lived at the Hillhead, Ardara. Sadly Hilda passed away in 2014 and Bibi hasn't been a regular visitor to her home town in recent times.