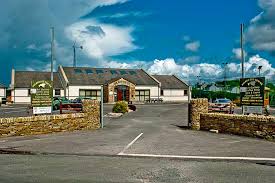 The Dolmen Eco-Tourism Centre at Kilclooney is a state of the art Eco Centre, offering the following facilities.
Play area
This was completed in 2006 and has proved a valuable asset to the locality and the parishes beyond. It consists of Swings, Slides, Climbing frames, Tunnels, Abacus and safety matting. This facility is free to all children who wish to avail of it, and our only request is that they be properly supervised during their visit.
Astro Turf
This facility was completed in August 2008 and is the culmination of much lobbying and fund seeking by the Committee. The pitch is available to rent at an hourly rate of €40 for Adults and €20 for Children. Booking in advance is essential.
Downstrands Family Resource Centre
This project was set up in 2006 and the initial timeline was 3 years. Kate Morgan is the Project Leader and under her stewardship it has blossomed and blended seamlessly into the community. Achievements include the setting up of a Youth Club,Mens Sheds, Counselling Service, Christmas Parties, Official Opening by former Minister of State Michael O'Kennedy, Summer Camps, Newsletters and much more.
Gym and Sauna
This includes several cycling, rowing, step and running machines with mats to help you limber up before you begin your workout! The Gym is available at €4 per adult per hour or memberships at competitive rates can be taken out for 3mths, 6mths or a year. The Sauna is also available for the same hourly rate. It is advisable to contact the Centre in advance of using the Sauna so that it can be made ready for your visit. Further information can be had by contacting the centre directly.
Function Hall
This facility hosts Dances, Anniversaries, Birthday parties, Cake Sales, Cinema, Fashion shows, AGM's etc. and can be rented by the hour. If you require the Kitchen facility as part of your function, this can also be catered for. Prices for the Hall rental start at €20 per hour.
Swimming Pool
The Dolmen Centre Committee have long been pursuing a Public Swimming Pool for the area. They have engaged with Donegal County Council and through a Public Procurement Process, engaged a Design Team, headed by Quilligan Architects. The swimming pool is currently (November 2018) at the
planning stage
.