Stocking an extensive range of health, beauty, fragrance, veterinary, jewellery and digital photo printing products.
Products and Services
Health
Here at Kelly's Pharmacy, we cater for all types of prescriptions including:
Medical Cards (GMS) – This entitles the holder to free prescriptions (with some exceptions).
Drug Payment Scheme (DPS) – This scheme covers families and individuals for the cost of their prescribed medication. Under the DPS, no individual or family will have to pay more than €120 in any calendar month for approved prescribed drugs, medicines and appliances for use by that person or his/her family in that month.
Long Term Illness (LTI) – If you suffer from certain long-term medical conditions, for example diabetes, cerebral palsy, cystic fibrosis, epilepsy etc., you are entitled to get the drugs and medicines for the treatment of that illness free of charge.
Private – Private Prescriptions
Prescriptions filled while you wait or you can phone in advance and it will be ready for you. This service is only available for repeat prescription.
Photo centre
Our new and fully equipped Epson Go Photo has a full 1 hour photo service, supplying superb quality photographs every time.
Our Photo Centre services include:
1 hour service
Full 35mm film developing and processing service
Prints from digital cameras
Prints from memory card
Prints from prints
Photos to CD
Red eye reduction
Print up to 12″ x 18″ size
Zoom and crop photos
Passport pictures
Print directly from your mobile phone
We also stock a wide range of cameras, photo albums,
picture frames and offer canvas print services in different sizes.
So why not call in to us today with your camera, memory card,
cd or dvd and get great quality photographs in no time.
Consultation Room available for private consultations with pharmacist.
Fragrances
Here at Kelly's, we pride ourselves on our extensive range of fragrances for both him and her which include brands such as:
For Her
Dolce & Gabbana, Hugo Boss, Gucci,
Tommy Hilfiger, Lacoste, Yves Saint Laurent,
Burberry, Elizabeth Arden, Viktor & Rolf,
Ralph Lauren, Jean Paul Gaultier, Armani,
Calvin Klein, Beckham Fragrances, Davidoff,
Chanel, IsaDora, Caroline Herrera,
Nina Ricci, Dior & Marc Jacobs.
For Him
Davidoff, Lancome, Hugo Boss,
Lacoste, Lynx, Dolce & Gabbana,
Ralph Lauren, Joop!, Beckham Fragrances,
Gucci, Jean Paul Gaultier, FCUK,
Ted Baker, Nivea,
Diesel, Tom Ford, Sure for Men
If you can't find a fragrance brand that you want in our pharmacy,
just ask one of our expert staff and we will do our very best to get
it ordered as soon as possible.
Veterinary
Farmers and domestic animal owners from all round southwest Donegal come to us here at Kelly's Pharmacy to avail of the extensive and specialized range of veterinary products that we offer.
We supply such veterinary brands as:
Chanelle
Fasinex
Nilzan
Bovez
Worm All
Zerofen
Thriver
Ridafluke
Rafa Zole
Tribex
Chanatol
Flukiver
Eqvalan
Ark Animal Care
Animex and Many Many More
Jewellery
We stock an extensive range of jewellery including earrings, bracelets, watches, chains, rings, necklaces and much, much more. Of course we stock for both him and her, with brands such as:
D'Alton
Sekonda
Seksy
Rotary
ECS Silver
Cool
Quartz Shivaz
Accurist
Citizen
Gioie & Co.
Clan Dela
The Real Effect
If you can't find a brand of jewellery that you want in our pharmacy,
just ask one of our expert staff and we will do our very best to get
it ordered as soon as possible.
Recently we installed an ATM to help the town as we had our bank removed from the town.
Also we offer a repair and battery replacement service on any jewellery bought in either the pharmacy or All Kinds of Everything.
Pharmacy Opening Hours:
Monday – Saturday: 9:00am – 1:00pm & 2:00pm – 6:00pm
We also open on Sundays for a number of weeks during the Summer.
(The dates for these weeks will be shown here closer to the time.)
Our Address: The Diamond, Ardara, Co. Donegal
Telephone: 074-9541120
Email: jokelly@indigo.ie
Photos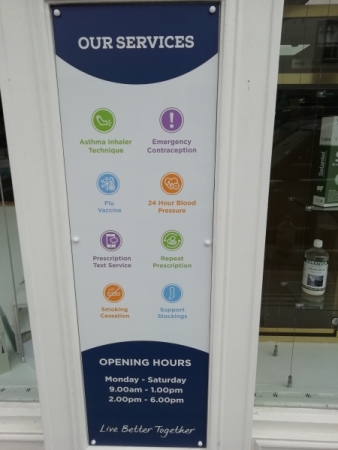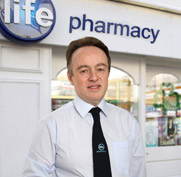 I studied pharmacy at Chelsea College, University of London and
completed my training at the Queen Elizabeth Hospital, Birmingham. After working in various parts of the UK and Ireland, I purchased the pharmacy in Ardara from Mr. Geoffrey Boyle M.P.S.I. in October 1991.
In 2015 we became a member of the Life pharmacy group, allowing us better access to products and services.
I have really enjoyed working with the community of Ardara and the surrounding areas for over 25 years and have enjoyed every minute of it
so from all of us here at Kelly's Pharmacy, we would like to thank all our customers for all their support & custom over the last 25 years and we hope to see you all again soon.