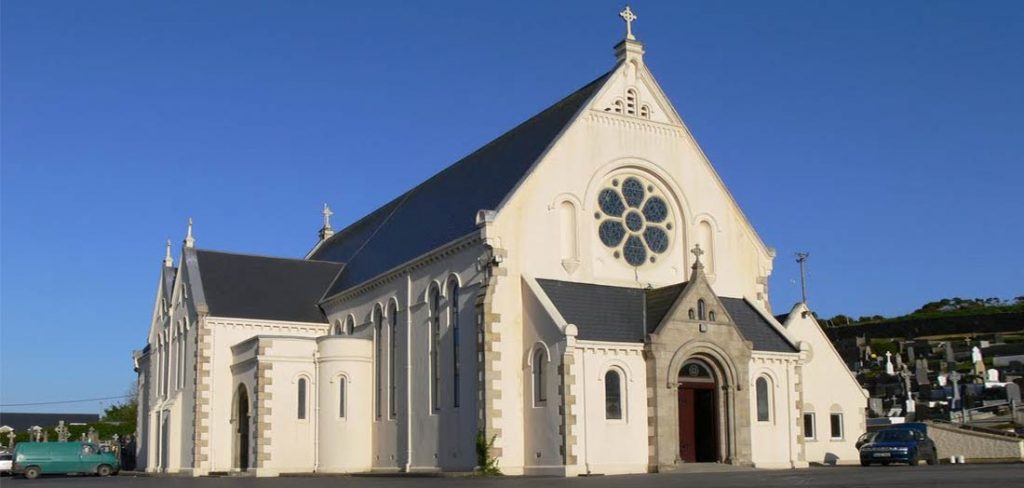 Anniversary Masses This Coming Week
| | |
| --- | --- |
| Monday 25th 10.00am | Deceased Members of the Boyle family, Roughra |
| Wednesday 27th 7.30pm | Gerry McNelis |
| Friday 29th 7.30pm | Memorial Mass for Tommy Feeney |
| Saturday 30th 11.00am | Month's Mind for Vincent McGlinchey |
| Saturday 30th 7.30pm | Deceased members of the Sharpe and McLaughlin families |
Daily Masses
Monday, Tuesday & Thursday at 10.00am
Wednesday & Friday at 7.30pm
Weekend Masses
Saturday: 11.00am
Vigil Mass Saturday: 7.30pm
Sunday: 9.00am and 11.00am
Confessions after 11.00am Mass every Saturday
October Devotions this Sunday at 7.30pm
Notices
Reminder: Novena for the dead from 2nd to 11th November. If you would wish to have your deceased family remembered in the novena, please put their names in the envelopes that are on the table in the church and put the envelopes into the box on the table.
Because of Covid, we have been unable to have the annual service for the dead in the parish cemeteries and because our cemetery is not the safest place to walk around at this time of the year, we have decided to have the Service of Remembrance and Prayer in the Church on Saturday the 6th of November at 2.00pm in the afternoon.
As well as being in the heart of our Novena, the 6th of November is also the Feast of the Saints of Ireland, an appropriate date to remember our dead, because we are sure that more than one of the Parish family is in Heaven and so is a member of the Irish saints whose names are known only to the Lord.
The Ardara St. Vincent de Paul Society urgently needs more volunteers to assist in the society's valuable work helping people in need in the local community. If you could spare a small amount of time please contact 086-7703301 or speak to any of the members directly.
The Dead
Hughie Bennett whose funeral took place on Monday.
John McHugh, Garrowart, whose funeral Mass was celebrated in Glenties.
And we also pray for Gerry McNelis whose anniversary occurs.
For Vincent McGlinchey whose Month's Mind Mass is on Saturday at 11.00am.
For Tommy Feeney, for whom a Memorial Mass will be celebrated on Friday evening.
And for the deceased members of the Boyle, Sharpe and McLaughlin families.
May they rest in peace. Amen.