Open Ulster Offshore Championship Regatta 2019
The Regatta takes place on
Saturday 27th July from 11.00am to 3.30pm at Narin Beach
. With 57 crews competing, ranging in age from 12 to 65, the Regatta features the newest version of coastal rowing; a 4k race which requires great skill and technique to navigate around the course.Loughros Point Rowing Club are delighted to be the first club to introduce it to Donegal. This is the future of coastal rowing and it is very exciting.Race Order: Each race is a time trial. Please note these times are not official and things may change throughout the day.
11.00 – Mixed Quad Heat 1
11.10 – Men's Single
11.20 – Ladies Double
11.30 – U16 Boys
11.40 – Ladies Single
11.50 – Men's Double Heat 1
11.55 – U16 Girls
12.10 – Men's Double Heat 2
12.20 – Mixed Quad Heat 2
12.45 – U14 girls + 1 U16 girls team
12.55 – Junior Single
1.10 – Ladies Quad
1.35 – Men's Quad Heat 1
1.40 – Junior Double 2k
2.00 – U14 Boys
2.10 – Mixed Double
2.30 – U18 Boys
2.50 – U18 Girls
3.10 – Men's Quad Heat 2
Finished at 3.30. Presentations at Annora's Pub at 4.30pmFind out more on the
Facebook Event page
.
Glenties vs. Ardara – Go Gasta

Go Gasta is a 1 hour family entertainment show for TG4 screening this Autumn. It is a new fun healthy socially engaging outdoor family entertainment format unique to TG4. This is Ireland's Fittest Family meets Cross Country Challenge.Two locals villages go head to head to settle old scores once and for all on a course littered with challenges and obstacles that goes from one village to the other. Part "off-road" part on road. Let's get Down & Dirty.They set out a course that joins two rival villages together from a well known spot in each. This is where the Start & Finish lines are. Their experts will design a route between the villages littered with challenging obstacles, water hazards, puzzles, and some straight forward running or cycling stretches. The course is clearly defined by their markings and signposts.Viewing spots are provided where villagers can gather to encourage their teams. Each village picks a team made up of females & males to represent them. The last person over the finish line is when the race is won, so each team has to work hard and really pull together as a unit. It's not about the best individual on any one team, it's all about the team, the village, the desire to win.On
Friday 2nd of August
we pitch
Glenties against Ardara
in a race to settle any old scores that may linger between the towns. They will race on a course designed and littered by obstacles along the way. The series is being filmed by
Abú Media
who are responsible in the past for IFTA award shows such as Jockey Eile, An Klondike and 1916 Seachtar na Cásca. The Producer, Pierce Boyce is originally from Rathmullan now living in Galway since 1983. Each team will be assigned a presenter to to mentor them – Maire Trease Ní DUbhghaill and Conall O Mairtin.Series Director is Evan Chamberlain the man behind the Hector travel shows and Francis Brennan series. This is a wonderful opportunity to showcase Ardara at its best and get substantial TV coverage for the area. Please support the Ardara Team on this venture and cheer them on along the route at every opportunity. The route will be defined shortly.
John Molloy's (Ardara) Reunion
Tickets for the John Molloy Reunion are available at the factory shop.Meeting at the factory tomorrow
Saturday 27th July at 6pm
and on to the Hotel for 8.30pm.Contact
info@johnmolloy.com
€20 each for the Buffet/Dance. Proceeds to Woodhill Resource Centre.
Big Session in the Beehive Tonight Friday 26th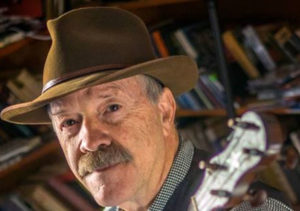 This week we'll be joined by
Randy Wilson
and friends giving us a bit of Old Time music all the way from Kentucky (not the one in Ardara!). Should be some craic!All musicians, singers, dancers and storytellers welcome as ever.
Set Dancing Classes
Set Dancing Classes continue
every Monday night from 8.30pm to 10.30pm in the Heritage Centre.
Clement Gallagher calls the sets.Tea and home bakes served. Admission €5
Yoga, Pilates and Tai Chi on the Beach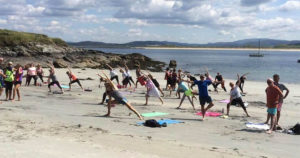 Join Maria for a fab mind/body experience.Yoga, Pilates and Tai Chi
every Saturday and Thursday at 11am on Narin Strand
during July and August.
Kilclooney Country Market
The Kilclooney Country Market continues
every Saturday from 11.00am to 1.00pm during July and August
at Inniskeel Hall, Narin. Ready meals, bakes and bread so you don't have to go into the kitchen. Lots of crafts and unique bits, and plenty of plants to adorn your gardensVisit the
Kilclooney Country Market Facebook page
for updates.
Stephen Bennett Summer Exhibition
The Summer Exhibition continues at
Stephen Bennett's Studio Gallery
, Carn, Ardara.The Gallery is open
daily from 9.30am to 6pm
and from
2pm to 6pm on Sundays.
For more info contact Stephen on 087-7923205 or visit
www.stephenbennett.net
Wild Atlantic Week
The
Wild Atlantic Week
festival takes place in Ardara from next
Friday 2nd August to Saturday 10th August
, and features activities, tours, walks and events to celebrate our unique part of the Wild Atlantic Way.The full programme of events is available on the
Wild Atlantic Week page
.
Highland Radio comes to Ardara
Highland Radio
comes to Ardara on
Friday 2nd August
for the opening of Wild Atlantic Week. The David James Show will broadcast live from Ardara between 2.30pm and 4pm.Come along and enjoy the best of Highland Radio.
Wild Atlantic Walk – Port to Maghera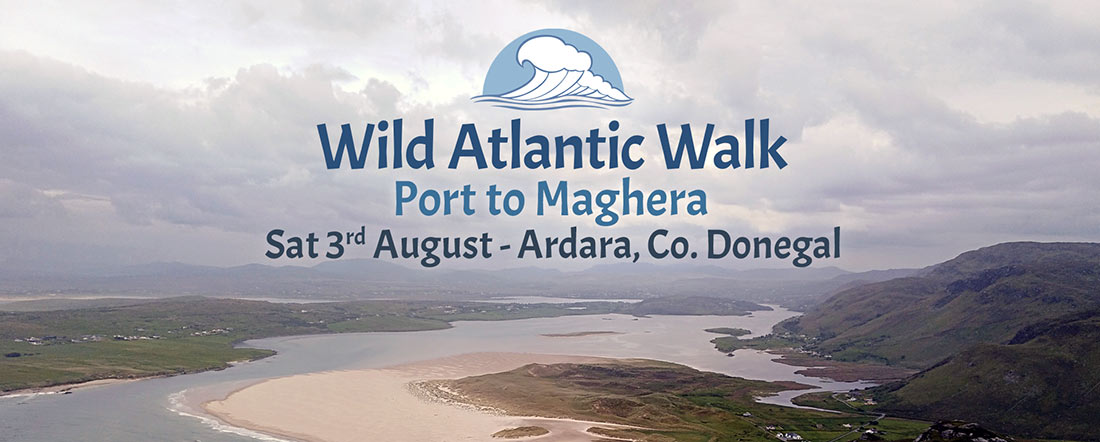 Departing Heritage Centre Saturday 3rd August at 9.00am.
Kevin will lead a team of walkers on the stunning Port to Maghera walk, one of the truly great walks!Bus collection is at 9.00am at the Heritage Centre and the walk takes approximately 8 hours.
Good hiking gear, boots, jackets etc. Experienced walkers and good level of fitness essential.
€35 per person.Contact Kevin in advance: 087-6734875 or visit the
Wild Atlantic Walk event page on Facebook
.
Walk in the footsteps of the Spanish Armada
Donegal G.A.P Heritage and History in conjunction with the PEACE VI Cross-border Heritage Project, are hosting a Spanish Armada walk on
Saturday 3rd August at 9.30am.Register before 31st July
to secure your place as we can only transport 75 people to start point.Bus transfers to Rosbeg for walk across Sheskinmore (4.5km).Transfer back to Ardara for lunch and 16th century historical encampment.Transfers to Roechrow Road and walk to St. Catherine's Well, Killybegs (9.5km).For more information contact
ardaraheritagehistory@gmail.com
or follow on
facebook.com/DonegalGAPHeritage
Full Programme of Events
Visit the
Wild Atlantic Week
page for this year's packed programme of events.
ARDARA WEATHER