Traditional Music Concert in the Beehive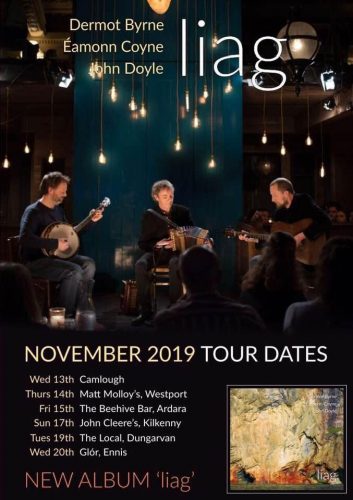 Traditional Music Concert in the Beehive tonight Friday 15th November starting at 8pm.
Three figures synonymous with Irish music today; Dermot Byrne, John Doyle and Éamon Coyne, will perform.
Dermot Byrne
(button accordion and melodeon) was born into the heart of the music of South West Donegal. Having played from a very young age, Dermot has a vast knowledge of Donegal's music and song.
Éamonn Coyne
(banjo, tenor guitar) spent many summer holidays in Mucross, just outside Kilcar. Being invited back to play at festivals in the area made him aware of a musical heritage that had previously escaped him.
John Doyle
(guitar, bouzouki, vocals) from Dublin, and now living in North Carolina, spent many holidays in South West Donegal, fuelling a deep interest in the music and song of the area.This promises to be a special night featuring the best of traditional music so come along and enjoy the event.
Annual Card Drive
The annual card drive in aid of Our Lady's Hospital for Sick Children will take place in
Teague's Bar tonight Friday 15th November at 8pm.
The Green Gate Pop-up Restaurant

Menu – Tonight Friday 15th November at 8pmOn Arrival
Shots, Cocktails, Mocktails; Cheese Straws & Guacamole.
Starters
Roasted Pepper & Tomato Soup and Homemade Sesame Bread. Beetroot Mousse with Crispy Chickpeas and Black Rice.
Main Courses
Chestnut, Spinach & Stilton En Croute. Boozy Port Pot Roast.
Both Served with Champ, Winter Veg and Green Salad.
Desserts
Rhubarb & Strawberry Crumble. Lemon Meringue Tartlets.
Both served with White Chocolate Custard.
Followed by:
Choice of: Irish Coffee, Green Gate Shot, Cocktail or Mocktail.
Entertainment:
TBA.
For more details and bookings contact Paula 0861765431
Green Gate Facebook page
Art Classes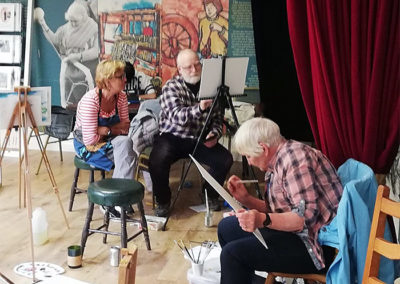 Mixed Media Art Classes.
Tonight Friday 15th and every Friday from 7pm to 9pm upstairs in the Heritage Centre.Everyone welcome!For more information or to book a place contact Colm: 087-3222910
Narin Beach Parkrun/walk
Narin Beach Parkrun/walk takes place on Narin Beach every Saturday morning at 9.30am.
All ages and all abilities. Runners and walkers welcome. Free weekly timed event – one of only 6 beach parkrun/walks in the world.
Yummy Mummy Night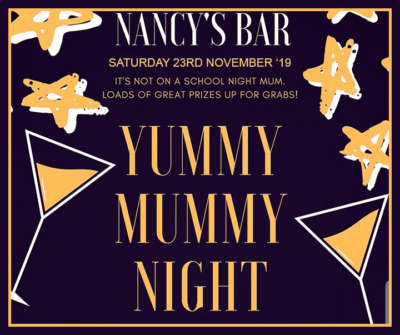 Saturday 23rd November from 8pm in Nancy's
(Note change of date).It's not on a school night Mums.Free cocktail on arrival and free finger food.Night includes Quiz of the Year and raffle.Loads of great prizes up for grabs!Great craic, a night not to be missed!
Nancy's Bar on Facebook.
Steak Night in Ramblers
Every Friday night in Ramblers, Nesbitt Arms Hotel.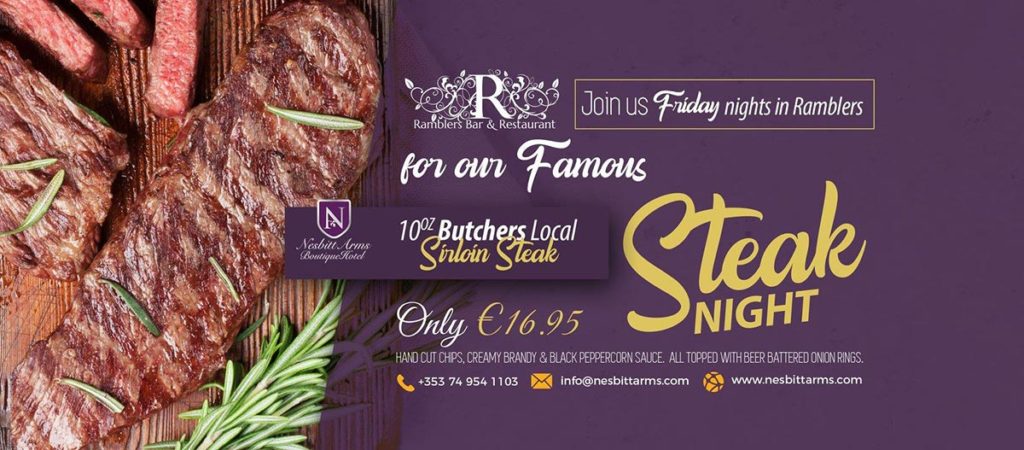 10oz butcher's local steak, hand cut chips, creamy brandy & black peppercorn sauce, all topped with beer battered onion rings.
Only €16.95. Call Now to book on 074-9541103