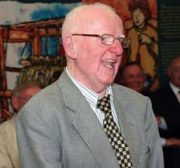 Mr Ardara has left the building............

For those of us who knew him, he made an everlasting mark in our lives. 
In his day he truly was larger than life. His contribution to our society was truly immense and we will never forget him. 
Will we ever hear them sayings: "you better believe it", "No lie for me", "everyday is a school day", "the road to no town", "show me your friends, and il tell you who you are", "the apple never falls from the tree", "no show without punch". 
Conal was without question Ardara's greatest ambassador, whether mingling with the elite in the Hilton in London, Dublin or New York. 
Conal spoke with such pride and passion about Ardara. 
He brought many visitors to Ardara more than any marketing company and Conal could mix with the best.


Conal opening the Ballroom in the Nesbitt Arms
When he came back from Garrison to take on the role of head chef in the Nesbitt Arms Hotel in the 1960's, it was a big task.There was no history of food at the Hotel then. 
Conal quickly changed that and the Nesbitt Arms Hotel became a mecca for food in the North West. If you had not booked, you simply missed out.
Conal Haughey well and truly brought the buzz to Ardara that remains as a mark of respect to him to this day.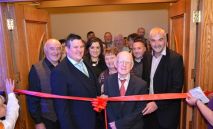 When we called them Connie & Nessa, he called them Mr & Mrs Molloy, when we called her Fionnula, Conal called her Dr. Fleming. 
He well and truly respected the art of chivalry. He was from that lovely era.

His many special friends are so many, but I must mention a few: there was the Bibi period, there was always Bridie Gallagher. 
He had that special devotion to blessed Charles later St. Charles. 
There was the fun days with Fr Clarke and the banter in the Nesbitt Arms Hotel with Rev. Scott Harte and the yanks Ann & Al all those lovely families like: 
The McHughs from Dublin, Mr Baird, George & Myrtle, the McKennas from Monaghan and the Hartes and the McKeowns from Mullingar.

Conal travelled extensively throughout the world and was a man before his time.

Conal passed away at 2.00 am Thursday 28th April in Killybegs Community Hospital.

God bless him.

Please follow this link to a profile of the great man himself
www.ardara.ie/mr-ardara/