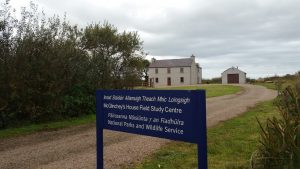 Guided walk and talk at Sheskinmore Saturday 27th May

Biodiversity Week 2017
Where :
Sheskinmore NPWS Reserve, Ardara, Co. Donegal
Three hundred hectares of sand dunes, marsh, dry grassland, saltmarsh and heath, between Ardara and Portnoo. Recently featured on BBC 1's Wild Ireland. The talk and walk will begin from the McGlincheys Field Studies Centre off the L7743.
When: 10.00 – 15.00 on Saturday 27th May 2017
Who: Stuart Dunlop
Stuart Dunlop has been recording wildlife, particularly plants and invertebrates on his Donegal Blog spot since 2003. He regularly takes part in BioBlitz and is an expert on the Heritage in Schools panel. Stuarts in-depth knowledge of invertebrates and his detailed photography will be a treat for all wildlife enthusiasts.
Talk :
Biodiversity and Pollinators, An illustrated talk on Bees and Hoverflies, what they do for us and what we can do for them
Walk :
Guided walk around Sheskinmore looking at plants, pollinators and insects
Further information can be found on the Friends of Sheskinmore website: https://sheskinmore.wordpress.com/Or contact Emer Magee , Conservation Ranger, SW Donegal, Roshine South, Dungloe, Co. Donegal
Emer.magee@ahg.gov.ie
087-6468439