The Ardara Show Day – Saturday 11th August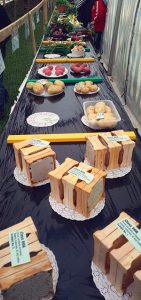 Judging in the cattle and pony rings from 10am.
At
11am the sheep a

nd h

orse classes
take place.After judging, the giant marquee at the other end of the field will have over 120 classes displaying
home produce, photography and painting, arts and crafts, children's classes and everything from the garden.
The Afternoon programme includes a
Fun Dog Show, Children's Sports, Tossing the sheaf, Tug-o-war, Vintage Tractors Display and Birds of Prey.
In scenic Sandfield for the

fourth year, it is a

day not to be missed!
The annual Show Dance is on Saturday night in the Nesbitt Arms Hotel.Tickets for the massive prize draw now in sale in local shops.Visit our
Ardara Show page
for details.
Wild Atlantic Week

Great events every day this week!
Check out our Wild Atlantic Week page for programme of events
. A few of the highlights are listed below.
An Evening at the Green Gate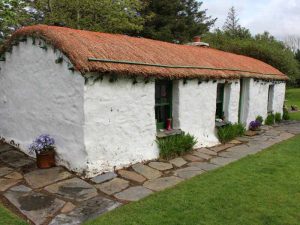 Today Tuesday 7th August at 6.00pm
Join Paula as she takes you on a
tour of the green gardens
at the Green Gate. Enjoy tea & scones as you take in the panoramic views.Contact Paula 086 1765431 for more information.
Craft & Weaving Display
Thursday 9th August 2.00pm : Molloy's Factory
A trip back in time with a wonderful craft and weaving display at
Molloy's Factory
on the Killybegs road. An event not to be missed!
Bart Whelan Lecture
Thursday 9th August 4.00pm : The Heritage Centre
Bart Whelan gives a lecture on his photographs currently on display in the Heritage Centre.
Basket Making & Spinning
Friday 10th August 11.00am – 4.00pm : The Heritage Centre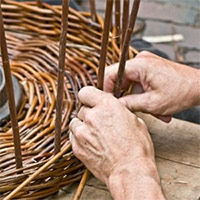 Eugene Byrne, famous basket-weaver from Teelin, will be making and teaching basket weaving in the Heritage Centre on Friday 10th August, 11am-4pm. Free drop spindle classes will also take place.
Booking essential. €40 for the day including rods which will be supplied.
For more information phone Colm: 087 3222910
Duck Racing on the Owentocker
Friday 10th August 7.00pm : Owentocker River
The ducks have been training since the quack of dawn, so they'll be in beak performance for the race!
Duck race begins at 7pm sharp on the bridge beside Nancy's bar.
Ducklines €4 on sale from 6.30pmA Loughros Point Rowing Club fundraiser. Come out and support this great organisation.Contact Teresa 087 9159351 for more information.
Visit our Wild Atlantic Week page for full events listing
Plastic! Poison for the Ocean
18th August 5pm – 7pm Leitir Hall.
See poster below for details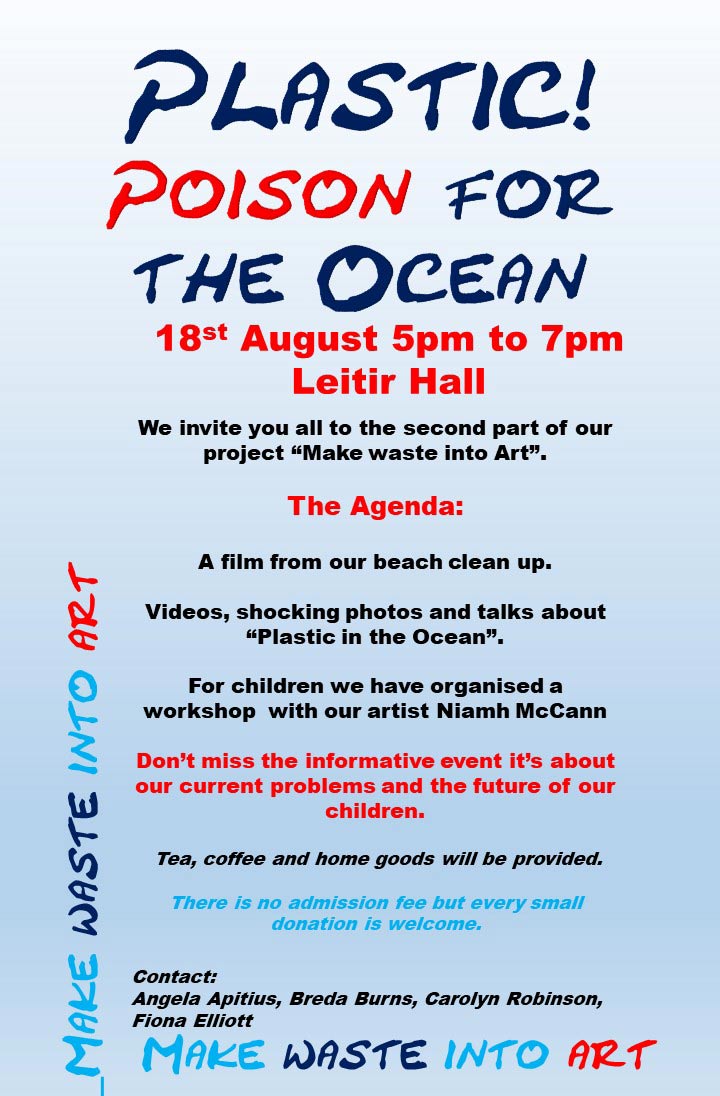 Advertising on ardara.ie
To advertise on ardara.ie please contact us via our
contact form
or email
ardara2017@gmail.com
or phone Brian 087-7474775