Cup of Tae Festival Brochures Out Now
Brochures for the Cup of Tae Traditional Music Festival, which takes place Friday 3rd to Monday 6th May, are now available in local shops and businesses.This year the Festival honours
Brid Harper
– one of the most acclaimed fiddlers in Ireland, and the Festival promises to be the biggest and best to date, with Workshops, Schools of Music, Concerts, Sessions and Street Music all weekend!View the Programme of Events on our
Cup of Tae Festival page.
For more information visit the festival website
cupoftaefestival.com.
Pat's All Star Weekend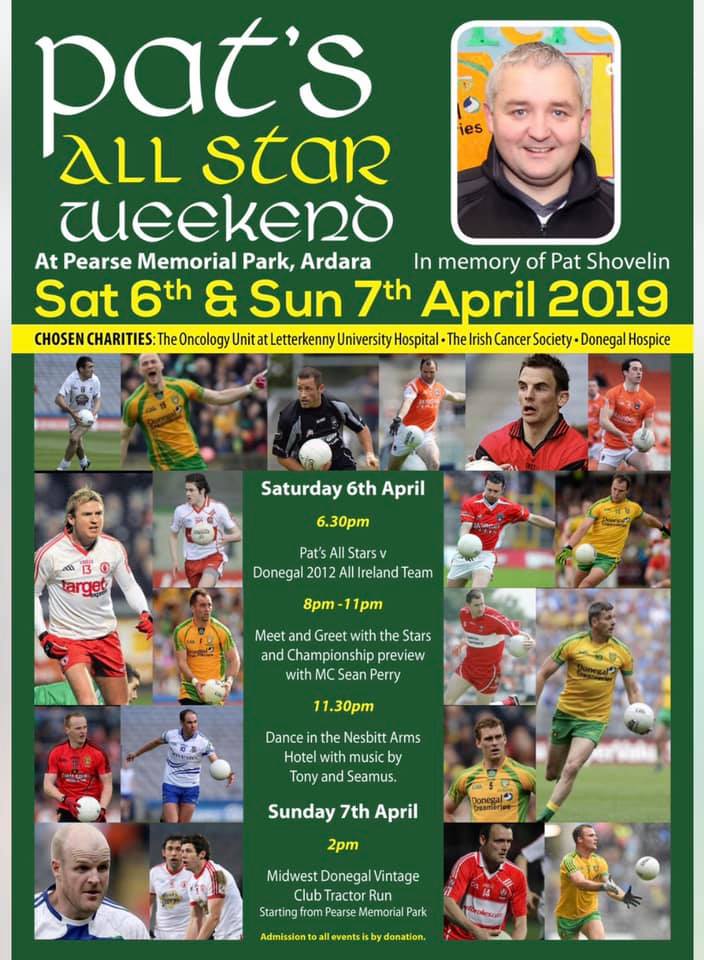 Pat's All Star Weekend in memory of Pat Shovelin takes place
Saturday 6th and Sunday 7th April
at Pearse Memorial Park, Ardara. Chosen charities are The Oncology Unit at Letterkenny University Hospital, The Irish Cancer Society, and Donegal Hospice.
Saturday 6th April:
6.30pm – Pat's All Stars v Donegal 2012 All Ireland Team
8pm-11pm – Meet & Greet with the Stars and Championship preview with MC Sean Perry
11.30pm – Dance in the Nesbitt Arms with music by Tony and Seamus
Sunday 7th April:
2pm – Midwest Donegal Vintage Club Tractor Run. Starting from Pearse Memorial Park. Leaving Pearse memorial park and traveling to Glenties, down through Maas, on to Clooney, turning in at Sharpes cottage, round Loughfad past Pat's homeplace, out at the chapel in Kilclooney and back to the clubhouse.
Admission to all events is by donation.
New Distillery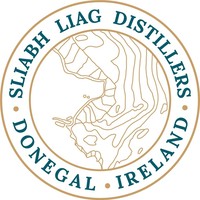 Sliabh Liag Distillers, producers of An Dúlamán Maritime Gin and Silkie Irish Whisky, have acquired the Show Field in Ardara and are submitting a planning application which will herald the first whiskey distillery in Donegal in over 177 years.All of those who are interested in the project are invited to meet the directors of Sliabh LIag Distillers and their team in
the Nesbitt Arms Hotel this evening Tuesday 2nd April between 5.00pm and 9.00pm.
The Plans for the development will be on display and members of the distillery team will be on hand to advise the public. Everyone is welcome.
Brackey National School Parents Association Fundraising Event: Cash for Clobber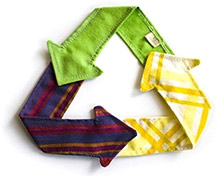 Turn your old clothes and shoes into cash for the Brackey National School "Cash for Clobber" fundraiser.Closing date is
Monday 8th April before 4pm
and drop off is at the School.All support is greatly appreciated
Men's Shed
Killybegs Men's Shed wish to thank everyone who came along to the music session on 28th March. Spot some familiar faces in the photos and video below…
Basket Weaving Classes Cancelled
Basket Weaving classes scheduled for 22nd and 23rd of April have been cancelled. Sorry for any disappointment.
Upcoming Workshops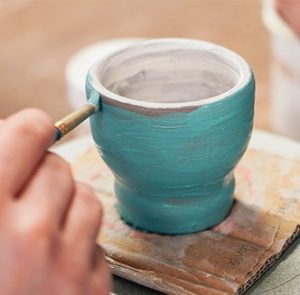 The following workshops will be taking place in the next few weeks:
Pottery Workshop with Eimear Boyle & Lorna McHugh
Spinning and Table Loom Weaving with Colm Sweeney
Dates are yet to be decided and booking is essential. If you are interested in any of the above please contact Colm on 087-3222910.
GAP Adventures Business Opportunity
The Narin Portnoo Rosbeg Community Co-Operative Society Ltd. (Dolmen Centre) have produced a Business Plan for an Adventure Guiding Business in the GAP area. The Co-Operative would like to share this with suitably interested individuals with a view to establishing a business in the area.There will be a meeting of the Business Plan creators at
the Dolmen Centre on Tuesday April the 9th at 8pm
. The Co-Operative looks forward to seeing all interested parties in attendance.Preliminary contacts can be made via the following:
Paul McCrossan 087 4127441
Leonard Molloy 087 6200242
Brian Morgan 087 7535012
DLDC – Forbairt Áitiúil Dhún na nGall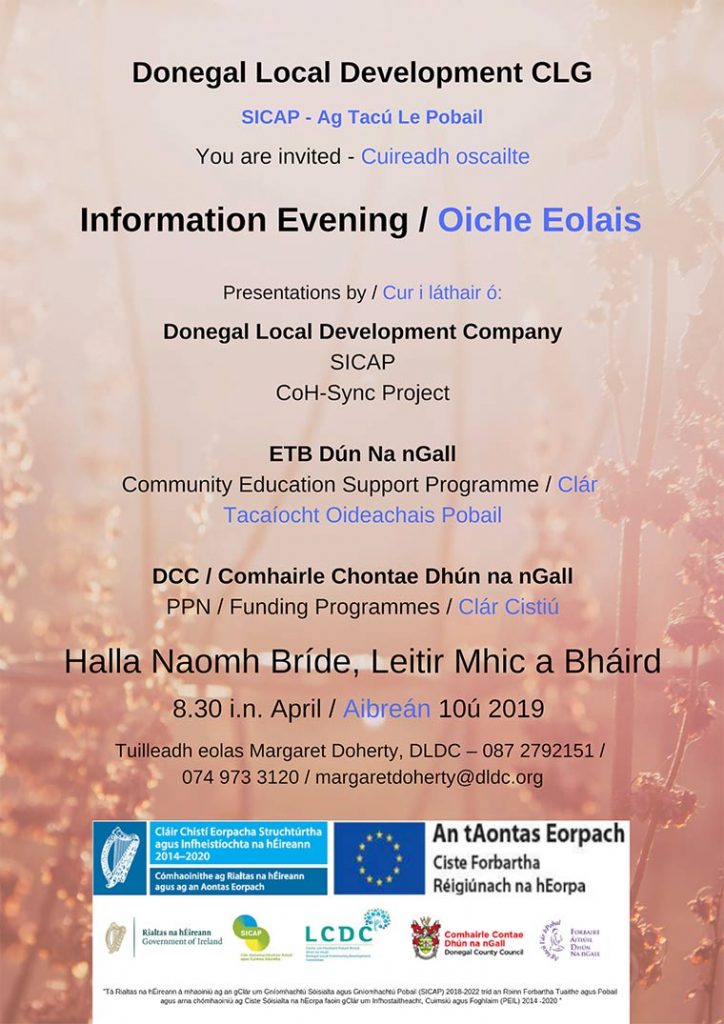 Open invitation to Local Community Groups in Lettermacaward, Doohary and Fintown areas.
Information Evening
–
Halla Naomh Bríde, Lettermacaward – 8.30pm, April 10th 2019
Presentations on community supports;
DLDC / Donegal Local Development Company
SICAP 2018 – 2022 –Social Inclusion Community Activation Programme
CoH-Sync Project –supporting communities improve their Health & Well-being
ETB Dhún na nGall/ An Bord Oideachais & Oiliúna
Community Education Support Programmes
DCC / Donegal County Council
Tuilleadh Eolas /Further information
– Margaret Doherty – 087 2792151
margaretdoherty@dldc.org
April Fools
There was a great reaction to yesterday's
April Fool's Day news item
, and we would like to reassure anyone who was fooled by the story that the Owenea Standing Stone isn't going anywhere!
Anniversary Masses
For those viewing on the
Church of the Holy Family webcam
Friday 5th April
– 7.30pm – Packie Kennedy, Ard Conal
Sat 6th April
– 11.00 am – Francie Maloney
Sat 6th April
– 7.30pm – The deceased members of the Fisher Family
ARDARA WEATHER