New Distillery
The proposers of the Distillery at the Show Field will hold an information evening in the
Nesbitt Arms Hotel on Tuesday 2nd April between 5.00pm and 9.00pm.
The Plans for the development will be on display and members of the distillery team will be on hand to advise the public. Everyone is welcome.
GAA Information Night

CLG Ard an Ratha are holding an Information Night this
Thursday 28th March at 8pm in the Clubhouse
. This will include the Development Plan for all aspects of the Club to benefit our current and future players, both boys and girls.This is a very important night and it is compulsory that all parents attend as well as members, adult players and anyone else who wishes to attend. Refreshments will be served on the night and everyone is welcome.
GAP Adventures Business Opportunity
The Narin Portnoo Rosbeg Community Co-Operative Society Ltd. (Dolmen Centre) have produced a Business Plan for an Adventure Guiding Business in the GAP area.The Co-Operative would like to share this with suitably interested individuals with a view to establishing a business in the area.There will be a meeting of the Business Plan creators at
the Dolmen Centre on Tuesday April the 9th at 8pm
. The Co-Operative looks forward to seeing all interested parties in attendance.Preliminary contacts can be made via the following:
Paul McCrossan 087 4127441
Leonard Molloy 087 6200242
Brian Morgan 087 7535012
Brackey National School Parents Association Fundraising Events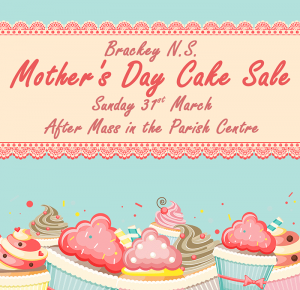 Mother's Day Cake Sale
Brackey National School are having a Cake Sale after Mass in the Parish Centre on Sunday 31st.
Cash for Clobber
Turn your old clothes and shoes into cash for Brackey National School. Closing date is Monday 8th April before 4pm and drop off is at the School.All support is greatly appreciated
Upcoming Workshops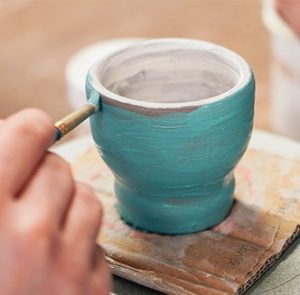 The following workshops will be taking place in the next few weeks:
Pottery Workshop
with Eimear Boyle & Lorna McHugh and
Spinning and Table Loom Weaving
with Colm Sweeney.Dates are yet to be decided and booking is essential. If you are interested in any of the above please contact Colm on 087-3222910.
Basket Weaving Classes
Update April 2nd 2019:
Basket Weaving Classes have been cancelled
. Sorry for any disappointment.
Basket Weaving Classes will be held in the Heritage Centre on the 22nd and 23rd of April by the master basket weaver Eugene Curran. All materials supplied.The Cost is €40.00 for the two day workshop. Booking is essential. To book a place contact 087 3222910.
'Home Instead' Senior Care Recruitment Fair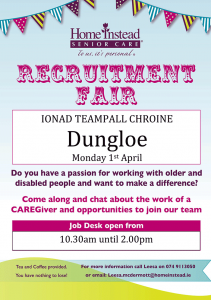 Do you have a passion for working with older and disabled people and want to make a difference? Come along to the Recruitment Fair at
Ionad Teampall Chroine, Dungloe on Monday 1st April
and chat about the work of a caregiver and opportunities to join our team.Job desk open from
10.30am until 2.00pm.
For more information call Leesa on 074 9113050 or email
leesa.mcdermott@homeinstead.ie
Anniversary Masses
For those viewing on the
Church of the Holy Family webcam
Tuesday March 26th at 10am:
Julia & James McHugh
Thursday March 27th at 10am:
Paddy Gildea
Thursday March 27th at 7.30pm:
Month's Mind for Madge Whelan
Friday March 28th at 730pm:
Month's Mind for Packie Brennan
Saturday March 29th at 11am:
Charlie & Kathleen O'Donnell
Saturday March 29th at 730pm:
Harold Hennigan
Sympathy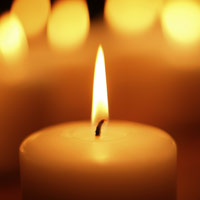 The sympathy of the community this week goes to:
The Slowey family on the death of Noel Slowey in Ballina, Co. MayoEddie Doherty on the death of his brother Patsy in Belfast.
ARDARA WEATHER