Ardara Walking Festival
The Ardara Walking Festival, featuring a variety of guided hill walks, takes place
St. Patrick's Weekend Friday 15th March – Monday 18th March 2019.
There are excellent walks on offer and there's great interest in this year's walking routes.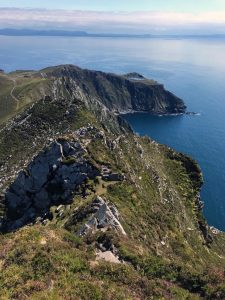 Walks take place Saturday 16th and Sunday 17th March, and this year's highlights include the spectacular Sliabh Liag, One Man's Pass, Paradise Beach, Granny Glen, and Maghera.
Registration: Friday 15th March 6pm-9pm in the Heritage Centre.
Facebook users can let the organisers know if they'll be attending registration on the
Hillwalking Registration Event page
.Visit the
Walking Festival page
for more information or phone Kevin on 087-6734875. Stay up to date with the latest Walking Festival news on their
Facebook page
.
New Guest House Opens in Ardara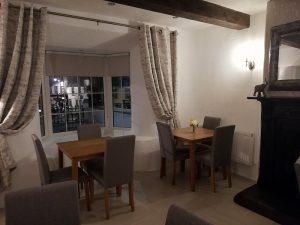 A newly renovated and refurbished guest house is due to open in Ardara on Friday 1
st
of March.It is called Ardhill House and it's located on The Diamond in the centre of town. They have four ensuite bedrooms and serve a continental breakfast.Check out the
Ardhill House Facebook page
or email Celine at
Celinegall80@gmail.com
for more details.
St. Patrick's Parade Monday 18th March

This year's St. Patrick's Parade takes place on Monday 18th March at 3.30pm. Anyone interested in putting in floats or bands are so welcome.Contact 087 2023033 or 087 2424590 more more information and to book bands or floats.
Library Closes
The Community Library at the Community Centre has not been in use for a number of years. All books have been offered to the public over the past number of weeks and now this Friday 1st March the library books distribution will be completed.
Comedy Play in Leitir Hall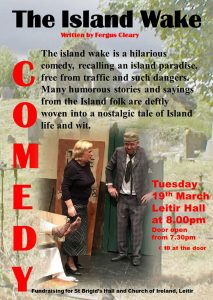 Comedy play
"The Island Wake"
written by Fergus Cleary will be staged in
Leitir Hall on Tuesday 19th March at 8.00pm.
The Island Wake is a hilarious comedy, recalling an island paradise free from traffic and such dangers. Many humorous stories and sayings from the Island folk are deftly woven into the nostalgic tale of Island life and wit.Fundraising for St. Brigid's Hall and Church of Ireland, Leitir.Doors open from 7.30pm. Admission €10 at the door.
Nesbitt Arms Hotel
The Nesbitt Arms Hotel is open permanently from March 1st and this is great news for all concerned.
Youth Worker Vacancy – CE Position
Narin Portnoo Rosbeg CE Project have a vacancy for Youth Worker, attached to Downstrands Family Resource Centre, in the Dolmen Centre.Community Employment criteria apply and CE participant can avail of training to up-skill while on the Project.To apply for the above, please email
dolmencentre@eircom.net
or telephone 074-9545010 during office hours.
Pottery, Basket Weaving & Art Classes
Basket Weaving
with Eugene Curran and
Pottery Workshops
with Eimear Boyle will be starting in March. These will be two-day workshops running from 10am to 4pm each day in the Heritage Centre. Dates to be announced.
Art Classes
take place in the Heritage Centre every Friday from 7pm to 9pm. Mixed media. Still a few places left.
For further information on any of the above phone Colm on 087-3222910.
Sympathy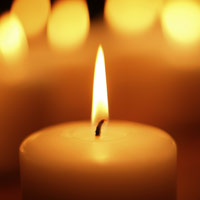 The sympathy of the community this week goes to the Brennan Family on the death of Packie and the Kennedy Family, Ard Conal on the death of Packie.
Anniversaries Occurring This Week
Monday 25th 10.00am
– Anniversary of Packie Boyle Mullinacloy
Tuesday 26th 10.00am
– Anniversary of Maggie and Johnny Gallagher and deceased members of the Breslin Family
Wednesday 27th 7.30pm
– Anniversary of Phonsie Bennett
Thursday 28th 10.00am
– Anniversary of Brigid and Connie Furey
Friday 1st 10.00am
– Anniversary of Jamsie and Cassie McGuire.
7.30pm
– Anniversary of Bridie McGill
Saturday 2nd 11.00am
– Memorial Mass for Pat and Mick Shanley.
7.30pm
– Anniversary of Ellen, Hugh and Fr. Denis Murrin
ARDARA WEATHER