A Very Successful South of the Border Festival!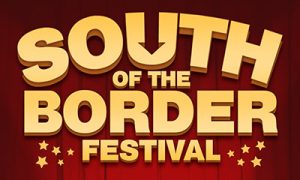 Congratulations to Claire Ward, Ramelton, winner of the Jimmy Kennedy Song Contest, and the €1000 prize.
The Contest saw a huge number of entries and the quality of those who got through to the Final was just excellent.Patsy O'Hagan and friends started off the weekend with storytelling and recitals with a great finish to the evening with a traditional session in the Beehive.The Saturday night Concert was one of the best ever seen in Ardara. Led by Neilly Gildea and John Joe McBrearty with Bri Carr and local girls Eabha and Jessica Gallagher bringing the crowd to call for more and more. The night finished with the classy voice of Declan Gallagher singing "South of the Border". The evening of Packie Manus Byrne music saw a great selection of musicians entertain and enjoy the stories of Patsy O'Hagan.Watch the Song Contest Final below:
Ardara Walking Festival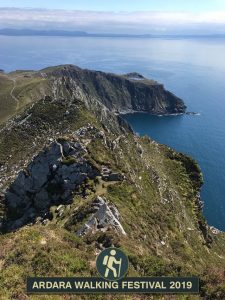 The Ardara Walking Festival, featuring a variety of guided hill walks, takes place
St. Patrick's weekend Friday 15th March – Monday 18th March 2019.
There are excellent walks on offer and there is great interest in this year's walking routes.
Registration: Friday 15th March 6pm-9pm in the Heritage Centre.
Walks take place Saturday 16th and Sunday 17th March and will be led by Kevin Maguire 087-6734875.Visit the
Walking Festival
page for more information, or stay up to date with the latest news on the
Facebook page
.
St. Patrick's Parade Monday 18th March

This year's St. Patrick's Parade takes place on Monday 18th March. Anyone interested in putting in floats or bands are so welcome.Contact 087 2023033 or 087 2424590 more more information and to book bands or floats.
Youth Worker Vacancy – CE Position
Narin Portnoo Rosbeg CE Project have a vacancy for Youth Worker, attached to Downstrands Family Resource Centre, in the Dolmen Centre.Community Employment criteria apply and CE participant can avail of training to up-skill while on the Project.To apply for the above, please email
dolmencentre@eircom.net
or telephone 074-9545010 during office hours.
New entrants to S.N. an Bhreacaigh, Ardara
Parents wishing to enrol their child next September for the 2019/20 school year are asked to contact the school for an enrolment form. The school can be contacted on 074 9541279.
Crannógbuí N.S.
Any person wishing to enrol their child in Crannógbuí School for September 2019 can collect an Application to Enrol form from the school (telephone 074 95 41002).Further information on the school may be obtained by logging on to the school website at
www.crannogbui.scoilnet.ie
Regional Festivals and Participative Events

Donegal County Council is inviting applications for funding under the Regional Festivals & Participative Events Programme. This Programme aims to support festivals and participative events which drive domestic tourism and help to improve the visitor experience by animating destinations in Donegal. The Programme is aimed at festivals and participative events that fit into one of the following categories:
General festivals (i.e. literary, historic, traditional culture or family focused).
Arts, Music & Theatre.
Food & Drink.
Sports & Outdoors.
Business & Education.
The application process for 2019 is now open and will close on 1st March 2019. Programme Guidelines and Application Form can be accessed via the below links or by phoning (074) 9724441.
Regional Festivals and Participative Events
Féilte Réigiúnacha agus Imeachtaí Rannpháirtíochta in 2019
Completed application forms should be emailed to
cbritton@donegalcoco.ie
or posted to: Tourism Unit, Donegal County Council, Drumlonagher, Donegal Town, Co Donegal.
Ardara Community Childcare
Ardara Community Childcare are hosting an open day at the Creche on Saturday 2nd March from 12-3pm.If you are considering availing of our facilities in September please come along, meet the staff and view the service. We will be happy to answer any questions you may have, we look forward to meeting with you. alternatively, call us on 0879690036 or 0749537744.
Art Classes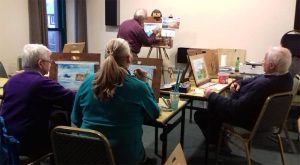 Art Classes every Friday evening 7pm to 9pm in the Heritage Centre.Visit the
Ardara Artists Group Facebook page
or phone 087-3222910 for more information.
Sympathy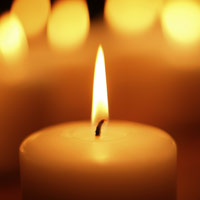 The sympathy of the community this week goes to the Cannon Family on the death of Paddy Cannon, Glengesh.
ARDARA WEATHER