Bart Whelan Photographic Exhibition
The Bart Whelan Photographic Exhibition will be officially opened by Desmond Campbell in the
Heritage Centre on Friday 28th June at 8.30pm.
Admission is free and refreshments will be served. All are welcome.
John Molloy's Reunion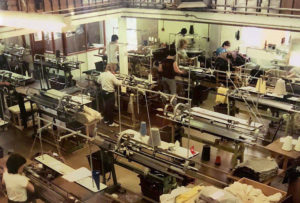 A reunion for all former John Molloy (Ardara) Ltd. workers will take place on
Saturday 27th July
in Ardara.The evening will commence at 6pm in the factory with a wine reception and carry on then to the Nesbitt Arms Hotel afterwards for a Buffet and dance, starting at 8.30pm.Any workers interested in attending should text Michael on 087-6484748 or John on 087-7620045.More info in the coming weeks.
Ardara GAA 10 Week Draw
The second draw in the Ardara GAA Development Draw took place last Sunday.The winners were:1st prize €1000 – Ticket No 466 Paddy & Brid Herron, Edergole, Ardara 2nd Prize €500 – Ticket No 663 Ann Furey, Ard McGill, Glenties 3rd Prize – €400 – Ticket No 251 John Molloy, Narin Road, Glenties 4th Prize €300 – Ticket No 635 Mabel McHugh, Glengesh, Ardara 5th Prize €200 – Ticket No 478 Brigetta Takács, Edergole, Ardara 6th Prize €100 – Ticket No 124 Stephen McKelvey, Bog Road, Ardara
GAA Flotto Results 10th June
The numbers drawn were 16, 18, 25 and 28 and the nearest were: Marian Bennett, Portnoo Road and Michael Fitzgerald, Glenties.
Nature Walk at Sheskinmore
Saturday June 22nd at 11am. Duration about 4 hours.
Meet at the Tramore Beach car park, next to Campbells' caravan park, Rosbeg, follow L7713 off the Ardara to Portnoo Road.Sheskinmore in late June is a great opportunity to see an abundant variety of wild flowers (some rare), insect life, and other wildlife. Ralph Sheppard is our guide.Admission is free. No need to book. Everyone is welcome. Suitable for all age groups, No dogs except guide dogs please.Bring refreshments for a relaxed and interesting walk.
Parkrun/Walk on Narin Beach
Narin Beach Parkrun/walk 5k will take place on Narin Strand starting this Saturday June 22nd at 9.30am and every Saturday thereafter
.All runners/walkers welcome.
Parkrun
organise free weekly 5km timed walks/runs around the world. They are open to everyone and are safe and easy to take part in.Visit the
Narin Beach page at parkrun.ie
for more information.
Anniversary Masses
For those viewing on the
Church of the Holy Family webcam
Wednesday 7.30pm
– Memorial Mass to remember Frank Duff, Edel Quinn & Alfie Lamb
Thursday 7.30pm
– Month Mind Mass for Jimmy McHugh
Friday 7.30pm
– Deceased members of the McHugh & O'Donnell families
Saturday 11.00am
– Anniversaries of Mick and Margaret Kennedy and deceased members of the Kennedy Family
Saturday 7.30pm
– Anniversary of Oliver Breslin and Months Mind of John Neil Breslin