he Ardara Shopping Spree takes place from Thursday 3rd to Sunday 6th December.   Ardara has many events throughout the year for people to come and visit and this year is no exception  with all businesses and shops putting in a special effort to make this a great shopping spree and to add to the ocassion there are many events coinciding with the Spree to make this one to remember:   These include: new business opening,  re launch of Ardara.ie, the launch of the new community magazine Duchas,  top country star Jim Devine comes to town, Sile will do free afternoon teas on Sunday with donations to the Lights,  Childrens party and disco on Sunday at 3pm and Santa arrives on Sunday at 3.30pm to the childrens party, Glenties Brass Band along with Imelda Heena and the Choir will do carols on the diamond from 5.30pm Sunday,  the Ardara Ladies Championship Team along with the Ardara Cailin Deas will switch on the Christmas Lights.
This year shops in town are all going out on a limb to make the shopping spree one of the best ever.  While many people are lured away to the big shopping centres, people in our community have always been good supporting our own local shops and the businesses know this and that is why all shops are making a special effort this year, just look at the personal adverts.   This year we are proud to welcome a new business to the town. Cathy Mc Nulty has just opened her lovely new shop Gifted at the Maloney Service Complex on the Killybegs Road.  Cathy no stranger to the world of beautiful gifts, jewellery and those special gifts is glad to be opening in Ardara and will bring her excellent customer skills and care to her new shop having worked in a similiar business in Killybegs. 
This Friday December 4th  is very much a red letter day in the community of Ardara with the relaunch of Ardara .ie at 7.30pm.  All are most welcome to this special event.  A small active committee have for many months been working on this website and as this is so important to Ardara both commercially and in keeping in contact with the diaspora the committee will be on hand at the launch. Also just after this launch another committee who have put in huge work in getting a wonderful new magazine called Duchas ready and published for launch also this evening.  Everyone is so welcome and come around 7pm to avail of a compliamentry evening of finger food and wine compliements of the committee.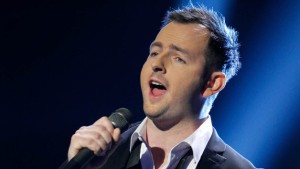 Later on Friday night Top Country Star Jim Devine will perform at the hotel.  Jim is very popular in Ardara and to compliement the weekend the hotel is offering unbelievable overnight deals for the event. 
Sunday December 6th  is another special day in Ardara as the childrens party and disco starts in the hotel as 3pm and then Santa will arrive to join the kids in this wonderful new grotto specially built for the occasion by the good people at the hotel.  All children from all areas are most welcome to Ardara to meet Santa. Then at 5.30pm all move to the Diamond to join the wonderful Glenties Brass Band and Imelda and the local choir as they perform some Christmas Carols.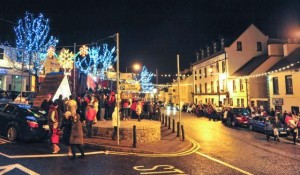 Please come and support them.  At 6pm the Ardara Ladies Team and the Ardara Cailin Deas will switch on the light for 2015.A  very special thanks to Shane Mulraney and his team for putting up our lovely lights this year.