County Final
The Donegal Senior B final between Ardara and St. Eunan's has been provisionally fixed for Sunday next at 5.15pm in Ballybofey.
We would ask our supporters to get the flags out now this week to show some support for the lads as we bid to win our first Senior B Championship.
For those who still need flags they are now available in Divers. Tickets for Sunday's game must be purchased online here.
Kevin McGill Cup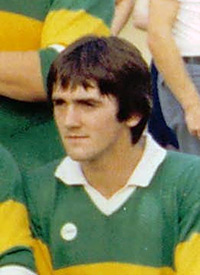 There was another great evening of GAA as our u12 Parish League came to a conclusion on Sunday.
After four close matches, the Kevin McGill Cup was shared between Odhran Walshe and Ross Diver's teams.
Well done to all the players and coaches who took part and thanks to Martin McShane and Darragh Hennigan for refereeing.
Thanks also to Frankie McGill who presented the cup to the winning captains on behalf of the family.
'Keep Yer Hands to Yerself' Festival
Ardara is proud to announce that our new festival will take place on the weekend starting Friday November 19th until Sunday 21st.
Traditionally the Matchmaking Festival would be taking place around then but with all the emphasis on social distancing etc. we are calling this festival the "Keep Yer Hands to Yerself" festival.
A great creation by Donna Harkin, the festival will involve sessions of music throughout the town at various locations with fun, music and craic… and no touching!
More details of the festival to follow, or stay updated on the Ardara Town Facebook page.
Regional Employment Outreach
The Regional Employment Service can help long term unemployed get back into full time employment, identify training opportunities, prepare CV and fill out application forms and much more.
So if you wish to avail of our service, the Outreach Officer will be in attendance in the Community Centre, Ardara on Thursday, November 4th from 2pm to 4pm. No appointment necessary.
Further enquiries to Siobhan 087-9981827.
This service is supported by DLDC and is free and totally confidential.
Flotto
Play via Klubfunder or leave your envelopes in Diver's, Morgan's or Darnell's.
Go raibh maith agaibh ar son bhur dtacaíocht.