St. Patrick's Parade
The Ardara St. Patrick's Parade takes place on Sunday 15th March at 2.30pm.The Parade is now in its 33rd year and it has, over the years, been an outstanding event enjoyed by all. It is also an important day for the community to celebrate the festival.In recent years we have found it difficult to get people to put in floats which are essential to ensure the event is successful. We are pleading with you to help in any way to get a float in this year. Without the floats the parade will not be a success.For more info and to enter a float contact Margaret on 087 2023033.
Window Display for St Patrick's Day
All persons with windows on display in the town are asked again to display for St. Patrick's Weekend.
Last year
had some beautiful displays and again we congratulate last year's winners Liam and Aileen McNelis.
Ardara Walking Festival Registration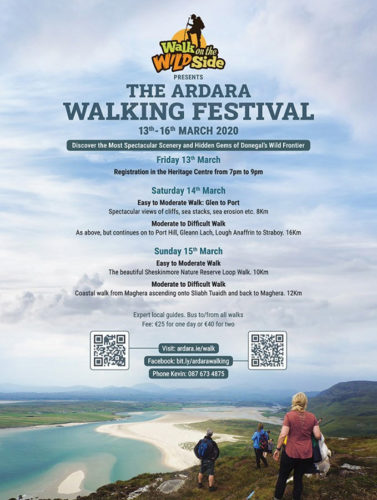 The Ardara Walking Festival takes place from 13th to 16th March.Spaces are limited and filling up quickly. For more information or to book a walk email
donegalwalkingguide@gmail.com
or phone/text Kevin on 087-6734875 or click "Reserve a Space" on the
Ardara Walking Festival event page
on Facebook.Fee including bus to/from walks: €25 for one day or €40 for two.The full programme is now available on our
Ardara Walking Festival page
.
Ceol agus Comhrá
Comhrá Gaeilge & Seisiún Ceoil neamhfhoirmeálta.This is an informal event to celebrate Seachtain na Gaeilge (National Irish Language Week) by inviting fluent and non-fluent speakers to come and use their Irish.4 Márta/ March 2020 12.00pm-1.30pm Ionad Oidhreachta Ard A' Rátha/ Ardara Heritage CentreFáilte roimh achan duine/ No pressure to be perfect!
Gortnacart National School Enrolment
Anyone wishing to enrol their child for September 2020 please contact the school on 074-9541799 or email:
gortnacart1909@gmail.com
Have a look at the school website:
www.gortnacartns.com
for all the activities and events in the school. Due to the size and location of our school we take into consideration each individual family and their needs.
Pop-up Art Gallery at Gortnacart NS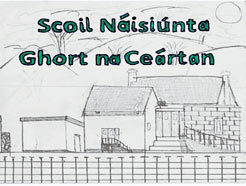 Gortnacart National School
is hosting a 'Pop-up Art Gallery' on the 12th of March between 6.30pm and 8.00pm.Everyone is welcome on the night to view the children's artwork. This would also be a great opportunity for any parent(s) of children starting primary school to come in and view the school and consider enrolment in September.
Date For Your Diary: A Night of Fashion
St. Mary's National School presents 'A Night of Fashion' in the Nesbitt Arms Hotel on Friday 24th April 2020 with MC Noel Cunningham.There will be a Pop-up Shop, Door Prizes and Raffle on the night.Adm: €10 (Ticket only) Doors open: 7.30pm Show starts: 8.00pmDonation to Ability Rocks.
Dance Classes with Joe McGuigan
Dance Classes with Joe McGuigan continue in the Heritage Centre every Wednesday night from 8.00pm to 9.30 pm. All are welcome. Refreshments will be served.
Beginners Tin Whistle Classes
Tin whistle classes for beginners continue every Wednesday afternoon from 2pm to 3pm in The Heritage Centre.Everyone welcome to join at any time. Fee: €5 for each 1 hour lesson. For further information or to book a place contact Colm: 087-3222910.
Art Classes at the Men's Shed
Art classes continue every Wednesday from 1pm to 4pm in the Men's Shed at Thomas Boyle's (The Greenhouse).Everyone welcome to join in at any time. For more information phone Colm on 087-3222910
Irish Classes
Irish Language Classes are being organised in The Heritage Centre. Anyone interested should phone Colm on 087-3222910
Flotto Results
The Flotto Results on Monday 2nd March were: 2, 26, 27, and 30 and the nearest were Aidan Doherty, Mentullynagarn and Tadhg Earley, Yellow Banks.
Anniversary Masses This Week
For those viewing on the
Church of the Holy Family webcam:
Tuesday at 10.00am – Anniversaries of Mary & James WattersWednesday at 7.30pm – Anniversary of Jimmy & Cassie MaguireThursday at 10.00am – Anniversaries of Paddy & Mary McGettiganFriday at 10.00am – Anniversary of Gertrude GildeaFriday at 7.30pm – Anniversaries of Ethna & John McCabeSaturday at 11.00am – Months Mind Mass for Hughie GaviganSaturday at 7.30pm – Anniversaries of Hugh & Ellen Murrin & Fr Denis Murrin
Sympathy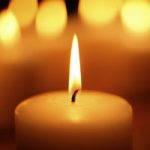 The Community extends sympathy this week to the Gallagher Family, Ballycashel on the death of Mary Rose Gallagher. To Ann Breslin, Cronkeerin on the death of her sister-in-law Lizzie Gallagher in Dungloe.
ARDARA WEATHER