Wild Atlantic Festival
The Wild Atlantic Festival takes place from Saturday 5th August to Saturday 12th August 2023, featuring activities, tours, walks and entertainment to celebrate our unique part of the Wild Atlantic Way.
This year's packed programme of events is available on the Wild Atlantic Festival page.
Ardara Show 2023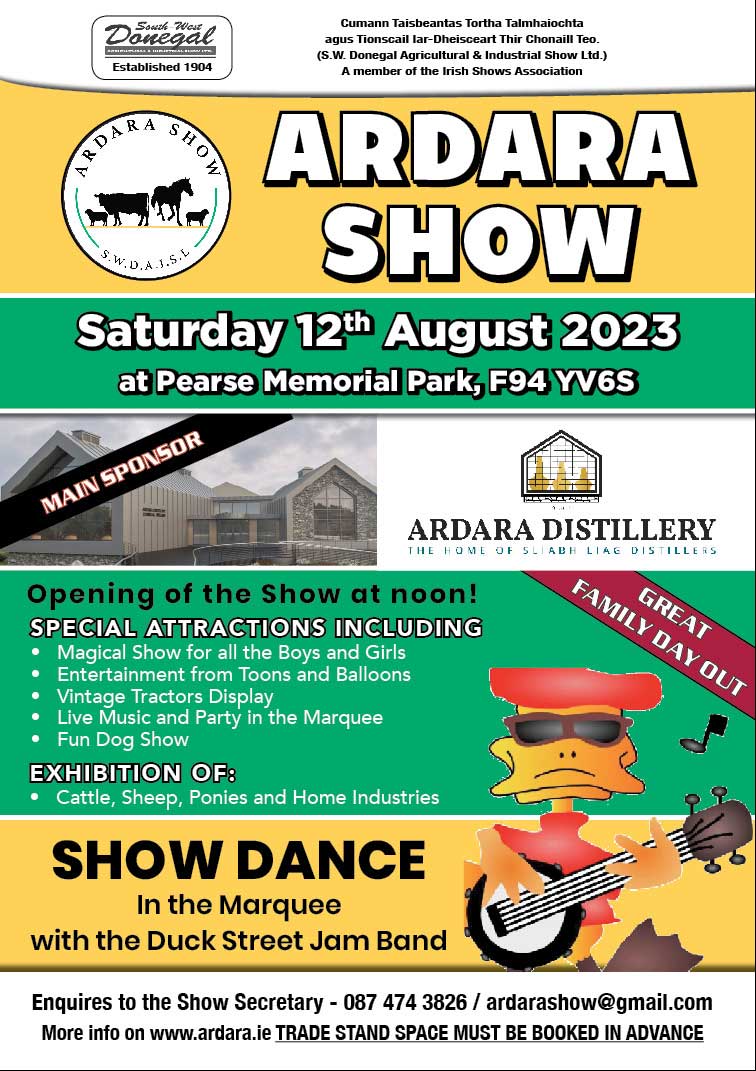 The Ardara Agricultural Show returns to the beautiful town of Ardara on Saturday 12th August 2023.
Dating back to 1905, the show attracts thousands of visitors each year where a celebration of rural Ireland traditions, its people and their way of life will be showcased.
Show Chairman Michael says, we are delighted Ardara Distillery is our main sponsor for 2 years running now, the home of Sliabh Liag Distillers. It is very fitting that this great company is built on what will always be known as "The Show Field" which we called home for many years. We look forward to working with them for many years to come.
This family event features a fantastic family day out with live entertainment for kids and adults and an endless list of competitions and displays, its success is thanks to the thousands of visitors who attend each year and has developed as a must on everyone's social Calendar.
There will be so many sights and sounds to see and hear at the 2023 Ardara Agricultural Show, with a range of attractions for the whole family.
Animals take centre stage at the judging of local, national and Championship livestock competitions, as well as the ever-popular dog show.
The show will host a range of trade stands and of course, no agricultural show would be complete without the traditional, age-old farming displays.
Attendees will be glad to see the return of favourites like the Vintage Show from our friends at Mid-West Donegal, McCormack's Fun Fair, Artisan Market, GIANT Marquee and Children's Sports.
There will be live music providing the soundtrack for the day from our new Marquee in the Field with a fully licensed bar opening after the judging with Music from Darren Boot Burke and FREE Children's Entertainment with Magic Shows from Kids comedy Magic Show Tour!
To tantalise your taste buds a Food Court will be available in the GAA Clubhouse with Breakfast, Lunch, Dinner and snacks available, something for everyone!
Parking will be available on the grounds and all around the town and there will be Park and Ride buses in place from designated areas that will be well sign posted.
Show Dance on Show night will be in the Marquee in the Field with Duck Street Jam Band, a night not to be missed!
Looking forward to seeing you all there and the weather is kind to us!
Summary:
Date: August 12th 2023.
Location: Pearse Memorial Park, Ardara F94 YV6S.
Admission: €10 per person and children free.
Parking: Free on-site parking.
See our Ardara Show page for more.
Social & Affordable Housing
Narin Portnoo Rosbeg Community Co-Op and Donegal County Council housing section are looking at the current housing needs in the area. They are looking at the demand for social and affordable housing in the area. If such a demand exists from people who would like to avail of such housing, they should register their interests with Donegal County Council by using the link below. This will help us to pursue the project on your behalf.
https://www.donegalcoco.ie/media/donegalcountyc/housing/pdfs/socialhousing/Social%20Housing%20Application%20Form%20-%20English%20Version.pdf
Drivers Needed
Come along on a walk in Narin this Thursday 3rd August, bringing together locals and Ukrainian members of our community.
Drivers are needed to help with lifts.
Meeting at 7pm in town car park wearing hi viz jackets and proceeding to car park at Narin beach. Return 9pm.
Contact Stewart 086- 8395954 if you can help with providing transport.
Blessing of the Graves
The annual Blessing of the Graves takes place on Sunday August 6th at 3pm. Please tidy your graves and neighbouring ones if there is no one left of that family. Please do not dump plastic bottles etc. in the waste area.
Teenage Disco
Teenage Disco featuring DJ Dave Duke, Live at the Ardara GAA Marquee. 11th August, 9pm to 12am.
Under 18s only.
Admission €12.
Tickets on sale now at Klubfunder.com.
See the Event page for further details.