Ardara Artisan Market
The next Artisan Market takes place on Saturday July 29th from 11am to 3pm in the main town car park.
A variety of traders will be in attendance selling a wonderful selection of artisan products. Anyone looking to sell contact ardaraartisanmarket@gmail.com.
See the event page for further details.
Blessing of the Graves
The annual Blessing of the Graves takes place on Sunday August 6th at 3pm. Please tidy your graves and neighbouring ones if there is no one left of that family. Please do not dump plastic bottles etc. in the waste area.
Wild Atlantic Festival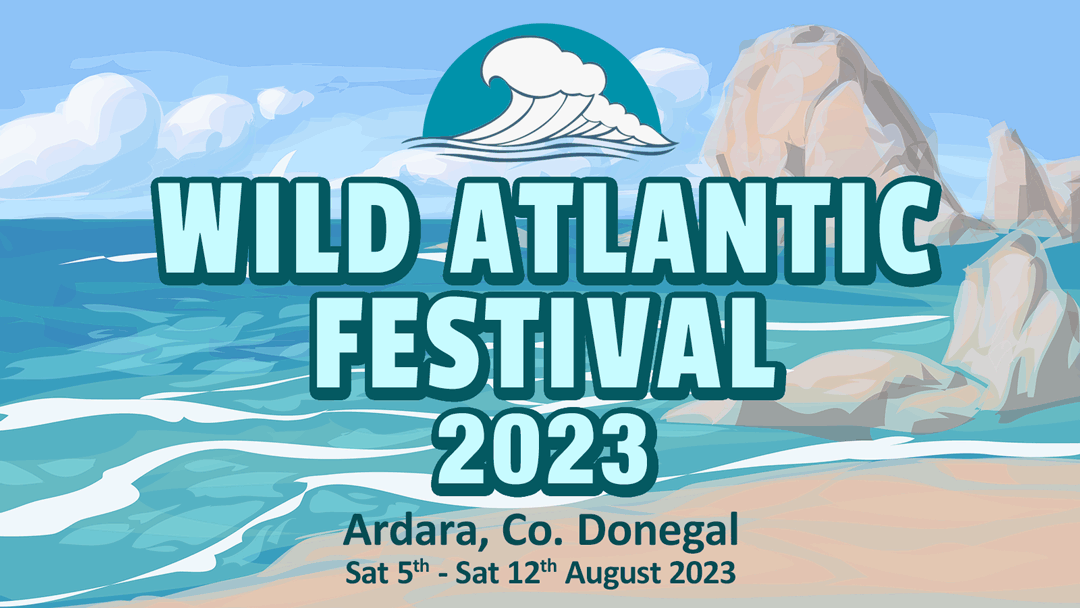 The Wild Atlantic Festival takes place from Saturday 5th August to Saturday 12th August 2023, featuring activities, tours, walks and entertainment to celebrate our unique part of the Wild Atlantic Way.
This year's packed programme of events is available on the Wild Atlantic Festival page.
Fógra Post Múinteoir Luathbhlianta i Naíonra na mBeachóg, Scoil Náisiúnta Mhín Tine Dé, Ard an Rátha
Tá Comhar Naíonraí na Gaeltachta, ag lorg iarratas do phost mar Phríomh Mhúinteoir Luathbhlianta i Naíonra na mBeachóg, Scoil Naisiúnta Mhín Tine Dé, Mhín Tine Dé, Ard an Rátha, Co. Dhún na nGall.
Ní mór do Iarrthóirí cáilíocht leibhéal 6 i gcúram leanaí (QQI/ FETAC nó a chomhionannas) a bheith acu, agus taithí ar obair le páistí faoi chúig bhliana d'aois chomh maith le taithí bainistíochta foirne.
Tá líofacht sa Ghaeilge riachtanach don phost seo.
Is post páirtaimseartha é seo, ag obair ó Luan go hAoine.
Beidh CNNG ag cuir painéal fostaithe/oibrithe le chéile ón agallamh seo chun postanna eile a thagann aníos san Eagraíocht a líonadh.
Tá lánrogha ag CNNG é sin a athrú de réir mar a fheileann sé don chomhlacht agus ag brath ar na postanna atá le líonadh.
Má tá tuilleadh eolais uait is féidir glaoch ar Oifigeach Forbartha Chomhar Naíonraí na Gaeltachta ag an uimhir 0749560296.
Seol litir iarratais agus CV chuig:
suzanne@cnng.ie nó
Oifigeach Forbartha
Comhar Naíonraí na Gaeltachta
Oifig 16, Gteic Áislann Ghaoth Dobhair
Páirc Ghnó Ghaoth Dobhair
Na Dóirí Beaga
Leitir Ceanainn
Co. Dhún na nGall
F92 D6OW
Roimh an Mháirt , 01/08/2023.
Ardara Show Prize Schedule
The Prize Schedule for this year's Ardara Show is now available to view or download on the Ardara Show page.
Lots of new classes added and plenty of prizes to be won.
Teenage Disco
Teenage Disco featuring DJ Dave Duke, Live at the Ardara GAA Marquee. 11th August, 9pm to 12am.
Under 18s only.
Admission €12.
Tickets on sale now at Klubfunder.com.
See the Event page for further details.