Ardara Christmas Craft Fair
The Ardara Christmas Craft Fair will take place in the Community Centre Ardara on Saturday 26th November from 11.00am to 5.30pm.
Come and join over 30 festive stalls under one roof. The range is dazzling – everything from home-baking to hand-made jewellery, Christmas decorations to hand weaving products, chocolates to painted pots and glass, natural beauty & cosmetic products, flower settings, candles, jams and wood crafts.
Come along and support all our local crafters. Entrance is free. Pop along during the day from 11am to 5.30pm.
Mulled wine and mulled juice will be served on the day.
There's going to be a kid's corner with puzzles, crayons to draw or colour a picture and a Santa's Letter Post Box, and best of all, Face Painter "Paula Scallywag" will be available to paint some lovely Christmassy faces!
Contact Clare Molloy on 087-2842012 for information on booking a stall. See our event page for further information.
Ardara Christmas Lights Fund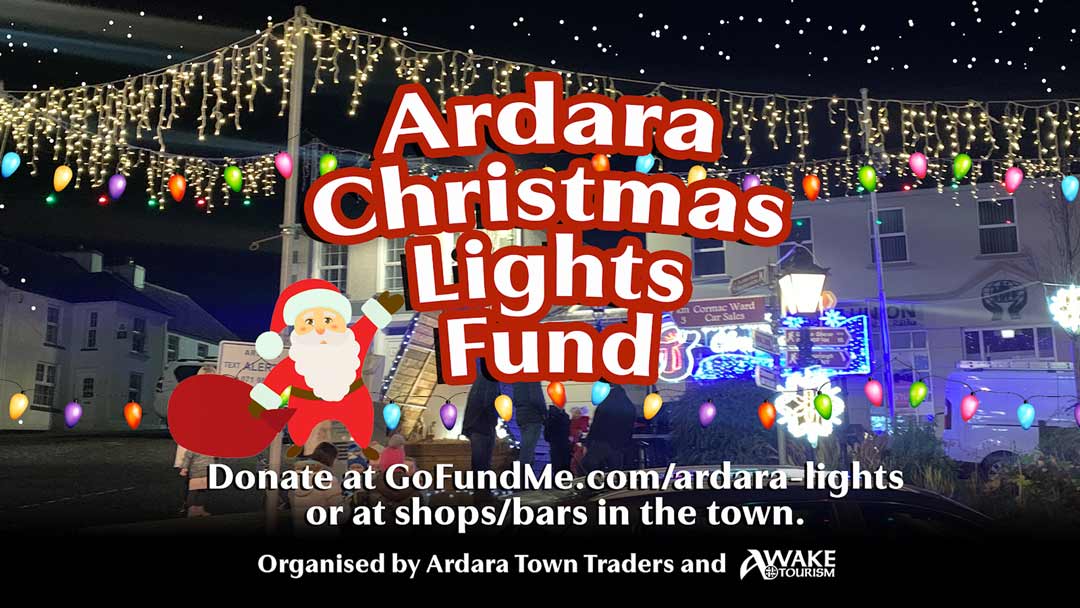 A GoFundMe page has been set up on behalf of the Ardara Town Traders and the wider community to bring Christmas lights back to Ardara once again this year.
We have a short window of time to raise the funds to make it happen, but we believe we can do it. Money is tight for us all right now but imagine Ardara without Christmas lights? Lighting up the town will help lift our spirits during the dark winter months no end!
The annual costs for the installation team, electrician oversight and sign-off, storage, bulb replacement, electricity costs and of course their removal after Christmas mean we must all dig deep to make sure it happens and make our town merry and bright!
Please donate what you can so we can make the town shine bright this Christmas.
Andrea's Family Christmas Quiz
Let's have some festive fun raising money for the Christmas lights. Remember you can donate on the GoFundMe page if you can't make it to our family quiz next week.
Quiz takes place on Saturday 26th November at 6pm in Nancy's.
See the event page for full details.
Donegal GAP Heritage & History Group AGM
Donegal GAP Heritage & History Group would like to invite you to save the date for the 2022 Donegal GAP Heritage and History Group AGM, which will be held on Sunday, 11th December at 12 noon in the Parish Centre (beside Church of the Holy Family), Ardara. F94 VX98. All are most welcome.
Full details, including public notices, will be communicated over the coming weeks.
Looking ahead – 2023 Warp & Weft of Heritage – 'Treasures from the Bogs'
Before the onset of the pandemic, Donegal GAP Heritage & History Group selected the theme for the 2020 Warp and Weft of Heritage Weekend as 'Treasures from the Bogs'. This theme was selected in light of community contributions which highlighted the rich archaeological heritage and cultural significance of our peatland environments. The Group are delighted to announce that this theme will finally be explored at the 2023 Warp and Weft of Heritage. Further details about the event will be discussed at 2022 AGM, which will take place on Sunday, 11th December at 12 noon in the Parish Centre (beside Church of the Holy Family), Ardara. F94 VX98.
See the event page for further details.
Afternoon Tea and Mini Christmas Fair at Dawros Bay House
Saturday 26th is our Afternoon tea from 2pm until 5pm, price per person is 25.00 euro. To book 0879730642 an ideal get together, cosy fires, relaxed atmosphere, Christmas entertainment. Further details on the event page.
Sunday 27th is our Mini Christmas Fair 1pm until 6pm, Jams, Preserves, ceramics, novelty decorations, hand made soap gift collection, essential oils, art, and jewellery, all at Dawros Bay House Rosbeg. See the event page for more info.
Crampsey & Cavanagh Live Concert
Two of Donegal's best known composers host a special concert in The Beehive Bar, Ardara, on Friday, December 2nd.
Limited number of tickets available for €10 at the Beehive and Corner House, Ardara, County Donegal.
See the event page for further information.
Christmas Cake & Craft Sale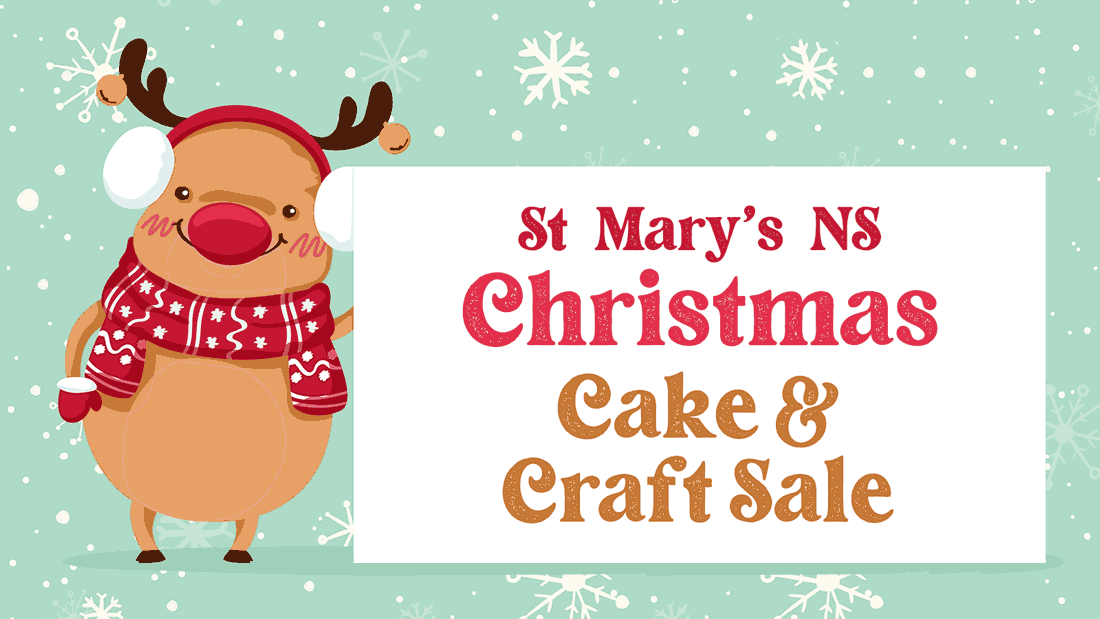 The St. Mary's NS Cake and Craft Sale takes place on Saturday 10th December from 8pm to 10pm in the Parish Centre. All proceeds to St. Mary's NS.
See the event page for further information.
LGFA AGM
Ardara LGFA AGM will take place on Friday November 25th at 7.30pm in the Clubhouse. Anyone interested in staying on in their positions or any nominations can be emailed to Grainne at ardaratha.donegal@lgfa.ie or text/WhatsApp 087-9932536.
Tá fáilte romhaibh go léir.
Late Hugh Breslin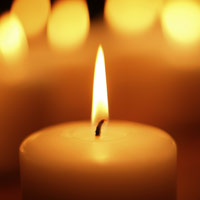 Sympathy is extended to the family of Hugh Breslin, Ardlougher, Ardara, who died peacefully at home, in the care of his family on Sunday. May his gentle soul rest in peace.
Funeral Mass took place on Tuesday at 12 noon in the Church of the Holy Family, Ardara, with burial afterwards in the adjoining cemetery. Donations in lieu of flowers if so desired to Donegal Hospice c/o any family member.