Oliver Boyle Memorial 25 Card Drive
The Oliver Boyle Memorial 25 Card Drive will take place in the
Corner House Bar
on this coming
Sunday 23rd February at 8pm
. All proceeds to the Ardara Resource centre. Everyone welcome.
St. Patrick's Parade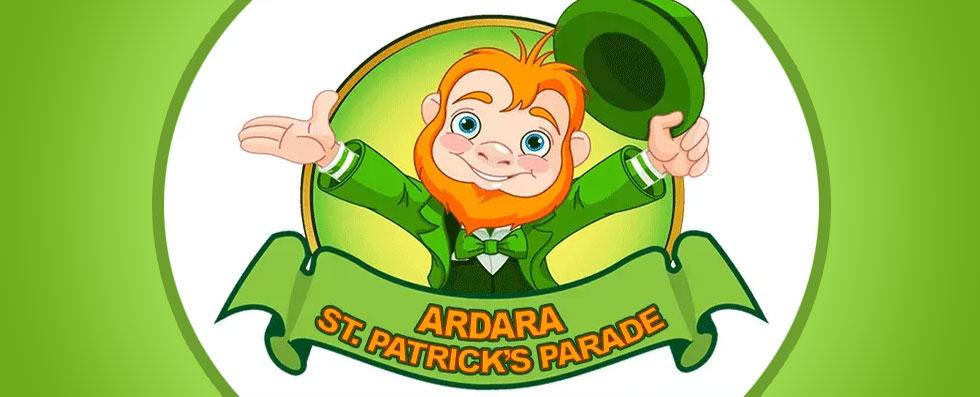 The Ardara St. Patrick's Parade takes place on Sunday 15th March at 2.30pm.
The Parade is now in its 33rd year. It has, over the years, been an outstanding event enjoyed by all. It is also an important day for the community to celebrate the festival.In recent years we have found it difficult to get people to put in floats which are essential to ensure the event is successful. We are pleading with you to help in any way to get a float in this year. Without the floats the parade will not be a success.For more info and to enter a float contact Margaret on 087 2023033
Ardara Walking Festival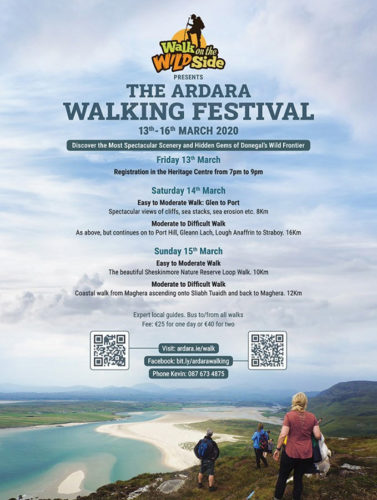 The Ardara Walking Festival takes place from 13th to 16th March.
There will be a variety of Hill Walks ranging from moderate to difficult, led by professional local Guides.Fee including bus to/from walks: €25 for one day or €40 for two.For more information and to book the weekend walks email
donegalwalkingguide@gmail.com
or phone Kevin on 087-6734875. Reserve a place by selecting "going" on the Facebook
Ardara Walking Festival event page
.The full programme is now available on our
Ardara Walking Festival page
.
Ceol agus Comhrá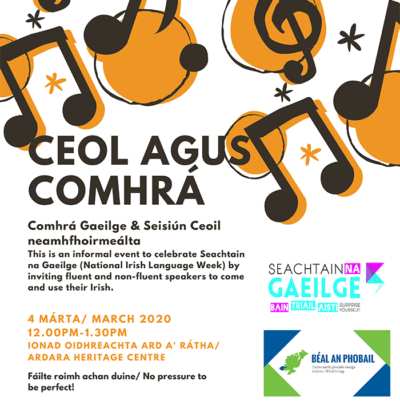 Comhrá Gaeilge & Seisiún Ceoil neamhfhoirmeálta.
This is an informal event to celebrate Seachtain na Gaeilge (National Irish Language Week) by inviting fluent and non-fluent speakers to come and use their Irish.
4 Márta/ March 2020 12.00pm-1.30pm Ionad Oidhreachta Ard A' Rátha/ Ardara Heritage Centre
Fáilte roimh achan duine/ No pressure to be perfect!
Gortnacart National School Enrolment
Anyone wishing to enrol their child for September 2020 please contact the school on 074-9541799 or email:
gortnacart1909@gmail.com
Have a look at the school website:
www.gortnacartns.com
for all the activities and events in the school. Due to the size and location of our school we take into consideration each individual family and their needs.
Pop-up Art Gallery at Gortnacart NS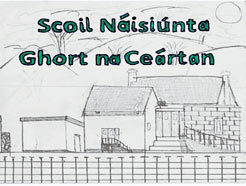 Gortnacart National School is hosting a 'Pop-up Art Gallery' on the 12th March between 6.30pm and 8.00pm.
Everyone is welcome on the night to view the children's artwork. This would also be a great opportunity for any parent(s) of children starting primary school to come in and view the school and consider enrolment in September.
Dance Classes with Joe McGuigan
Dance Classes with Joe McGuigan continue in the
Heritage Centre every Wednesday night from 8.00pm to 9.30 pm
. All are welcome. Refreshments will be served.
Beginners Tin Whistle Classes
Tin whistle classes for beginners continue every Wednesday afternoon from 2pm to 3pm in The Heritage Centre.
Everyone welcome to join at any time. Fee: €5 for each 1 hour lesson.For further information or to book a place contact Colm: 087-3222910.
Art Classes at the Men's Shed
Art classes continue every Wednesday from 1pm to 4pm in the Men's Shed at Thomas Boyle's (The Greenhouse).
Everyone welcome to join in at any time. For more information phone Colm on: 087-3222910
Irish Classes
Irish Language Classes are currently being organised in The Heritage Centre.Anyone interested should phone Colm on: 087-3222910
Flotto Results
The Flotto Results on Monday 17th February were:
11
,
19
,
20
and
26
and the nearest were Hughie Mooney, Brackey and Mary McLoughlin, Clogher.
Anniversary Masses
For those viewing on the
Church of the Holy Family webcam:
Monday at 7.30pm – Months Mind Mass for Annie KeeneyWednesday at 7.30pm – Anniversary of Bridie McGill, Tullycleave.Thursday at 10.00am – Anniversary of Mary CallowFriday at 7.30pm – Anniversaries of Anthony & Mary DiverSaturday at 11.00am – Anniversary of Harold HenniganSaturday at 7.30pm – Anniversary of Paddy Cannon
Sympathy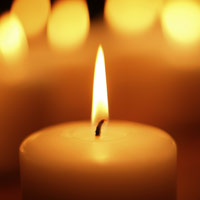 The Community extends sympathy this week to the Moore Family, Loughfad, on the death last week of Patrick Moore.
ARDARA WEATHER