St Patrick's Parade
The parade takes place on Friday 18th March from 3.30pm from the Church Grounds.
Ardara welcomes back its Parade after a two years absence, and it's all systems go for Friday afternoon!
We are pleased with the late interest from people putting Floats in the Parade. Please call Hugh on 087-6737584 if you have a Float idea and all Floats are welcome.
Our Grand Marshall this year is a very special person who has never missed a day's work since the start of Covid. St. Patrick is back again this year and thankfully the marching bands are all ready to go on Friday.
For more details contact Hugh on 087-6737584.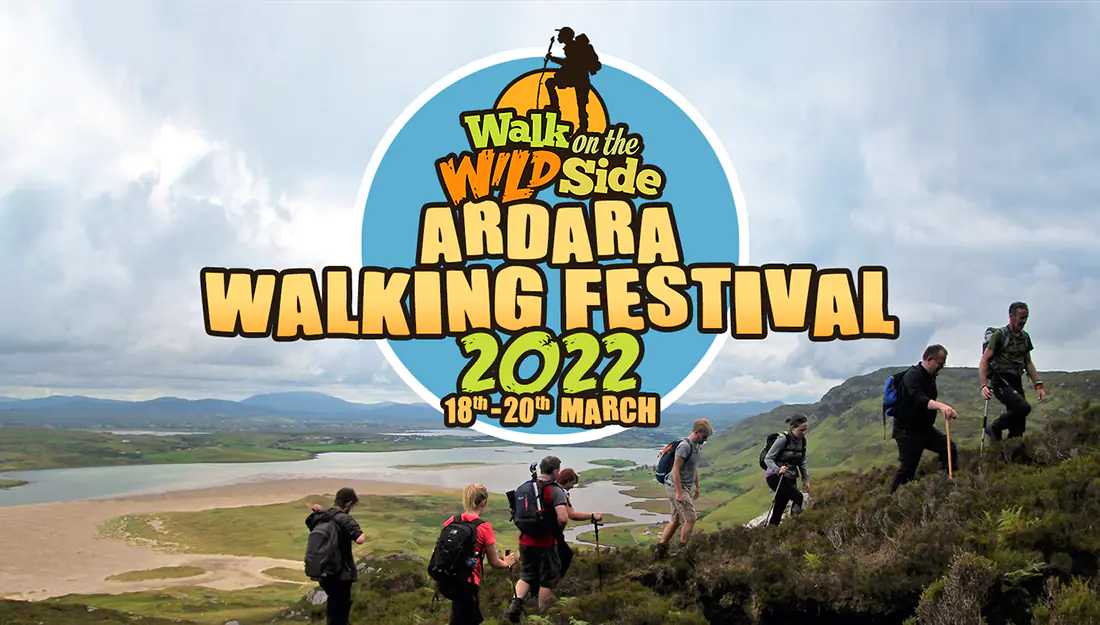 Ardara Walking Festival: St. Patrick's Weekend
Preparation for the Walking Festival is well underway at present. Some excellent walks have been identified by the organizer Kevin Maguire.
The programme is available on the Walking Festival page.
For further information contact: Kevin on 087-6734875.
New Ardara Website
For some time now Seamus has been busy building a new Ardara.ie website, which just launched today.
In recent times, Seamus has been supported in his work by Seán Cannon-Earley and Lauren McHugh, especially in updating our advertisers directory with as many listings as possible. There was a great response from local businesses to our previous posts, and anyone still wishing to avail of either our free or paid listings can contact us for details.
Previous advertisers who wish to renew should let us know and we will update the directory as soon as possible.
Seán is also launching a quarterly newsletter, with a signup form in the sidebar (scroll down on mobile).
Our "What's On" page lists upcoming festivals, and now has a new "Events" section to highlight anything else that's taking place in the area. Anyone wishing to have an event listed can contact us via the contact form.
If you spot any mistakes on the site or encounter any issues please let us know. Some pages are still a work in progress, so if anyone has content or ideas feel free to submit them. We are aware of issues with loading speed and hope to improve this soon.
Ardara.ie gets over 70,000 visitors a year and is a vital part of the town's social infrastructure. The website's aim is to support the community, visitors and businesses of Ardara.
Visitors Return
Last weekend saw a great influx of visitors to Ardara. While it is vital that everyone takes personal care, it is good to see Ardara returning as one of Donegal's most popular tourist destinations.
Ardara Helping Ukraine
At the St. Patrick's Parade on this Friday March 18th there will be a bucket collection to help the people of Ukraine. Please donate what you can to this worthy cause.
Gortnacart Enrolment