Ardara Day Centre
Could you offer a helping hand to support our elderly in our community?
Ardara Day Centre needs committee volunteers. The Centre is run by a voluntary committee without which the service could not continue. Our Day Centre needs more committee volunteers.
Do you have a skill you can lend to our Day Centre committee and help future-proof you local Day Centre such as admin, IT, accounting, marketing or law?
Please get in touch to see how you can help secure the future of your local Day Centre.
Call 087-9459500 for information.
Dolmen Leisure Company LBG Secures €175k LEADER Funding for Thatching School in Donegal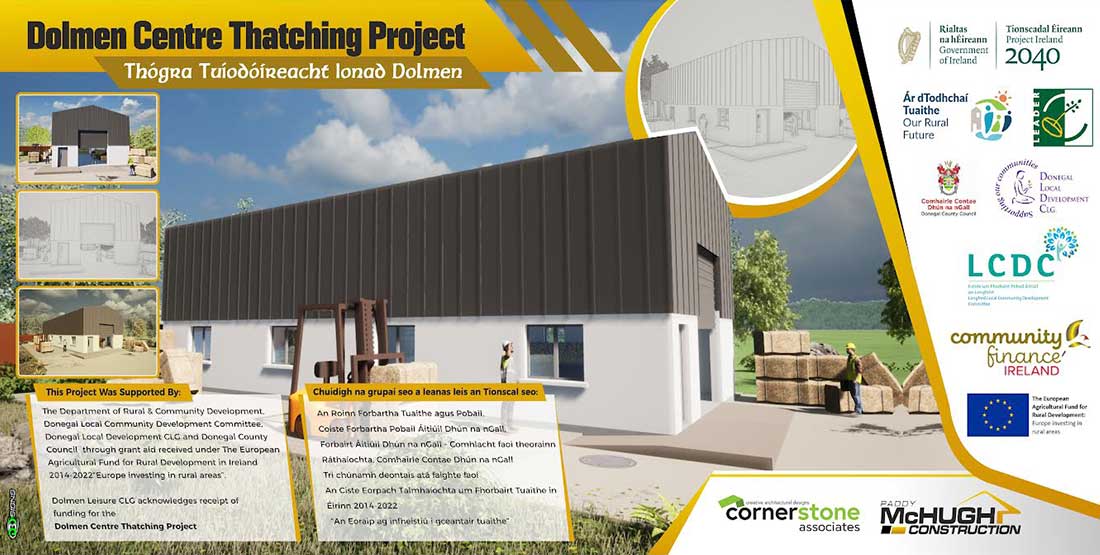 Dolmen Leisure Company LBG has announced its has successfully secured €175,359.17 in LEADER funding, which has been formally approved by the Donegal Local Development Company and Donegal LCDC, to establish a new Thatching School at the Dolmen Centre in Kilclooney, Portnoo, Co. Donegal. The project, developed by the committee of Dolmen Leisure Company LBG, aims to support the continuation of the craft of thatching, which is an integral aspect of vernacular architecture in Donegal and Ireland.
With 75% of the construction costs covered by the LEADER funding, the committee is actively raising funds to secure the remaining 25% through other funding and donations. The Thatching School will provide training in thatching delivered by professionally trained and master thatchers, who are keen to pass on their skills and knowledge. This unique educational facility will create employment opportunities and boost tourism in the area, offering a rewarding role to those who are seeking to work for themselves.
Speaking about the initiative, Patsy Harkin from Dolmen Leisure Company LBG, said: "One of our founding members of The Dolmen Centre, Conal Shovlin first mooted this idea for Portnoo and tried to secure funding over 20 years ago we are thrilled to see our plans come to fruition after all these years. We are excited to offer professionally trained and master thatchers to pass on their skills and keep this dying trade alive. The Thatching School and its construction is no longer a dream but will now be a reality."
Sinéad McLaughlin, Rural Development Manager at DLDC, expressed her support for the Thatching School: "DLDC is delighted to support the Dolmen Leisure Company LBG in their efforts to establish the Thatching School through its LEADER programme. This project will not only contribute to the preservation of an important cultural heritage but also create employment opportunities and boost tourism in the area. We look forward to seeing the Thatching School thrive and the continuation of this unique craft." Dolmen Leisure also thanked Community Finance Ireland for providing interim finance for the project. Barry Symes, Head of Community Finance ROI, said: "The team at Dolmen are a fantastic example of visionary community spirit. We are delighted to be able to help finance this project and welcome the opportunities both of employment and future tourism that the project will bring to the area".
Paddy Mc Hugh Building Contractors Ltd. has been appointed as the local contractor, and Cornerstone Architecture in Ardara will be responsible for the design and supervision of the build. The planning permission was approved by Donegal County Council in mid-2022.
Graveyard Grass
A special thanks to Charlie, Leo and PJ for the great job done on the cutting of the grass in the graveyard. It is a credit to you all. Thank you.