South of the Border Festival This Weekend
Friday February 14th
Corner House 9pm: The Bard of Ardara
An evening of storytelling, music and craic presented by
Frank Galligan
.Introducing:
Patsy O'Hagan
, the Bard of Armagh and one of the funniest men around, along with
Declan Forde
, another Bard of Armagh who presents a unique storytelling pitch. Both in the company of
Paddy, John Joe and Jimmy
.
Beehive Bar 10.30pm: Storytelling and Entertainment
All-time great traditional music session with the best musicians around, joined by
Frank Galligan, Declan Forde
and
Patsy O'Hagan
for more fun and stories
Saturday February 15th
Nesbitt Arms Hotel 8pm: The Jimmy Kennedy All Star Concert presented by Frank Galligan
The silken skills of
Neilly Gildea
on Saxophone joined by
Paul Coughlan
and friends for a concert of swingtime music from the Tin Pan Alley era. Also
Eabha Gallagher
will perform the songs of Jimmy Kennedy, a great opportunity to hear this wonderful talent.
Patsy Cavanagh
, composer of "This is my Homeland" will take to the stage and will be joined by
Patsy O'Hagan
,
Declan Forde
and
Bri Carr
.
The Beehive Bar 10.30pm: The Packie Manus Byrne Evening
Join friends and fellow musicians to pay due respect and remember the wonderful Packie Manus.
Sunday February 16th
The Bri Carr Album Launch in Nesbitt Arms Hotel at 3pm
One of the most popular musicians in Donegal,
Bri Carr
will launch her new album in the company of family and friends and the women from
Wild Atlantic Women
. Many of Bri's friends and fellow musicians perform to celebrate this launch which promises to be a truly outstanding recording
Read: Frank Galligan's article for the Donegal Democrat
---
Dance Classes with Joe McGuigan
Dance Classes with Joe McGuigan will resume in the Heritage Centre on Wednesday 12th February from 8pm to 9.30 pm. All are welcome. Refreshments will be served.
Oliver Boyle Memorial Card Drive
The Oliver Boyle Memorial 25 Card Drive will take place in the Corner House Bar on Sunday 23rd February at 8pm. Everyone welcome.
Art Classes at the Men's Shed
Art classes continue every Wednesday from 1pm to 4pm in the Men's Shed at Thomas Boyle's (The Greenhouse).Everyone welcome to join in at any time. For more information phone Colm on: 087-3222910
Irish Classes
Irish Language Classes are currently being organised in The Heritage Centre.Anyone interested should phone Colm on: 087-3222910
Gortnacart National School Enrolment
Anyone wishing to enrol their child for September 2020 please contact the school on 074-9541799 or email:
gortnacart1909@gmail.com
Have a look at the school website:
www.gortnacartns.com
for all the activities and events in the school. Due to the size and location of our school we take into consideration each individual family and their needs.
Pop-up Art Gallery at Gortnacart NS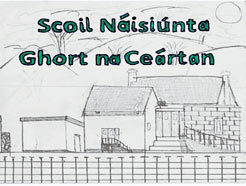 Gortnacart National School is hosting a 'Pop-up Art Gallery' on the 12th March between 6.30pm and 8.00pm.Everyone is welcome on the night to view the children's artwork. This would also be a great opportunity for any parent(s) of children starting primary school to come in and view the school and consider enrolment in September.
Flotto Results
The Flotto Results on Monday 10th February were: 12, 14, 17 and 30 and the nearest were Joe Ryan, Kentucky and Eimear O Donnell, Doohill.
Anniversary Masses
For those viewing on the
Church of the Holy Family webcam
Tuesday 10.00am: Anniversary of Arthur GodmanWednesday 7.30pm: Anniversary of Maggie Molloy, Tullycleave.Thursday 10.00am: Anniversaries of Ria & Johnny DohertySaturday 11.00am: Anniversaries of Joe & Teresa GildeaSaturday 12 noon: Months Mind Mass of Mary ReynoldsSaturday 7.30 pm: Anniversary of Tom Concarr
Sympathy
The Community extends sympathy this week to the Gavigan and McHugh Families on the death of Hughie and the McNelis Family, Kilclooney on the death of Maggie McNelis. Also to Sandra Dunlevy on the death of her father Samuel Stewart in Ballybofey this week.
ARDARA WEATHER