Ardara Parade an Outstanding Success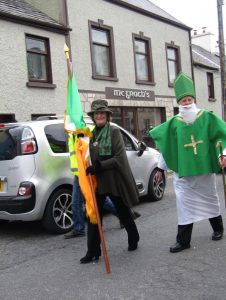 The Ardara Parade on Sunday last was a truly brilliant success. Grand Marshall Kathleen Sheerin was just wonderful in the role as leader of the Parade. St Patrick Tony Breslin has made this position very much his own and does a wonderful job following in the footsteps of his never to be forgotten neighbour and friend the late Hugh Diver who had carried the role so brilliantly for years until his sad death.Special thanks to Very Rev. Dean Laverty who always makes the church car park available for the Parade. To the brilliant organisation of Margaret Boyle for the success of the Parade this year and for many years. Majella and Hugh Peter Shovlin who help every year at the car park and co-ordinate the Parade. Also thanks to Dillon and Eamon from the Garda Siochana for their their great assistance. To Tony Gallagher chief steward and his team of Eamon, PJ, Adrian, Charlie, Brian, Gregory and all others who helped with stewarding. To Michael Barrett and Brendan McKeever for all their help with the PA. Thanks to Kieran Gallagher for the use of the lorry and to Shaun Molloy for the power. To the judges Tony, Bosco and Caroline and our wonderful MC Frank Galligan. Thanks to our local Councillor Terence Slowey for attending and the band "
Hard 2 Beat
" who were brilliant on stage. Thanks also to those who helped with tea for the bands; Teresa, Colm, Tara, Caroline and Sean. Thanks to the collectors: Michael, Charlie and Carol.Special thanks to all the bands who performed and thanks also to all those who made the effort to put in floats.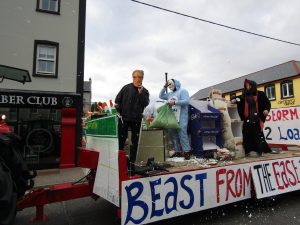 The winners of the Floats were:
1st Place: Diver's Centra with "Robbery in Tallaght during the snow"
2nd Place: Briget Robins "Trump & Kim"
The winners of the Bands were Maghery Senior Band
Winning St.Patrick's Day Window display: The Beauty Room
A great crowd enjoyed a wonderful day.
Paddy McGill Lecture
The Paddy McGill Lecture will take place in the Heritage Centre on this Saturday 24th March at 8.30pm.
The Topic:
An occupational disease of Donegal Doctors.
The speaker is:
Professor Alun Evans who is a Professor Emeritus of Epidemiology in Queen's University Belfast.All welcome.
Fashion Show with a Twist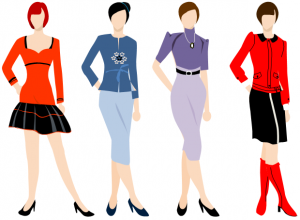 A Fashion Show with a twist will be held in the
Nesbitt Arms Hotel
on Sunday 8th April at 3pm. Good as new fashion. Adults and Childrens clothing.Admission €5 plus a free glass of wine.Proceeds to Ardara Day Centre.
GAA Heart Screening Event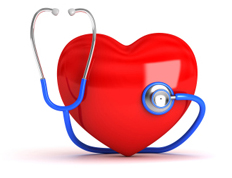 The GAA Club have organised a Heart Screening event at the Clubhouse on Saturday 31st March from 11 to 1pm.It is being carried out by specialist trained personnel in the fields of Clinical Physiology and Nursing. Cardiac Screening is about probability and decreasing your risk of suffering sudden death. The facility is open to anyone 14 years and upwards. Anyone aged between 14 and 16 years must be accompanied by an adult.The cost is €50. Booking is essential and to book please text Club Secretary Mary McHugh on 087 6878614 before next Sunday 25th March. This is a great opportunity to avail of this facility.
GAA Membership Night
There will be a registration night in the Clubhouse for membership this Saturday night 24th March from 7pm to 9pm. This will be the last opportunity to register as a member for the coming year as membership closes 31st March.
World Premier of 'At The End Of The Day'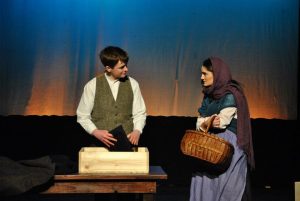 Ardara woman Éabha Gallagher plays the female lead in a new musical "At The End Of The Day" at the Balor Arts Centre, Ballybofey. The plot mainly follows the relationship of Matthew Lyons, played by Adam Hannigan​, and Nuala Green, played by Éabha Gallagher​, from the time they first meet, to the time they become engaged to be married, and also the events leading up to their meeting, including the Bruckless drownings, and the economic conditions of the time.
TICKET INFORMATION:
Tickets are available online via
balorartscentre.com
, or by calling 074-9131840, or at The Balor Arts Centre box office in Ballybofey. Ticket prices range from €10 to €15, with family tickets available at €40.
PERFORMANCE SCHEDULE:
Wednesday 21st March, 2018 at 8pm, Thursday 22nd March, 2018 at 8pm, Friday 23rd March, 2018 at 8pm, Saturday 24th March, 2018 at 8pm
attheendofthedaythemusical.com
https://www.facebook.com/attheendofthedaythemusical/
Pop-Up Craft – Saturday 24th March 2018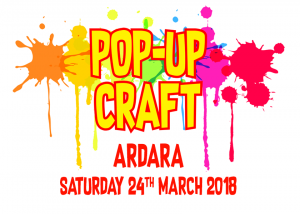 You are invited to join us for a fun day of painting and sketching around the town, weather permitting.Materials will be supplied.
Cost:
€20 for the day.
Contact:
Colm Sweeney 087-322291 Eimear Boyle 086-8337123
View Pop Up Craft Page