Cup of Tae 2017 – Donegal's Premier Traditional Music Festival: 28th April – 1st May, 2017
April 28 @ 8:00 am

-

May 1 @ 5:00 pm
The 2017 Cup of Tae Festival
May Bank Holiday Weekend ( April 28th – May 1st 2017 )
The Cup of Tae Festival Committee has just announced that the famous Donegal fiddler Martin McGinley will be honoured at the 2017 Cup of Tae festival, which will take place here in Ardara from April 28th to May 1st 2017 ( May bank holiday weekend).
Martin has been a constant at every Cup of Tae Festival since the beginning and is a popular choice to be honoured. Martin, son of the famous Raphoe fiddler Kathleen McGinley, is highly respected in the world of music, in recent times with the Donegal Youth Orchestra, and there are few gatherings of fiddlers where you won't see Martin.
His contribution to traditional music and indeed the cultural and community life of Donegal is immense. More details to follow.
Martin McGinley is one of Donegal's best-known fiddlers. He has played in concerts and at festivals in Ireland, Britain, around mainland Europe and in the US and Canada. He has also frequently performed on television and radio. He presented a series of the RTE tv show 'The Pure Drop' and programmes on traditional music on RTE Radio 1 and BBC Radio 3. Originally from Raphoe in east Donegal. Martin gives weekly classes in Mulroy Music in Milford, as well as teaching annually at the Donegal Fiddlers' Week in Glencolumbkille and the Fiddlers' Farm weekend in Nieuwe Niedorp north of Amsterdam. He has the honours teaching certificate from Comhaltas Ceoltoiri Eireann. He has adjudicated fiddle and banjo at provincial and All-Ireland level. As well as having an extensive repertoire which includes Irish, Scottish, Cape Breton and old-time material, Martin has also a collection of original tunes, such as 'The Raphoe Reel', recorded on Dervish's first album, and 'The Bunglass Lass', heard now in sessions in Donegal and further afield. He has also dabbled in other genres, including bluegrass and blues. He is studying for a Master's degree in music with the Open University.
~~~~~~~~
The 'Cup of Tae' is the name of an Irish Reel. Our festival is in honour of a renowned player John 'The Tae' Gallagher (generations of his family before him made 'teas' on Fair Days and other days of local importance), hence the name of the festival. John 'The Tae' Gallagher was born in West End, Ardara in 1923. At the age of four he began playing the fiddle and at the age of five he gave his first performance at a local concert. From this he progressed to playing at dance halls and finally playing solo at special functions etc. He also performed complex duets with another local fiddler called James Josie 'The Post' McHugh. John 'The Tae' Gallagher won Oireachtas Senior Fiddle competition in 1956 and in 1959 won the All Ireland Senior Competition at the Fleadh in Thurles.
~~~~~~~~
2017 Programme
Friday 28th April 2017
Registration Friday 28th April, 2017.
7.00 p.m. – 8.00 p.m. in the Heritage Centre Registration for Summer School of Music
Begin
ners School of Music in Fidil, Feadóg Mór, Giotáir, Feadóg Stáin, Bosca Ceoil.
Moderate & Advanced only in Fidil, Feadóg Mór, Feadóg Stáin & Giotáir.
The world famous Brid Harper is our Masterclass Fiddle Tutor this year and she is accompanied by Musician of the Year Aidan O'Donnell
Fee: Adult €50.00 Children: €25.00
Family Rates available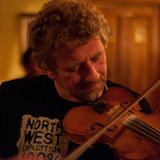 All Star Opening Concert in the Heritage Centre
Special Event to honour one of Donegals most famous and popular Musicians Fiddle Player Martin McGinley.
The unsung hero of Donegal Fiddle playing joined by the best Musicians around and their presence at any Musical Session promises a night of the best Musical talent Donegal has to offer.
Tickets Limited – Contact Committee
Doors open 8.00 p.m. (Performance starts 8.30 p.m.)
Traditional Music free in all Pubs every night (see Posters).
Saturday 29th April, 2017
9.00 a.m. – 10.00 a.m. – Final Registration
Moderate Fiddle and beginners in Flute, Fiddle, Tin Whistle Guitar and Accordian in St Marys School
Master Fiddle Class with Brid Harper and Aidan O'Donnell in St Marys School
Class Times: 10.00 a.m. – 12.30 p.m. and 2.00 p.m. – 4.00 p.m.
Irelands Top Teachers in Attendance
Heritage Centre at 1.00 p.m.
This is a unique event as a special group of young Musicians from Co Monaghan put on a performance. They will be joined by Special Guest Paddy McMennamin and local Fiddle Maker & Top Musician Michael O'Rourke.
A free Event – Not to be missed.
Open Air Recitals – 3.00 p.m.
Open Air Musical Recitals with Pipe Band and traditional musicians
Visiting Guests
Amongst the many guests this year are a group of musicians from Columbia and also a group of traditional players from New York plan to attend.
Corner House Bar at 8.00 p.m.
James Keeney will present an evening of Story, Song & Dance with Recitations and Craic to particularly acknowledge the late Packie Manus Byrne.
Beehive Bar at 9.00 p.m.
An evening with Brid Harper. An evening of Sessions and Stories with many of the visiting Musicians joining Brid at this very special event.
Free Irish Music in all Pubs in Town (see Posters)
Sunday 30th April, 2017
10.00 a.m. – 12.30 p.m Music Classes/Workshop continue
2.00 p.m. – 4.00 p.m. Music Classes/Workshop complete
Heritage Centre – 1.00 p.m.
Musical Recital by traditional Musicians from Co Monaghan
Open Air Recital on the Diamond – 3.00 p.m.
Open Air Musical Recital which will include the Students and Teachers from the Schools and Workshops will
display the learning that took place with a Session on the Diamond.
Finale Concert in the Nesbitt Arms Hotel at 8.00 p.m.
The John "the tae" Concert is always a special event.
This year a list of top Musicians who will perform at this Concert in honour of the late great John "the tae".
A show not to be missed. Please come early. Seating limited.
Free Irish Music Sessions in all Pubs in Town (see Posters)
Monday 1st May, 2017
Music Sessions will take place in various Pubs
~~~~~~~~
For more details contact Stephen 087 – 2424590 or http://cupoftaefestival.com or https://donegalgathering.com/april/cup-of-tae-festival/