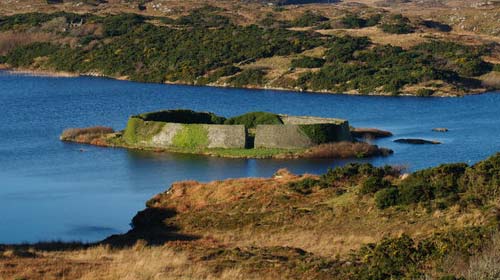 Doon Fort is undoubtedly one of the most spectacularly picturesque heritage sites in Ireland. It is situated on a small island in the middle of Loughadoon, about 10 Km from Ardara.
Doon Fort is a large drystone fort, thought to be the residence of the O'Boyle Chieftains. The exact date of the construction of the fort is unknown and it may date from the late Iron Age to Early Medieval times. The fort has been linked first with the Breslin clan who were said to have occupied it from the 5th century onwards. It was later associated with the O' Boyle clan before it fell into disrepair. These forts were used as royal residences and as status symbols. Doon Fort is classified as a Western Stone Fort which are characterised as having thick high stone enclosing walls.
In 1954, a programme of restoration work was undertaken on the fort by the Bord Fáilte to prevent the site from disappearing. Today, sections of the wall are beginning to collapse due to growth of ivy and other factors. The Ardara GAP Heritage and History Group was formed to highlight the significance of the site and to help to preserve this site for future generations.
The Glenties Ardara and Portnoo (GAP) Heritage and History Group was established in January 2016 with the aim of helping to preserve the future of Doon Fort in conjunction with Josie McHugh, the landowner. Since becoming part of the Adopt A Monument Scheme, the group have worked tirelessly to raise the profile of the site and the area. In 2016, funding was secured to commission an environmental and conservation report of the site. A successful training weekend was held recently in Ardara where the group came together to discuss the tourism potential of the area.
The Adopt a Monument Scheme has been working with the local community group to help record the site, manage the vegetation that threatens to undermine the walls, to establish a conservation plan, improve access and interpretation and to help to raise awareness of this wonderful monument.
The group received further funding in 2017 to carry out a geophysical survey of the site, and to begin the process of the conservation of the walls of the fort under guidance and direction from the National Monuments Service of the Department of Arts, Heritage, Regional, Rural and Gaeltacht Affairs.
Follow the GAP Heritage and History Group on Facebook to keep up to date with all the latest news.
---
"The Ardara GAP Heritage and History Group are delighted that Doon Fort has been selected on The Heritage Council's 'Adopt a Monument' scheme for 2016. By doing so, this 'jewel in Donegal's crown' has been given the recognition it rightfully deserves. Being part of the scheme puts this Western Stone Fort, all of which are located along the Wild Atlantic Way, firmly in its cultural context".
Paula Harvey, Donegal GAP Heritage and History Group